The Vermont man on trial for kidnapping a New Hampshire woman and her 4-year-old child more than four years ago testified Monday in his federal court trial that he took the two vehicles he is accused of stealing and taking across state lines, but he denied kidnapping the woman or her son.
Everett Simpson, who is representing himself in the trial, wrote the questions that were asked by his standby attorney. U.S. District Court Judge William Sessions told the jury that Simpson had provided the questions that were being asked of him.
After the day's testimony, Sessions said closing arguments would be held on Tuesday, after which the case would be given to the jury. If convicted of the kidnapping charges, Simpson could be sentenced to life in prison.
JUDGE ORDERS KIDNAP, ASSAULT SUSPECT TO STAY IN CUSTODY
Simpson answered "I do," several times after Assistant United States Attorney Matthew Lasher asked questions, including whether he had taken the alleged victim and her son from New Hampshire to Vermont and whether he stole the woman's car and drove it to Pennsylvania, where he was arrested.
"I am guilty of a lot of things, but not kidnapping," Simpson said.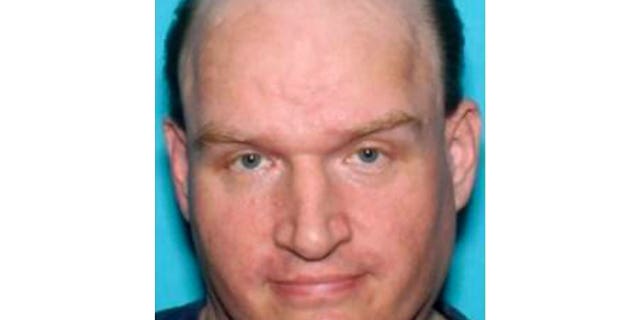 Everett Simpson of Vermont is representing himself in court after being accused of kidnapping a New Hampshire woman and her four-year-old son.
Simpson admitted before the jury that he left a Vermont drug treatment center shortly after he was dropped off there on the night of Jan. 4, 2019, for court-ordered substance abuse treatment from another case.
He then stole a van parked in a nearby driveway and drove it to New Hampshire, where it was abandoned. Simpson acknowledged driving back to Vermont with the alleged victim and her son, but he said it was consensual and she had opportunities to escape had she wanted to do so.
VERMONT FATHER ACCUSED OF DROPPING TODDLER IN STREAM PLEADS NOT GUILTY
Prosecutors have said the victim did call for help, but it wasn't provided. They traveled to a Vermont motel, after which Simpson fled in her car and drove to Pennsylvania, where he was later arrested.
Court documents say the victim was sexually assaulted while in the motel, but the federal charges do not include sexual assault. Simpson is, however, facing separate state sexual assault charges.
Simpson said he fled the treatment center because he was trying to find his estranged wife, who he believed was having a relationship with another man.
CLICK HERE TO GET THE FOX NEWS APP
In 2020, the woman received $400,000 in the settlement of a lawsuit accusing the state of Vermont of not doing enough to find Simpson after he left the addiction treatment center. In court last week, the woman said she had received a sizable settlement from the treatment center, but the exact amount is unclear.