An Alabama man accused of trying to attack the mother of his children while she was stuck at a traffic light was thwarted by a legally armed witness who shot him in the face, according to police.
The Dothan Police Department reported that on July 12 Shawn Maxmillion McDaniel of Headland followed the mother of his kids as she drove through Dothan. The woman's name has not been disclosed and the couple were estranged.
McDaniel reportedly tried to meet up with the woman earlier, but she refused, so he allegedly followed her in a car. The mother was traveling with someone whom police described as an acquaintance, and the pair soon caught on that McDaniel was tailing them.
The mother and acquaintance stopped at a traffic light, where McDaniel allegedly hopped out of his car while wielding "a large knife" and confronted the pair. The acquaintance was legally armed and demanded McDaniel walk away, according to police.
McDaniel was struck in the face and "sustained a major injury but was conscious and alert," police said in a press release. McDaniel returned to his car and drove to a nearby business to seek help.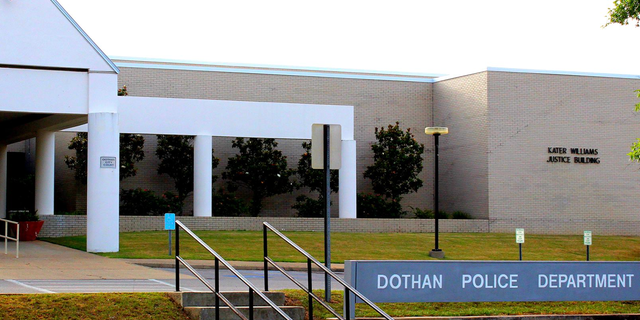 The Dothan Police Department in Alabama (Dothan Police Department/FB)
TEXAS DAD LEFT IN COMA AFTER BRUTAL ATTACK WHILE PROTECTING DAUGHTER FROM BOYFRIEND: COPS
The mom and acquaintance also drove to a nearby business and called police.