Neighbors Romania, Ukraine, and Moldova signed cooperation agreements in Romania's capital Thursday after a trilateral meeting on ways to strengthen security in their Black Sea region to counter threats posed by Russian aggression.
The Black Sea Security Conference in Bucharest brought together the three countries' foreign and defense ministers, government officials and international partners. The aim was to address the wide-ranging impact that Moscow's war in Ukraine is having on the region.
NATO member Romania's Foreign Minister Bogdan Aurescu called Russia "the most direct and serious threat" to the Black Sea region and the Western alliance, and said war-torn Ukraine and embattled Moldova are "essential to our future European security."
"Instead of peace and stability, the Black Sea region has become the primary target of the Russian aggression," he said, adding that a strong NATO presence there "is a must."
US SPECIAL FORCES IN UKRAINE AT EMBASSY, OFFICIAL CONFIRMS, AS PENTAGON DOCUMENT LEAK PROBE HEATS UP
After signing the agreements, which aim to boost political, economic, and security cooperation between the three nations, Aurescu said it "records the fact that we have similar visions."
Ukraine's Foreign Minister Dmytro Kuleba — who spoke to the Bucharest gathering by video link — called the war "a bleeding wound in the middle of Europe" and said a security network for countries in the region that "feel threatened by the maniac on the loose" must be sought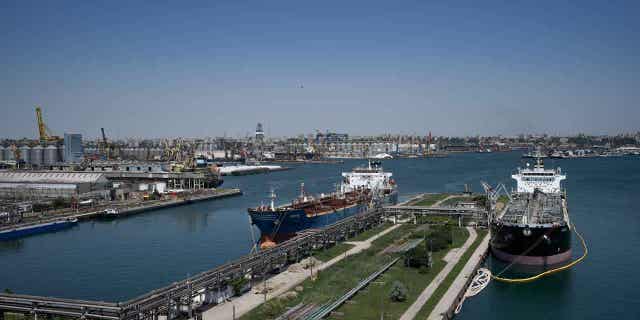 Ships are docked in the Black Sea port of Constanta, Romania, on June 21, 2022. Romania, Ukraine, and Moldova signed an agreement on April 13, 2023, in Romania's capital to strengthen security in the Black Sea region to counter threats posed by Russia. (AP Photo/Vadim Ghirda, File))
"It's time to turn the Black Sea into what the Baltic Sea has become, a sea of NATO," Kuleba said, referring to Finland's recent admission to the NATO military alliance. He also called for a "resolute step forward" on the path to Ukraine's own NATO membership, a move that Western officials are wary of committing to.
THE CRAZY IDEA TO ABANDON UKRAINE FOR CHINA
After signing the trilateral declaration Thursday, Moldova's Foreign Minister Nicu Popescu said that Moldova remains the target of "hybrid attempts to destabilize our country" and that the impact of Moscow's war is being "felt by every citizen" of non-NATO Moldova.
Moldova, which has faced a long series of crises over the past year including alleged Russia-backed destabilization plots, was granted European Union candidate status last June, the same day as Ukraine.
CLICK HERE TO GET THE FOX NEWS APP
As well as addressing security issues, the Black Sea Security Conference held on Apr. 12-13 discussed topics including freedom of trade and the facilitation of energy transport routes.
Officials also discussed the importance of countering Russia's cyberwarfare efforts. Romania's Aurescu said Moscow is "orchestrating (attacks) against the region, against European and Allied states."