A Silicon Valley computer scientist recently predicted that dead relatives could soon be recreated and uploaded onto digital devices using artificial intelligence (AI).
"Start regularly recording your parents, elders and loved ones," Dr. Pratik Desai, who founded multiple AI platforms, said in a Sunday Twitter thread. "With enough transcript data, new voice synthesis and video models, there is a 100% chance that they will live with you forever after leaving physical body. This should be even possible by end of the year."
Experts who spoke with Fox News Digital had mixed reactions to Dr. Desai's tech forecast, with some questioning the moral and philosophical factors involved in creating such a tool and others downplaying the potential for such a development.
CHATGPT IS FINDING ITSELF EVERYWHERE, NOW IN HOUSES OF WORSHIP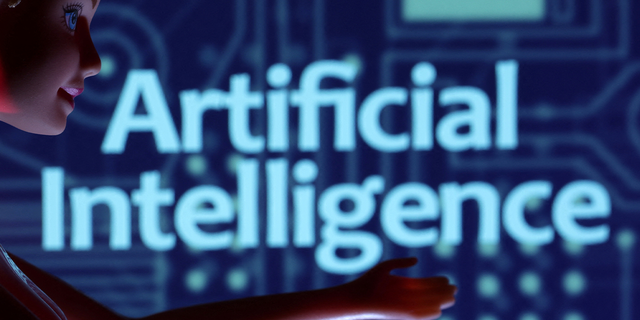 Artificial Intelligence words are seen in this illustration taken March 31, 2023. REUTERS/Dado Ruvic/Illustration (REUTERS/Dado Ruvic/Illustration)
MediaPeanut tech blog CEO Victoria Mendoza, who has worked with AI for over a decade, said she does not believe authentic human consciousness will be placed on digital devices in the near future.
"While it may be possible to create an avatar resembling a deceased individual based on their videos, voice recordings, documents, and photos, I believe that consciousness is more than just a collection of data," she said. "Our experiences, emotions, thoughts, and interactions shape our consciousness in the world. We cannot simplify the complex and dynamic process of consciousness into a set of algorithms and data points."
She said such a technology would also pose ethical concerns, like who would own the rights to the digital consciousness of a deceased individual and what would be the legal implications of using such avatars for commercial use?
Software development expert and author Drew Romero concurred with Mendoza's perspective and said that creating a digital copy of a deceased person posed serious ethical, legal and social implications that need to be considered, such as privacy, consent, authenticity and cultural norms.
He added that Desai's claim is "highly speculative" and "unsupported by current technology and research."
TOP TECH EXECUTIVES TO HOLD COUNCIL ON AI GUARDRAILS AMID CALLS FOR DEVELOPMENT PAUSE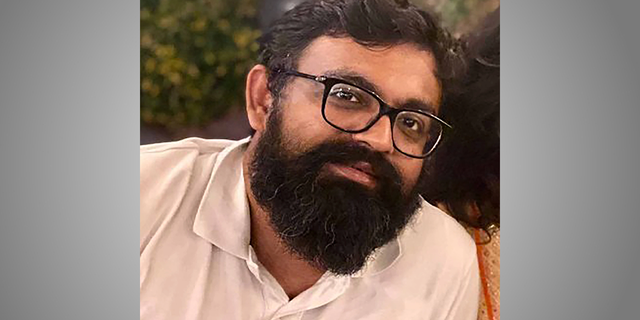 Dr. Pratik Desai, a Silicon Valley computer scientist, said in a recent Twitter thread that deceased loved ones will soon be able to live on after they leave their physical bodies, with the rapid acceleration of artificial intelligence.  (Pratik Desai/Twitter)
"While it is important to explore the frontiers of AI and neuroscience, we should be cautious about making bold claims and hype that can mislead the public and oversimplify complex issues," Romero said. "The idea of uploading dead loved ones to your computer may sound appealing or comforting to some, but it also raises significant challenges and risks that need to be carefully examined by multidisciplinary experts and stakeholders."
But, Viputheshwar Sitaraman, an American designer, entrepreneur and scientist, said the idea of AI clones of deceased loved ones "already exists" and called Desai's prediction "very realistic." He cited the company Vocapsule, which uses audio AI for technology to create clones of loved ones for their flagship product, "My Legacy Voice," as an example.
Several AI companies and startups are already hard at work on technology similar to the idea posited by Desai. However, these products merely create a best-attempt representation of a deceased person through data collection and do not qualify as true human consciousness.
Somnium Space, a metaverse company compatible with virtual reality headsets, recently unveiled a forthcoming feature called the "Live Forever" mode. The feature will allow users to have their movement and conversation data stored and integrated into an avatar that moves, talks and look nearly identical to the real person.
RESEARCHERS PREDICT WHICH JOBS MAY BE SAFE FROM A.I. EXPOSURE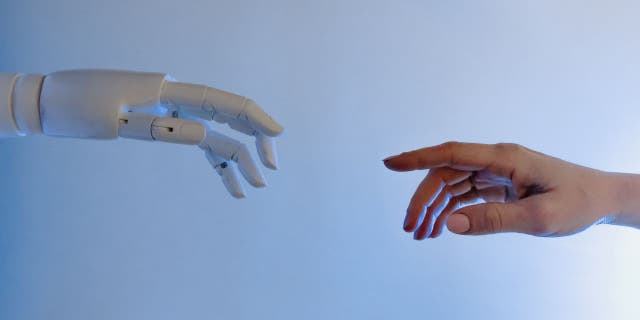 Human & Robot Hand recreates Michelangelo's "The Creation of Adam" Painting (Cyberguy.com)
CEO and founder Artur Sychov said he hopes the tool will allow people to speak and interact with dead loved ones long after they have passed.
"Literally, if I die—and I have this data collected—people can come or my kids, they can come in, and they can have a conversation with my avatar, with my movements, with my voice," Sychov told VICE. "You will meet the person. And you would maybe for the first 10 minutes while talking to that person, you would not know that it's actually AI. That's the goal."
Meanwhile, a South-Korea based AI video creation company called DeepBrain, has created a program called "rememory," a virtual human service that uses AI to recreate a client's late family members by "mimicking their every aspect – from their physique to their voice."
In 2019, the California-based company HereAfter AI created the first app that allowed family and friends to "preserve memories" about your life and speak with a virtual version of the user.
MIT Technology Review news editor Charlotte Jee utilized the technology in 2022, writing a review that called it "mesmerizing."
TECH GIANT SAM ALTMAN COMPARES POWERFUL AI RESEARCH TO DAWN OF NUCLEAR WARFARE: REPORT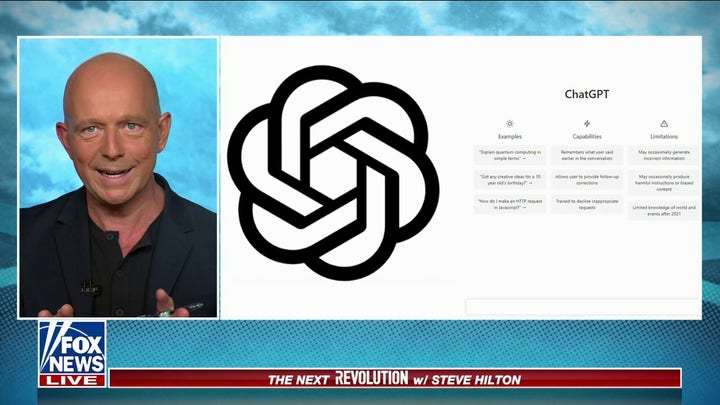 Video
"My parents don't know that I spoke to them last night," she wrote. "At first, they sounded distant and tinny, as if they were huddled around a phone in a prison cell. But as we chatted, they slowly started to sound more like themselves," Jee wrote. "They told me personal stories that I'd never heard. I learned about the first (and certainly not last) time my dad got drunk. Mum talked about getting in trouble for staying out late. They gave me life advice and told me things about their childhoods, as well as my own.
The emerging business idea has been compared to an episode of the British science fiction anthology series "Black Mirror" titled "Be Right Back." The episode follows the story of Martha, a young woman in Ireland whose boyfriend is killed in a car accident. To process her grief, Martha reluctantly engages with a company that allows her to communicate with an artificial intelligence mimicking her lost love.
CLICK HERE TO GET THE FOX NEWS APP
Politicians, lawmakers, and actors have repeatedly expressed concern about deepfake technology, a process wherein deep learning AI is used to alter, replace or mimic someone's face or voice for distribution in digital media.
In 2022, The Department of Homeland Security (DHS) released a document highlighting the "Increasing Threat of Deepfake Identities" on national security, including examples of false videos featuring former President Obama, Meta's Mark Zuckerberg, podcaster Joe Rogan, actor Tom Cruise and more. Many of these videos had been viewed millions of times each.