Tori Spelling is looking on the bright side despite her rumored split from her longtime husband Dean McDermott.
The "90210" star took to social media to share a list of "things that make me happy," with her McDermott noticeably missing.
The 50-year-old actress started her Instagram Story with a selfie of her and her child, followed by a photo of her cat named "Nellie Baby."
TORI SPELLING, DEAN MCDERMOTT GOING 'SEPARATE WAYS' AFTER 17-YEAR MARRIAGE, 5 KIDS: REPORT
The "Saved by the Bell" star additionally posted a few snaps of her family and extended family, along with other photos of friends.
Another photo shows her son at the beach with a rainbow over his body with a caption that read, "knowing rainbows can occur even during the darkest times."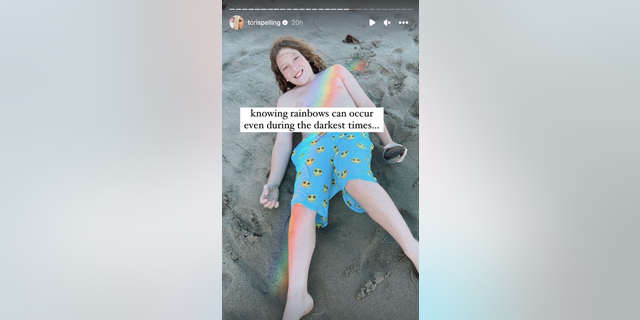 Another photo shows one of Tori Spelling and Dean McDermott's son at the beach with a rainbow over his body. (Instagram/Tori Spelling)
Clearly missing from her list of things that make her happy was her husband of 17 years.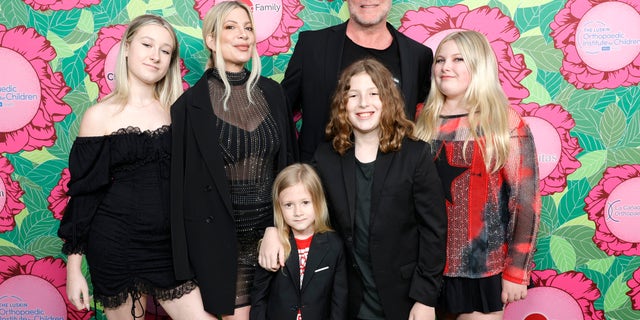 Tori Spelling and Dean McDermott share Stella Spelling, Beau Spelling, Finn Spelling, and Hattie Spelling. (Photo by Stefanie Keenan)
He added, "We will continue to work together as loving parents and guide and love our children through this difficult time. We ask that you all respect our privacy as we take this time to surround our family with love and work our way through this. Thank you all for your support and kindness."
CLICK HERE TO SIGN UP FOR THE ENTERTAINMENT NEWSLETTER
The couple married in 2006 and have five children together: Liam, 16, Finn, 10, Beau, 6, Stella, 15, and Hattie, 11.