MASSAPEQUA PARK, N.Y. – The suspected Gilgo Beach serial killer Rex Heuermann's longtime home is less than three miles from the infamous Amityville Horror house – where a 23-year-old man murdered his entire family in 1974, shocking Long Island's South Shore community and inspiring a book and movie.
Heuermann, 59, purchased the Massapequa Park house he grew up in from his mother in the 1990s, according to property records. He lived there for all of his childhood and most of his adult life, staying briefly in New Jersey before his first marriage ended.
The architect and father of two commuted from his dilapidated Long Island home to an office in Manhattan for decades, but between 2007 and 2010, prosecutors allege, he was picking up prostitutes, killing them and dumping their bodies on a remote waterfront highway nearby.
WATCH: 'GRIM TIDE' ON FOX NATION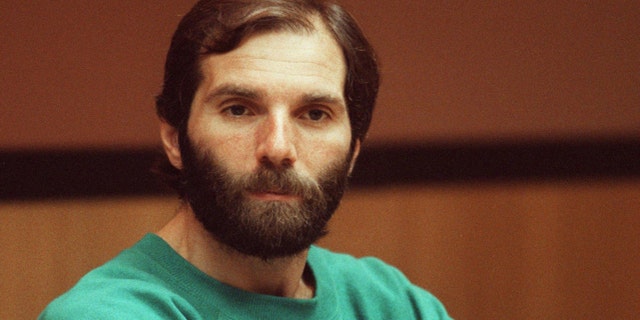 Ronald DeFeo in court in June 1992 during a hearing seeking a new trial on charges he murdered his family in Amityville, New York, in 1974. (Newsday/Getty Images)
He killed his parents, Ronald and Louise, both 43, two sisters and two brothers as they slept on Nov. 13, 1974. He was 23. His siblings ranged from 9 to 18. A year later, the home's new owners fled in horror shortly after moving in.
GILGO BEACH SUSPECT REX HEUERMANN STALKED EX-COP AFTER TRAIN ALTERCATION, RIDER SAYS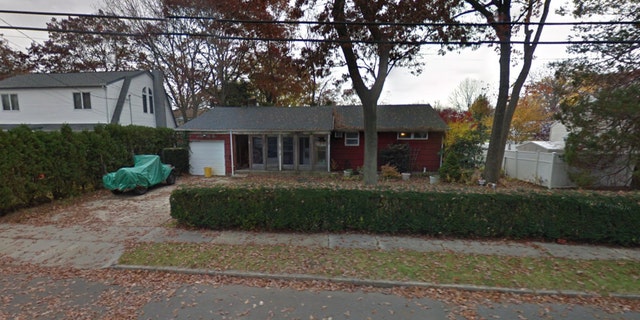 Suspected Long Island serial killer Rex Heuermann's Massapequa Park home, which he grew up in and then purchased from his mother, pictured in a 2021 Google Maps image. (Google Maps)
George and Kathy Lutz bought the house – and were so shocked by alleged paranormal activity that they left a month later.
At first, he blamed a mob hit man for the murders, but then confessed and led police to where he ditched the murder weapon and other evidence.
DeFeo was sentenced to 25 years to life and died in prison in 2021. He was 69.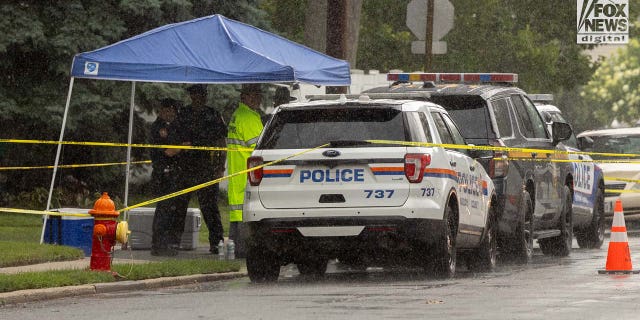 Authorities execute a search warrant of Rex Heuermann's home in Massapequa Park, New York, on Tuesday, July 18, 2023. (Mega for Fox News Digital)
INFAMOUS AMERICAN HOMES IN NOTORIOUS CRIME CASES
GILGO BEACH MURDERS: THE INVESTIGATION IN PHOTOS
A task force with members from multiple law enforcement agencies allegedly linked Heuermann to the crime scene with a witness statement in Costello's disappearance and through phone records and a DNA sample collected from a box of pizza the suspect tossed in a New York City trash can.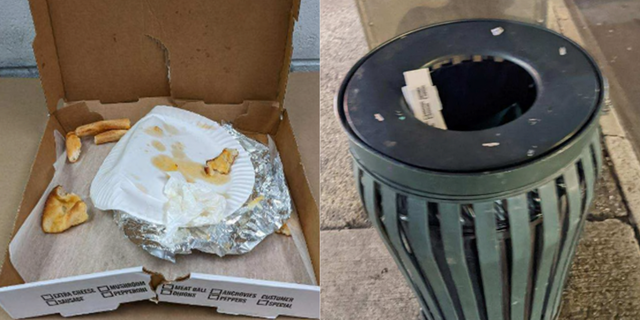 The discarded pizza box and the bin where it was thrown away. The pizza crust was used to collect DNA allegedly linking Heuremann to one of the dead bodies. (Suffolk County DA)
They said genetics taken from the crust matched a hair sample taken from the victims.
He faces up to life imprisonment without the possibility of parole if convicted.