A snooker table vandalized by a climate activist during a match at the world championship was reclothed overnight and back in play at the Crucible Theatre on Tuesday.
The green baize on Table 1 at the venue in Sheffield, England, turned orange at the start of the evening session on Monday when a protestor interrupted a match by jumping on the table and releasing a packet of powder.
The match between English players Robert Milkins and Joe Perry was abandoned — it will restart on Tuesday — and the previously pristine cloth needed to be replaced.
CLIMATE ACTIVISTS ANNOUNCE PLANS TO PROTEST IN BERLIN, WILL TRY TO 'PEACEFULLY BRING THE CITY TO A STANDSTILL'
There was no visible sign of any orange powder when Jack Lisowski and Noppon Saengkham began their first-round match on the same table in Tuesday's morning session.
A man wearing a T-shirt bearing the words "Just Stop Oil" carried out the stunt in an attempt to draw attention to fossil fuel projects in Britain.
The activist group Just Stop Oil posted a video of the incident — adding the caption "NEW OIL AND GAS WILL SNOOKER US" — and called for "UK sporting institutions to step into civil resistance against the government's genocidal policies."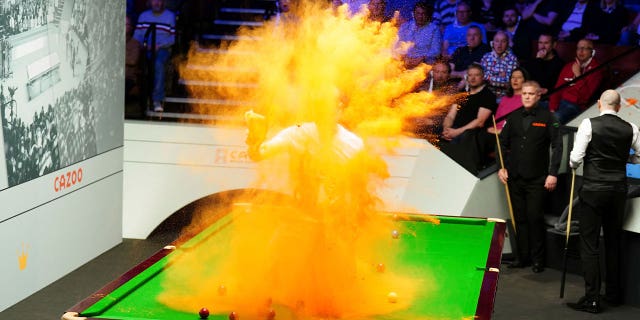 A 'Just Stop Oil' protester jumps on the table and throws orange powder during a World Snooker Championship match in Britain on April 17, 2023.  (Mike Egerton/PA via AP)
At the same time as the man was throwing orange powder, a woman leapt into the playing arena and attempted to tie herself to the middle pocket of the other table in play.
The referee held her back and she was taken away by security. That match, between Mark Allen and Fan Zhengyi, resumed 45 minutes later and played to a finish.
Allen said it was a "surreal moment."
GERMAN POLICE SURROUND AND CRACK DOWN ON CAMP OF ANTI-COAL PROTESTERS
"I heard a bang, that I thought it was on the other table, and then I turned round and there was a woman on my table," said the Northern Irish player, who won the match 10-5. "It could have been a lot worse — you saw what happened on the other table and how much disruption it caused.
"I feel like even talking about it is giving them airtime they don't deserve because they are just idiots. What are they trying to gain from what they have done? I am sure there are better ways to get their point across."
CLICK HERE TO GET THE FOX NEWS APP
Police said late Monday that two people — a 30-year-old man and a 52-year-old woman — were arrested on suspicion of criminal damage and were in custody.
It's the second time in three days that a big sporting event in Britain was disrupted, after 118 people were arrested at the Grand National horse race on Saturday. Some protestors scaled the perimeter fence around Aintree Racecourse and attempted to affix themselves to the big fences on the track.