"Live with Kelly and Mark" debuted Monday, and Ryan Seacrest was out of the co-hosting seat with Mark Consuelos officially beginning his first day on the job.
While Kelly Ripa was completely comfortable co-hosting – a gig she's had at ABC for more than 20 years – viewers say they missed Seacrest.
"Thank you for trusting me to be your co-pilot," Consuelos told his wife of 24 years at one point during the live show. "I really appreciate it."
But "Live" fans weren't as enthusiastic about the married couple headlining one of their favorite morning shows, and they aired their grievances online.
KELLY RIPA RECALLS 'LUDICROUS' SEXUAL RITUALS OVER FACETIME WITH HUSBAND MARK CONSUELOS DURING THE PANDEMIC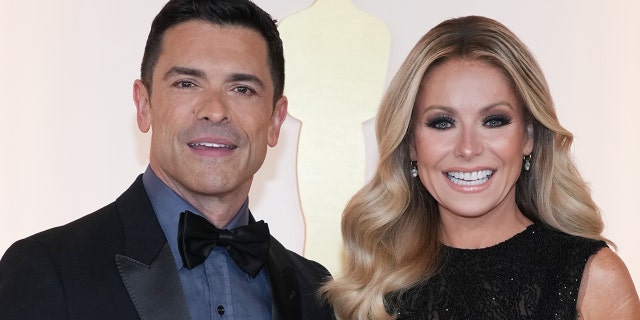 Mark Consuelos made his "Live!" debut Monday with wife and co-host Kelly Ripa. (Arturo Holmes)
One user wrote on Twitter, "Your first show together today was horrible, painful. I turned it off."
Another followed suit, "@kellymarklive Boring first day! @KellyRipa for the life of God can you please LET MARK FINISH HIS SENTENCES before you interrupt him!"
KELLY RIPA CONTROVERSIES: REGIS PHILBIN WASN'T THE ONLY 'LIVE!' CO-HOST IN TENSE RELATIONSHIP WITH TV ANCHOR
They added, "This is a huge mistake. I mean literally won't be watching this ridiculous now show anymore @ABCNetwork u should have fired her and stayed with @RyanSeacrest."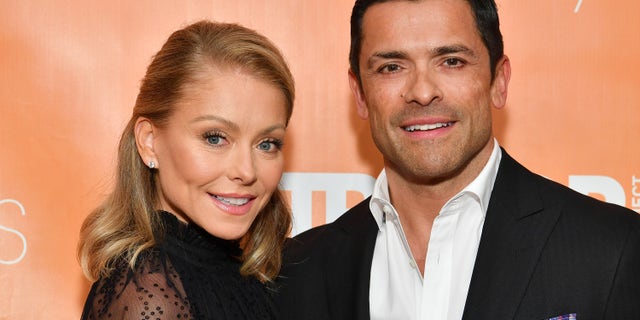 Mark has co-hosted more than 90 times but never remained a permanent fixture until Monday. (Dia Dipasupil)
"This the WORST decision. Horrible cohosts. There was no one else who could cohost with @KellyRipa??? Please change this," an unimpressed user wrote.
One fan kept things short, simply tweeting, "I really, really missed Ryan this morning."
KATHIE LEE GIFFORD SUPPORTS 'GREAT FRIEND' REGIS PHILBIN AMID KELLY RIPA DRAMA
"Not surprised Kelly isn't letting Mark speak #KellyAndMark ughhh…. irritating. Let him have his moments," another user wrote.
Ripa and Consuelos' representatives did not immediately respond to Fox News Digital's request for comment.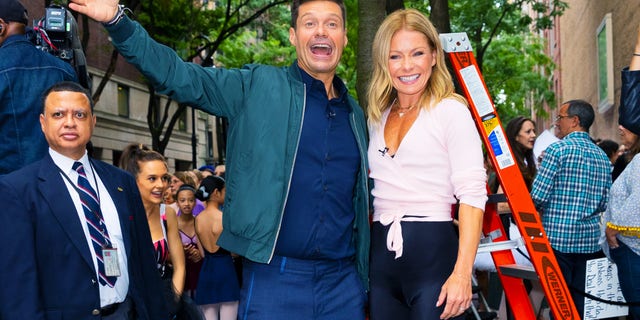 Since the departure of Regis Philibin, Kelly Ripa has had three co-hosts, Michael Strahan, Ryan Seacrest and husband Mark Consuelos. (Jackson Lee/GC Images)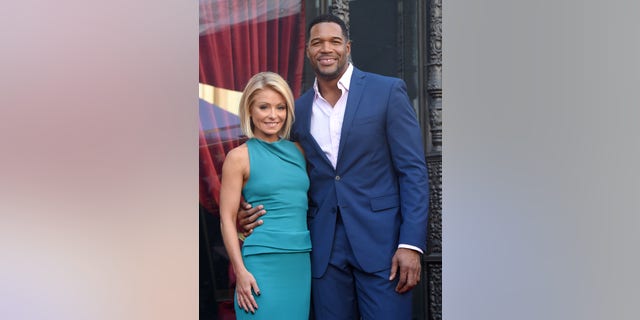 Michael Strahan was on hand at Kelly Ripa's Hollywood Walk of Fame ceremony in 2015, one year before he abruptly left the "Live!" show. (Axelle/Bauer-Griffin)
Seacrest left "Live!" last week after six seasons. He announced in February that he was planning to move back to the West Coast, and also continue working on the "American Idol" live series in Los Angeles.
CLICK HERE TO SIGN UP FOR THE ENTERTAINMENT NEWSLETTER
Seacrest became Ripa's biggest ally on TV when he joined "Live!" in 2017 for a permanent co-hosting role after Michael Strahan's abrupt exit.
Strahan, who was notably missing from Ripa's latest book despite having been by her side for four years beginning in 2012, announced his resignation from the show only minutes after Ripa found out.
Ripa co-hosted alongside Regis Philbin from 2001-2011, taking over for Kathie Lee Gifford. In her book, Ripa wrote about having trouble working with Philbin, how she was not allowed to use her own hair and makeup team and didn't receive a wardrobe budget. Ripa also noted that her name "had to be smaller than Regis's name on the "Live!" title card and branding.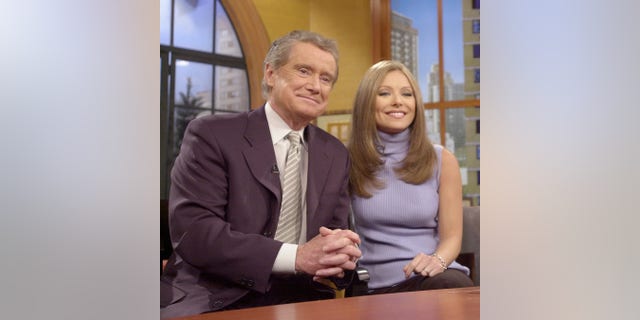 Regis Philbin introduced new co-host Kelly Ripa in July 2001 after Kathie Lee Gifford left the program. (Spencer Platt)
She wrote that receiving the offer to host came with a warning, "They want to make sure you know who your boss is."
Consuelos isn't entirely new to the hosting gig, though. He's hosted the show 92 times before, just never as a permanent fixture.
Kelly and Mark first met while starring on "All My Children" as Hayley and Mateo in 1995. They married one year later and now have three children.