Two suspects in Philadelphia who allegedly broke into a woman's apartment before she pulled out a firearm and shot at them are still on the loose, according to police.
Police say an unidentified woman returned to her apartment in Philadelphia's Germantown neighborhood at about 1:30 a.m. Sunday and discovered four men inside.
A struggle broke out between the woman and four suspected burglars, with the woman ultimately pulling out a firearm and shooting at the group.
Two of the suspects were shot and injured, while the other two managed to flee the scene. It is not clear if the two who fled were also injured by the gunfire.
PHILADELPHIA CONCEALED GUN HOLDER ACTED IN SELF-DEFENSE, FATALLY SHOOTING ATTACKER AT CEMETERY: DA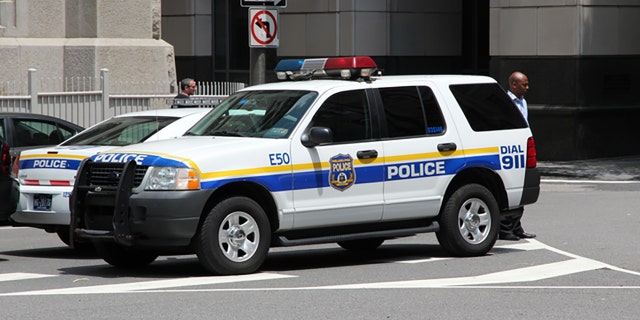 Unidentified person walks by Philadelphia Police Ford Explorer. The Philadelphia Police Department is the oldest city police agency in the U.S. (iStock)
Both men were taken to local hospitals for treatment. Miller was described as being in stable but critical condition, according to NBC Philadelphia.
ELDERLY PHILADELPHIA MAN RUNNING ERRANDS TURNS TABLES ON WOULD-BE ROBBERS, EMPTYING HIS GUN
Police are calling on members of the public if they had details on the case and the whereabouts of the two other suspects.