New York lawmakers began voting Monday on a $229 billion state budget due a month ago that would raise the minimum wage, crack down on illicit pot shops and ban gas stoves and furnaces in new buildings.
Negotiations among Gov. Kathy Hochul and her fellow Democrats in control of the Legislature dragged on past the April 1 budget deadline, largely because of disagreements over changes to the bail law and other policy proposals included in the spending plan.
Floor debates on some budget bills began Monday. State Senate Majority Leader Andrea Stewart-Cousins said she expected voting to be wrapped up Tuesday for a budget she said contains "significant wins" for New Yorkers.
NEW YORK LAWMAKERS BLAME 'BIG BUDGET ISSUES' FOR LIKELY FAILURE TO MEET DEADLINE
"I would have liked to have done this sooner. I think we would all agree to that," Cousins told reporters before voting began. "This has been a very policy-laden budget and a lot of the policies had to parsed through."
Hochul was able to push through a change to the bail law that will eliminate the standard that requires judges to prescribe the "least restrictive" means to ensure defendants return to court.
Hochul said judges needed the extra discretion. Some liberal lawmakers argued that it would undercut the sweeping bail reforms approved in 2019 and result in more people with low incomes and people of color in pretrial detention.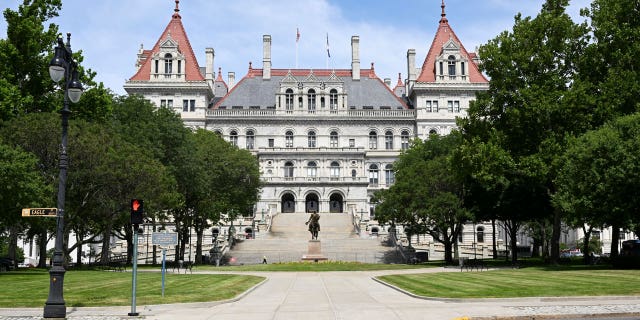 New York lawmakers have begun voting on a proposed budget a full month past their original deadline. (AP Photo/Hans Pennink, File)
Here are some other policy provisions that will be included in the budget, according to state officials.
— The minimum wage would be raised to $17 in New York City and some of its suburbs and $16 in the rest of the state by 2026. That's up from $15 in the city and $14.20 upstate.
— Most new construction would be required to have zero-emissions under a mandate to be phased in starting in 2026, with buildings under seven stories. The mandate would mean no gas furnaces or stoves in most new construction. The mandate is aimed at helping New York meet its greenhouse gas emission reduction targets. It would not affect existing buildings.
— State officials would have expanded power to shut down or fine illicit pot shops, which have proliferated in New York City. The unauthorized pot shops compete with state-licensed dispensaries, and government officials fear they threaten the recently launched adult recreational market.
NEW YORK LAWMAKERS CONSIDER ADDING POT SHOP CRACKDOWN TO OVERDUE BUDGET
Though Hochul was able to push through changes in bail law, she was unable to convince lawmakers to include her high-profile plan to spur the creation of 800,000 new homes statewide as a way to ease housing shortages. Suburban lawmakers balked at local zoning mandates in the plan.
Hochul announced a "conceptual agreement" on a budget Thursday, though budget bills weren't printed until this weekend. That meant that after weeks of waiting for a budget, rank-and-file lawmakers began voting on bills they barely had time study
Bills typically cannot be voted on until three days after they're introduced. But Hochul, like governors before her, waived that requirement.
CLICK HERE TO GET THE FOX NEWS APP
"What is the rush at this point? What are we avoiding?" Republican Sen. Thomas O'Mara asked on the floor. "What is the necessity that we can't wait two more days?"