Planning any family vacation can be a daunting task.
Planning a vacation when one or more of the party is neurodivergent — whether that be on the autism spectrum or with another cognitive difference — can be overwhelming.
There's so much to consider: Will the destination have enough activities to keep family members engaged? Will the hotel or resort be sensitive to dietary restrictions and be able to accommodate them?
If there's a kids' club, will the child or children be able to participate in a meaningful way? Will everyone in the party have the opportunity to rest and recharge — and have a real vacation?
ALL ABOUT WORLD AUTISM AWARENESS DAY: WHAT IT IS AND HOW TO CELEBRATE
April is Autism Acceptance Month. And throughout the month and all year long, Beaches Resorts — with one location in Turks and Caicos and two in Jamaica — has expanded its programming when it comes to welcoming guests with additional needs.
In addition to many existing offerings aimed at welcoming autistic and other neurodivergent guests, there are sensory guides throughout the resort.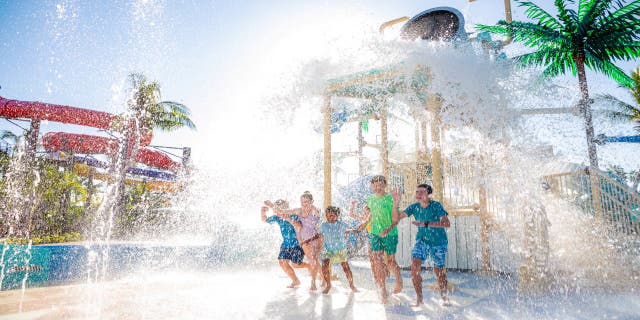 Beaches Resorts offers a splash park for kids.  (Beaches Resorts)
These maps rate the public spaces of the resorts such as pools, restaurants and activity centers on a scale of 1-to-10 when it comes to sensory stimulation.
In 2017, Beaches became the first resort company to become a Certified Autism Center.
Two years later, it became the first to attain the Advanced Certified Autism Center designation from the Internation Board of Credentialing and Continuing Education Standards (IBCCES).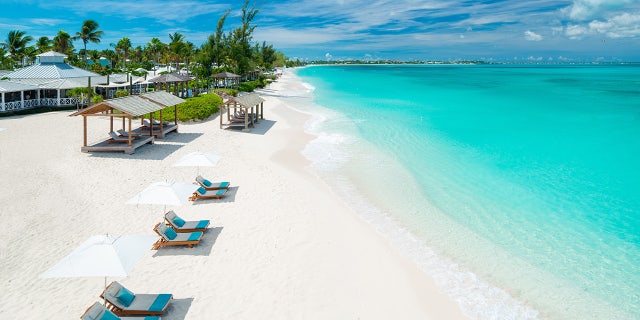 (Beaches Resorts has one location in Turks and Caicos and two in Jamaica. Seen in this long shot is a white-sand beach and water at the Treasure Beach location in Jamaica.)
"As we saw demand increase, we needed to make sure we had a certified person on the ground that could best serve those [neurodivergent] customers and their family members," Jamie McAnally, general manager of Beaches Turks and Caicos Resort Villages and Spa, told Fox News Digital.
McAnally said 50% to 60% of these guests and their families are repeat visitors.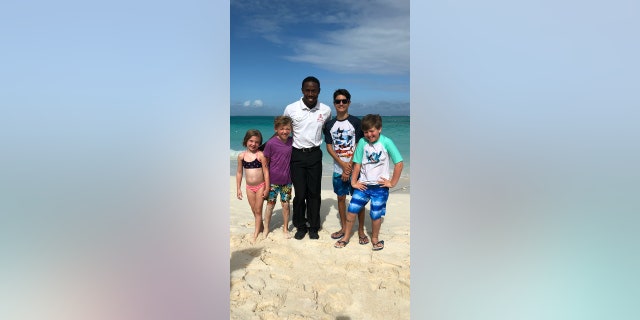 Mika Kanossky, 20 (second from right), stands with friends and a Beaches Buddy. A Beaches Buddy assists families throughout their resort stay. (Heather Arak)
Among them is Heather Arak, who travels with a party of eight that includes her son, Mika Kanossky, 20. He is on the autism spectrum. The family has been to Beaches four times, starting when the boy was a teen.
TinTin is the employee — or "Beaches Buddy" — assigned to Arak's family and has become a friend they keep in touch with between visits, Arak said.
NORWEGIAN CRUISE LINE WATERSLIDE RIDER GETS STUCK IN OVER-OCEAN LOOP: 'IT WAS SO QUICK'
Arak credits TinTin with some of her family's best memories, including taking all four kids in the party to a disco, convincing her son to try sailing and creating his dream photo shoot: scenes of the teen lifting weights on the beach.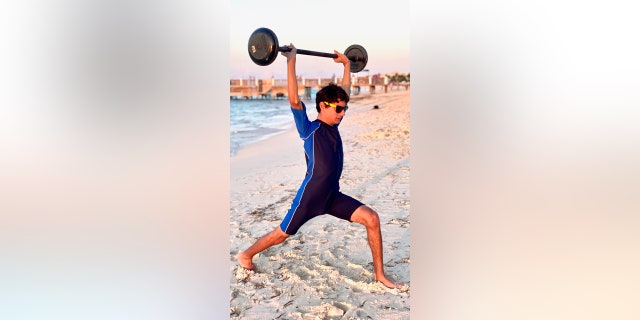 Mika Kanossky, 20, lifts weights on the beach while on vacation at Beaches Resorts with his family. (Heather Arak)
The Beaches Buddy program is reportedly a favorite feature of many visitors.
Guests receive pre-arrival questionnaires and then are paired with a caretaker who will assist them as needed, whether a few hours or every day of the vacation.
"The relationship gets started even before [the guests] arrive at the resort," McAnally said. "What are triggers, what settings are the most comfortable."
PRINCESS CRUISES' BIGGEST SHIP EVER TO MAKE DEBUT IN 2024 WITH CARIBBEAN SAILINGS: 'MOST ELEVATED EXPERIENCE'
For guests with dietary restrictions, the resort's Culinary Concierge helps guide guests through all the restaurant offerings and helps create custom menus that fit each family's special dietary needs — including allergy restrictions and gluten-free, vegetarian and vegan options.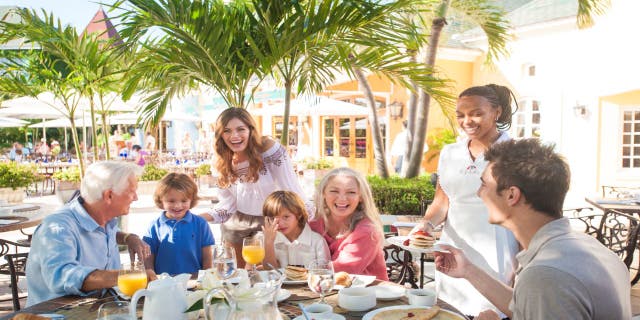 Beaches Resorts accommodates dietary restrictions for guests and helps create custom menus that fit each family's special dietary needs. (Beaches Resorts)
And while they've traveled to many other beach destinations, Arak said it's at Beaches where she can most relax.
TEXAS BEST FRIENDS, AGE 81, GO VIRAL FOR TRAVELING TO 7 CONTINENTS IN 80 DAYS: 'MAKE SOME PLANS AND LIVE'
"It's comforting to see other families like [ours] and the [neurodivergent] kids being treated with the same love and respect every other kid there is treated with," she explained.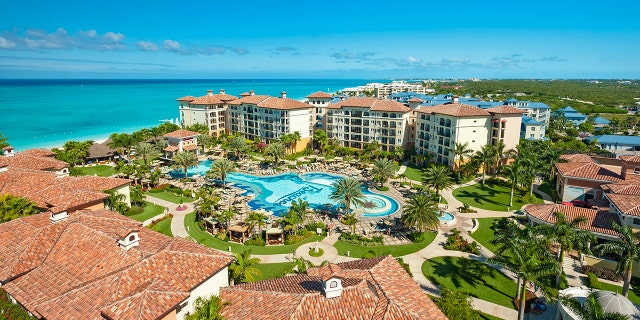 Beaches Resorts Turks & Caicos is photographed in this aerial shot. (Beaches Resorts)
McAnally said the programming is also "great for business."
The employee training "enables a market that doesn't maybe feel comfortable going on vacation a place to come. Repeat guests that have come back because of the relationships they built with our staff over the years, they obviously tell other people about it."
CLICK HERE TO SIGN UP FOR OUR LIFESTYLE NEWSLETTER
Training at the resorts is practical, with seven resort employees in the learning and development department who specialize in training rollouts.
Certification is done on a biannual basis.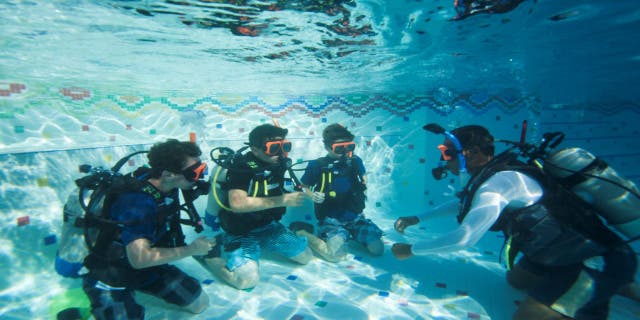 Families may participate in scuba lessons that take place in pools at various Beaches Resorts locations. (Beaches Resorts)
"Persons who would come into contact with a [neurodivergent] guest at different stages of their vacation from the dining room to room attendant coming into the room from the front desk, the concierge, patience personnel, even landscaping supervisors all went through this certification," McAnally said.
CLICK HERE TO GET THE FOX NEWS APP
"From a team perspective, their knowledge enables them to do that comfortably," he added.
"When you're comfortable and you have confidence, you do it that much better."