The establishment media is being accused of journalistic "negligence" after rushing to dismiss Special Counsel John Durham's report that reiterated one of its beloved talking points – that the Trump campaign coordinated with Russia to influence the 2016 presidential election – was bogus all along.
Despite the liberal pundits and other members of the press pushing the collusion narrative for years, Durham's 300-page report indicated the Department of Justice and FBI "failed to uphold their mission of strict fidelity to the law" when it launched the Trump-Russia investigation that never found any collusion to begin with.
DePauw University journalism professor Jeffrey McCall believes the lack of interest in the Durham report by the media is "quite disturbing, but not really surprising."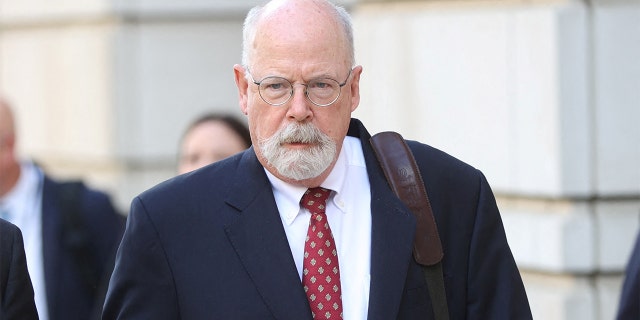 The media rushed to dismiss Special Counsel John Durham's report into the origins of the FBI's original probe. (REUTERS/Julia Nikhinson)
DURHAM FINDS DOJ, FBI 'FAILED TO UPHOLD' MISSION OF 'STRICT FIDELITY TO THE LAW' IN TRUMP-RUSSIA PROBE
"Of course, all of those who insisted the Steele dossier was so credible are the same people now saying you Durham's conclusion is nothing burger," Concha continued. "These people have no shame and will never hold themselves to the type of high standards we should expect from those in journalism."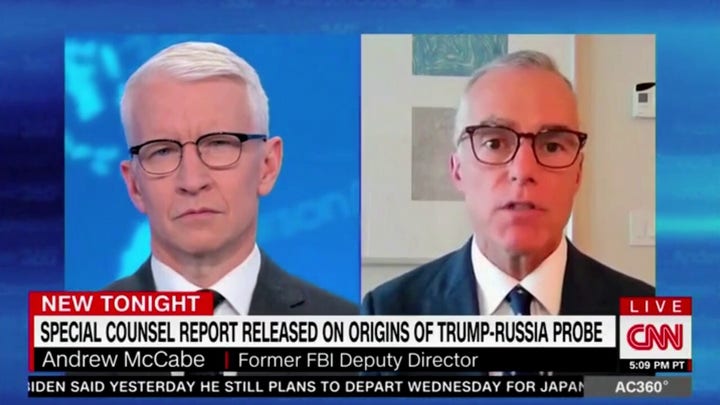 Video
It wasn't lost on observers that many of the same people who pushed the Russiagate conspiracy were eager to downplay any investigation into its origins.
CNN contributor Andrew McCabe, the former FBI Deputy Director who was fired by then-Attorney General Jeff Sessions in 2018, attempted to downplay Durham's findings.
MSNBC's Joy Reid enlisted disgraced ex-FBI agent Peter Strzok, who was referenced in the report, to say it was a "predictable, sad ending to an investigation that never should have taken place."
As McCabe and Strzok poo-pooed the report, Fox News contributor Ben Domenech questioned why they deserve such lofty platforms.
"I don't see how any network can employ Andrew McCabe or Peter Strzok after this report," Domenech tweeted. "The sheer mountain of lies they've told… it's incredible."
"Durham's report concluded without sending a single person to prison, falling far short of the inflated expectations set in the Trump-friendly press," Darcy wrote. "In fact, after millions of dollars were spent on the years-long investigation, Durham only ultimately secured the conviction of a low-level FBI lawyer who avoided serving jail time."
MSNBC's Andrew Weissmann, a former top prosecutor in the Russia investigation, downplayed the findings as "a big fat nothing."
PETER STRZOK SAYS DURHAM INVESTIGATION 'NEVER SHOULD HAVE TAKEN PLACE' AFTER BEING NAMED IN REPORT
"John Durham, once highly respected by hard-nosed prosecutors and someone I worked for eons ago as an intern when I was in law school, has twisted himself into a pretzel in an attempt to deliver what he could not deliver," Figliuzzi said.
Wallace made her comments mere minutes after the massive report was published, indicating she's either some sort of speed reader or dismissed it without reading the entire document.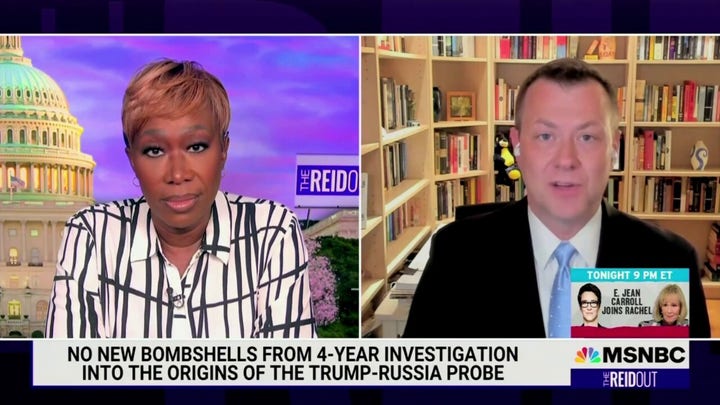 Video
CNN legal analyst Jennifer Rodgers declared, "There's nothing there… this is a political opinion piece, effectively."
"We've spent an awful lot of money, as an American government, on a report that essentially proves no wrongdoing," Escobar told Blitzer.
Political analyst James Carville appeared on MSNBC to dismiss Durham.
"Durham is a kind of pathetic character. Four years, I don't know how many millions of dollars, I don't know how many of his friends he hired in his office, to do what? To issue a basically blatantly false report," Carville told Ari Melber.
Print outlets that pushed Russiagate also said nothing to see here. "The Durham Report Offered Few Conclusions. The Right Drew Its Own," blared one New York Times headline.
"[T]he Republican interpretation of the final Durham report will feed a narrative of 'Deep State' corruption that is fueling not only Mr. Trump's quest for the White House in 2024 but that of many of his rivals for the Republican nomination," reporter Jonathan Weisman wrote. "The vilification of federal bureaucracy was already an emerging theme in the fight to be the Republican standard-bearer. Regardless of Mr. Durham's actual conclusions, his report appears to serve that theme."
Special Counsel Robert Mueller completed his investigation into a possible Trump-Russia connection in April 2019, which yielded no evidence of criminal conspiracy or coordination between the Trump campaign and Russia to influence the 2016 election.
CLICK HERE TO GET THE FOX NEWS APP