Matthew McConaughey is soon joining the "Yellowstone" universe, in a highly anticipated new series.
Details about the show are still scarce, but in a recent interview on the "Lex Fridman Podcast," McConaughey spoke about the appeal of the show and its lead, Kevin Costner.
"I admire the simplicity of it. One way you could explain 'Yellowstone' and Costner's role is what will men do to protect land and family in a world that is trying to encroach?" McConaughey said. "In a world where there's a cowboy ethos that deems trespassing more clear earlier than other hats. I admire that simplicity of right and wrong."
When discussing that moral code, Fridman noted that it doesn't always abide by the law, and McConaughey responded, "No, it's above the law."
The original "Yellowstone" series is ending after the second half of season five. The final episodes are set to air in November, after delays in filming and rumored behind-the-scenes drama with series star Costner.
MATTHEW MCCONAUGHEY SAYS A RETURN TO ACTING SOUNDS LIKE 'VACATION' AFTER 'YELLOWSTONE' SPINOFF CONFIRMED
McConaughey didn't share any further specifics about the upcoming series or his role, but spoke with Fridman at length about many other topics, including his Texas pride.
The "Magic Mike" star had considered a run for governor of the state last year, but ultimately decided not to so that he could focus on being a parent.
"I don't think that's where I can be the most useful right now," McConaughey told Chelsea Handler on her iHeartPodcast "Dear Chelsea" earlier this year.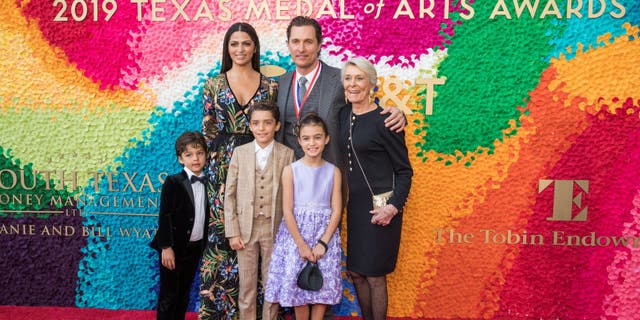 Matthew McConaughey has three children with wife Camila Alves. They married in 2012. (Rick Kern/WireImage)
CLICK HERE TO GET THE FOX NEWS APP