EXCLUSIVE: Republican presidential candidate and businessman Vivek Ramaswamy will call for the shutdown of the Bureau of Alcohol, Tobacco, Firearms and Explosives (ATF), as well as expanded Second Amendment rights for Americans, in his speech to the National Rifle Association's (NRA) convention in Indianapolis on Friday.
"The ATF is an agency beyond repair. I have already pledged to shut down the FBI and to rebuild a new federal law enforcement apparatus from scratch. This new apparatus can perform the function of background checks without creating a gun registry or shadow database – and I will shut down the ATF whose culture has become so toxic that it cannot merely be 'reformed,'" Ramaswamy will say, according to a preview of the speech obtained by Fox News Digital.
Ramaswamy will also call for expanded Second Amendment rights for Americans, including making constitutional carry the "law of the land."
"I will support a national constitutional carry law that allows Americans to carry their firearms on their person, no matter what state you live in," he will tell the crowd.
VIVEK RAMASWAMY BLASTS 'FEDERAL BUREAUCRACY AFTER FBI CATHOLIC CHURCH REVELATIONS: 'SHUT IT DOWN'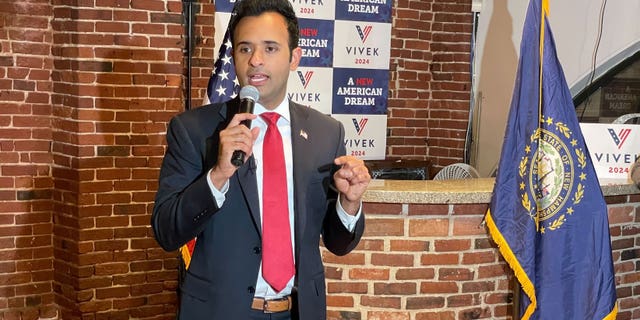 Republican presidential candidate and businessman Vivek Ramaswamy speaks to the Merrimack County Republicans at an event in Manchester, New Hampshire on April 13, 2023. (Paul Steinhauser)
Other parts of the speech will explain why he became a gun owner as a child of immigrants and after growing up in an "anti-gun" family.
"I'm not going to act like someone I'm not. I don't go hunting. Sport shooting isn't a hobby of mine. But I recently became a gun owner, and I'll tell you why. It's because the Second Amendment was made for times like today," Ramaswamy will say.
His speech will also contrast the "fundamental difference" in how the U.S. guarantees freedoms versus how countries like China and Iran guarantee freedoms, which he will say comes down to the Second Amendment.
"Tyrannical governments like China and Iran provide a valuable lesson: the key difference between talking about individual rights vs. securing individual rights is the 2nd Amendment," Ramaswamy will say.
DYLAN MULVANEY AND BUD LIGHT REVEAL THIS SHOCKING TRUTH ABOUT THE GENDER INSANITY CULT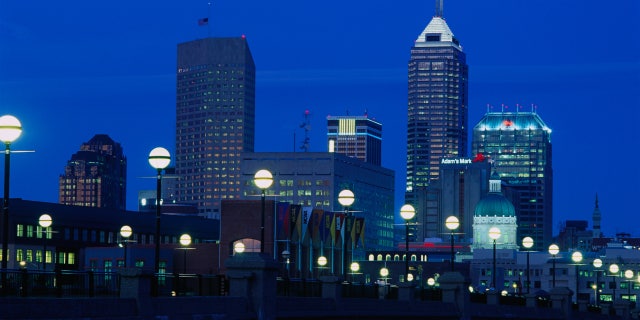 Indianapolis, Indiana skyline. (Mark E. Gibson via Getty Images)
Ramswamy will detail sections of the constitutions of Iran and China that address the rights of its citizens and government overreach, and will also discuss how the infringement of Black Americans' Second Amendment rights following the Civil War played a role in the establishment of Jim Crow laws.
He will also liken the Second Amendment to the principle of "Mutually Assured Destruction" popularized during the Cold War concerning nuclear deterrence.
"Our Founders implemented the Second Amendment as our own form of 'mutually assured destruction.' We use this phrase in the context of the Cold War, when the U.S. and USSR, both armed to the teeth with nuclear weapons, took great pains not to provoke the other," he will say. "In America, the armed citizenry balances out the government and its military: it's the last bastion that deters the government from unconstitutional overreach."
Ramaswamy will then argue that environment, social and governance standards, or ESG, and social credit systems are "a new backdoor vehicle for the government to infringe on Second Amendment rights."
VIVEK RAMASWAMY: I'm RUNNING ON MY VISION TO ANSWER WHAT IT MEANS TO BE AN AMERICAN TODAY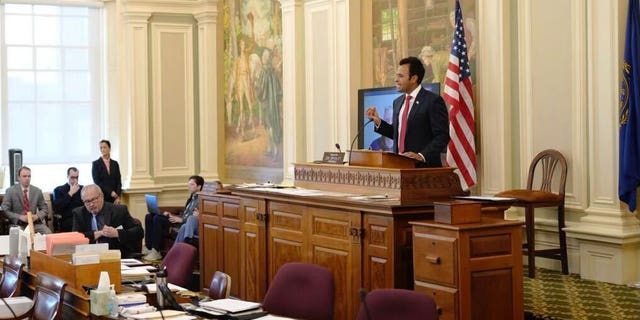 Republican presidential candidate and businessman Vivek Ramaswamy addressing the New Hampshire State Senate at the state house in Concord, New Hampshire on April 13, 2023. (Paul Steinhauser)
"Social Credit Scores (SCSs) are used by Communist China to terrorize their political opponents. Now, U.S. activists are pushing credit card companies and financial institutions to track and limit the purchase of firearms by lawful citizens using the same means," he will say
Ramaswamy will also call on the U.S. government to end such policies that he will say "foster the growing 'ESG' cancer" in our economy.
CLICK HERE TO GET THE FOX NEWS APP
The annual NRA convention will also feature a number of Ramaswamy's opponents as speakers, including former President Donald Trump and former Vice President Mike Pence. The event begins Friday and lasts through Sunday.