Colorado Buffaloes head coach Deion Sanders returned to campus for the first time following a recent medical procedure.
Late last month, the Pro Football Hall of Famer had surgery to repair blood clots in his legs. The team returned for offseason conditioning, and Sanders made an appearance.
The 55-year-old coach sat in a chair on the sidelines as players went through drills.
CLICK HERE FOR MORE SPORTS COVERAGE ON FOXNEWS.COM
"Good to see you, you look good," one player appeared to say as he greeted the Buffaloes' coach.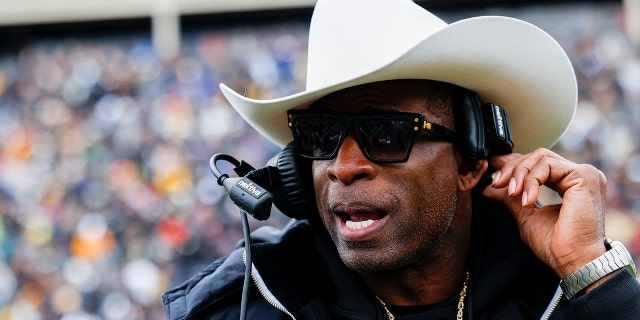 University of Colorado football head coach Deion Sanders secures his headset under his cowboy hat during the spring football game as part of Black and Gold Day April 22, 2023. (Michael Ciaglo for The Washington Post via Getty Images)
When Sanders was asked about how he felt, he replied, "Glad to be back."
Sanders was taken to a Colorado hospital, where he remained for a couple of days. He was later released after the surgery to remove blood clots from his legs.
In late June, Sanders mentioned it was unlikely his foot would be amputated due to the blood clot.