Israeli military forces have withdrawn from the West Bank city of Jenin after completing a two-day operation.
Palestinian leaders accused Israel of conducting an "invasion" of Jenin, while Israeli leaders said the raid was aimed at "the Hamas terrorist organisation responsible for all terror activities emanating from the Gaza Strip."
One Israeli soldier and 12 Palestinians were killed in the skirmish.
The conflict concluded amid an exchange of artillery when Israeli forces intercepted rockets fired by Palestinian militants and responded with a series of airstrikes.
GAZA MILITANTS, ISRAEL EXCHANGE MORE AIRSTRIKES IN MOST VIOLENT CONFLICT IN MONTHS DESPITE CEASE-FIRE EFFORTS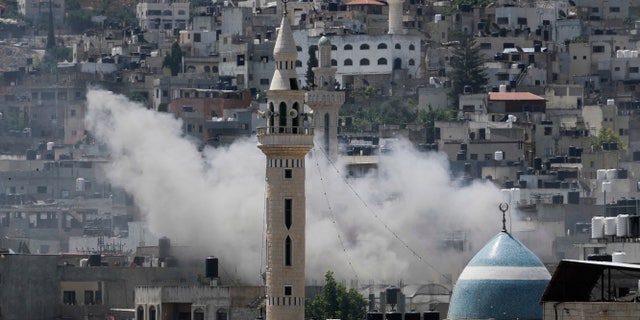 Smoke rises during an Israeli military raid of the militant stronghold of Jenin in the West Bank, Monday, July 3, 2023. Israeli drones struck targets in a militant stronghold in the occupied West Bank early Monday, and hundreds of troops were deployed in the area. Palestinian health officials said at least five Palestinians were killed. (AP Photo/Majdi Mohammed)
Israeli forces revealed images of weapons caches found in secret underground rooms beneath a mosque in Jenin on Tuesday.
Israeli officials say troops acted on "precise" intelligence from the Israeli Security Agency and used "advanced technological tools to investigate the terrorist infrastructure embedded inside" the mosque.
There have been several skirmishes in and around the city throughout 2023, with Israeli forces carrying out operations targeting specific individuals and strongholds.
Fox News' Anders Hagstrom contributed to this report.