"All warfare is based on deception. Hence, when we are able to attack, we must seem unable; when using our forces, we must appear inactive; when we are near, we must make the enemy believe we are far away; when far away, we must make him believe we are near."
This is an admonition written by the renowned ancient Chinese strategist and general Sun Tzu in his seminal work, "The Art of War," the earliest known treatise on war and military science.
Sun Tzu, whose work dates back to the fifth century B.C. and is now studied at military academies across the world, stressed the paramount importance of deception and surprise in warfare. To this day, contemporary Chinese military planners religiously adhere to Sun Tzu's guidance. China's entire warfare philosophy centers on this precept – to win means to trick your enemy. In other words, victory is only possible if you can deceive your opponent.
PUTIN AND XI SEEK TO WEAPONIZE ARTIFICIAL INTELLIGENCE AGAINST AMERICA
Despite China's peacemaker theatrics, Beijing's real goal is to keep the Russia-Ukraine conflict going as long as possible. China only benefits from having both of its primary perceived adversaries, the U.S. and Russia erode their respective combat arsenals in a proxy war. While Moscow and Beijing currently have joined forces against the common enemy, the U.S., in reality Russia and China are adversaries and are vying for dominance in Eurasia.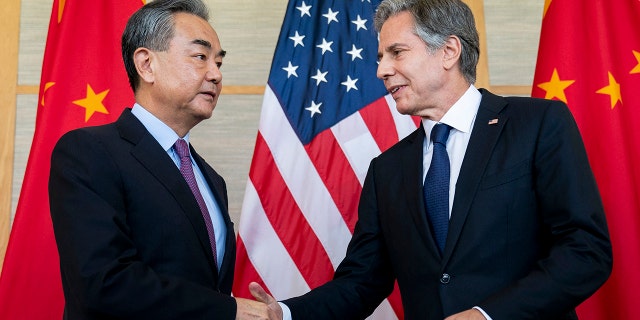 US Secretary of State Antony Blinken (R) shakes hands with China's Foreign Minister Wang Yi during a meeting in Nusa Dua on the Indonesian resort island of Bali on July 9, 2022.  ((Photo by Stefani Reynolds / POOL / AFP) (Photo by STEFANI REYNOLDS/POOL/AFP via Getty Images))
AFTER XI-PUTIN MEETING, TEAM BIDEN STILL DOESN'T GET WHAT'S JUST HAPPENED TO THE UNITED STATES
Washington establishment 'experts' rationalize that ending the flow of billions of dollars worth of weaponry to Ukraine will hand victory to Putin, emboldening Xi to invade Taiwan. It is the same characters who got every other foreign policy issue wrong — Afghanistan, Iran, Libya, Syria, and of course, the real Russia threat while focusing instead on the collusion hoax manufactured by the administrative security state. Truth is, Xi doesn't need any extra encouragement to execute China's decades old "One China" policy. Beijing vowed to "unify" the renegade province of Taiwan with mainland China back in 1949, including by force.
CLICK HERE TO GET THE OPINION NEWSLETTER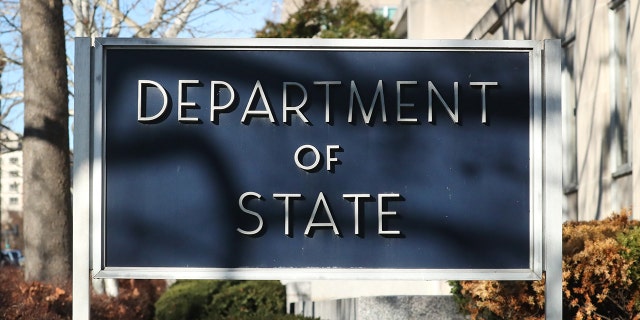 The U.S. Department of State is seen on January 6, 2020 in Washington, DC.  (Mark Wilson/Getty Images)
For the past year, Chinese warships have been harassing U.S. Navy ships in the Taiwan Strait, with the last encounter taking place on Saturday, when a People's Liberation Army Navy warship cut across the bow of a U.S. guided-missile destroyer, a distance of 150 yards. This provocation looked like a brazen attempt to instigate an incident.
In his speech, China's defense chief Li then told foreign militaries to "mind your own business," and not operate warships and aircraft close to China's territorial waters, in order to avoid problems. He blamed Washington for the recent provocative encounters.
If Team Biden is serious about coming to Taiwan's rescue, it must direct the Pentagon to devise a counterstrategy to China's plans and immediately begin restocking the ammunition and critical high-tech weapons that Washington had funneled to Kyiv.
"Victorious warriors win first and then go to war, while defeated warriors go to war first and then seek to win," was another of Sun Tzu's observations in The Art of War. The Pentagon must reverse its decades-old failed strategy of getting into wars first and then looking for ways to win later.
CLICK HERE TO READ MORE FROM REBEKAH KOFFLER