President Joe Biden has repeatedly insisted he had no knowledge of son Hunter's business dealings amid ongoing dual investigations, but records show he met with more than a dozen of Hunter's business associates, and some of those associates and top staffers at Hunter's now-defunct company visited the Obama White House more than 90 times when he was vice president in the Obama administration.
"I have never spoken to my son about his overseas business dealings," Biden said to Fox News reporter Peter Doocy as he jabbed his finger in his face on the campaign trail in Iowa in 2019. "You should be looking at Trump. Trump's doing this because he knows I'll beat him like a drum. … Everybody's looked at it and said there's nothing there. Ask the right question."
"I don't discuss business with my son," Biden said again a month later in October 2019.
Fox News Digital reported Monday that four business partners, a vice president and two assistants at Hunter's now-defunct investment firm visited the White House more than 80 times when his father was vice president in the Obama administration.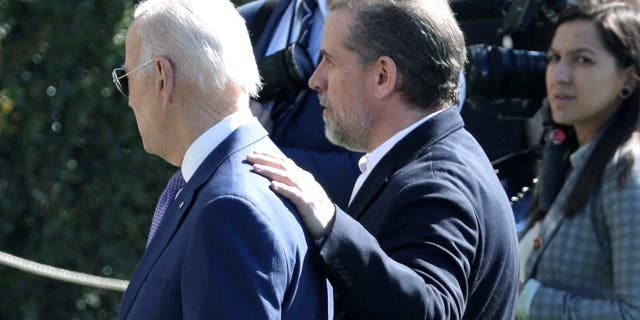 U.S. President Joe Biden (L) and his son Hunter Biden (2nd L) attend the annual Easter Egg Roll on the South Lawn of the White House on April 10, 2023 in Washington, D.C. (Photo by Alex Wong/Getty Images)
VP BIDEN'S OFFICE TRIED TO QUASH BLOOMBERG STORY ABOUT HUNTER BIDEN AT HIS FIRM'S REQUEST, EMAILS SHOW
Eric Schwerin, the former president of Hunter's now-defunct investment firm Rosemont Seneca Partners, "managed almost every aspect" of the financial life of the Bidens, according to Hunter's ex-wife, and he visited the White House when Biden was vice president at least 27 times.
Biden met with Schwerin and former Colombia President Andrés Pastrana Arango, another Hunter business associate, at Biden's vice presidential residence on March 2, 2012, according to an entry in Hunter's personal calendar first reported by the New York Post.
Schwerin met with Anne Marie Person at least three times between February and June 2016, a Fox News Digital review found. Steve Ricchetti, who currently serves as Biden's White House counselor, also met with Schwerin at least twice in 2016.
Fox News Digital previously reported on Schwerin's cozy relationship with Biden's office as vice president and how Biden's office tried to quash a Bloomberg News story about Hunter at Schwerin's request.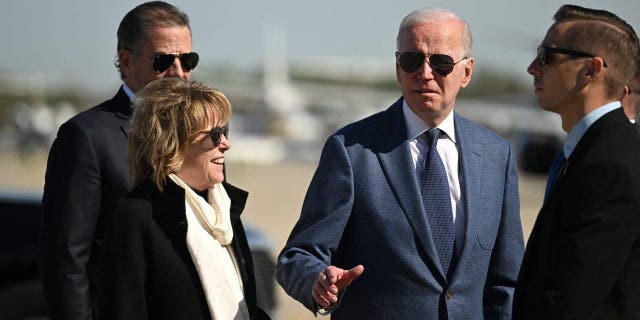 US President Joe Biden, with his sister Valerie Biden (2nd L), and son Hunter Biden (L), arrives to board Air Force One, as he departs for Northern Ireland, at Joint Base Andrews in Maryland on April 11, 2023. (Photo by JIM WATSON/AFP via Getty Images)
Former Hunter business partner Joan Mayer made at least 17 visits to the White House during that time, according to visitor logs reviewed by Fox News Digital. Mayer says on LinkedIn that she was the vice president of Hunter's Rosemont Seneca Advisors, which was part of the Rosemont Seneca Partners family of companies, from 2008 to 2017.
Another former Hunter Biden assistant, Anne Marie Person, visited the Obama White House at least five times before she left the firm in 2014 to join then-Vice President Biden's staff, according to the visitor logs. One of those visits included an April 2014 meeting with Kathy Chung, the former Biden aide who currently serves as the Pentagon's deputy director of protocol, and was likely interview-related ahead of starting her job there. In May 2014, Person was hired as a staff assistant to then-Vice President Biden.
JOE BIDEN MET WITH AT LEAST 14 OF HUNTER BIDEN'S BUSINESS ASSOCIATES WHILE VICE PRESIDENT
John Robinson "Rob" Walker, another one of Hunter Biden's former business partners at Rosemont Seneca Partners, appeared on the White House visitor logs at least 16 times when Biden was vice president. Walker's name resurfaced last month when House Oversight Committee Republicans released a memo saying they obtained records showing members of the Biden family received more than $1 million in payments from accounts related to Walker and their Chinese business ventures in 2017.
Biden previously denied his son ever received money from China.
"My son has not made money in terms of this thing about, what are you talking about, China," Biden declared during the October 2020 debate against Trump. "The only guy who made money from China is this guy. He's the only one. Nobody else has made money from China."
On March 17, Biden denied the reported China-linked payments when asked if he had a reaction to the GOP memo, saying, "That's not true," despite Republicans claiming they have proof.
"President Biden's statement was misleading and dishonest," Rep. James Comer Comer, R-Ky., said after the denial, noting that the committee "received the bank documents from a financial institution pursuant to a subpoena."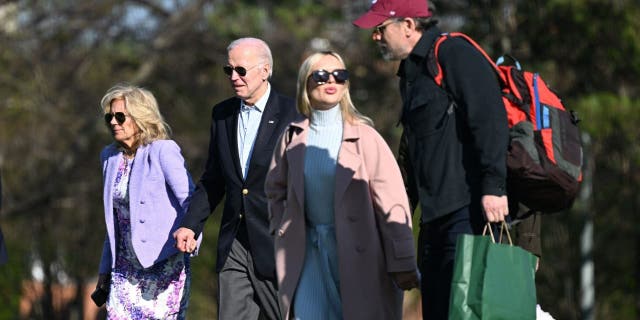 US President Joe Biden, First Lady Jill Biden, Hunter Biden, and his wife Melissa Cohen walk to the motorcade after arriving on Marine One at Fort McNair in Washington, DC on April 9, 2023. (Photo by ANDREW CABALLERO-REYNOLDS/AFP via Getty Images)
The co-founder of Hunter's Rosemont Seneca Partners, Devon Archer, who was sentenced to federal prison last February for his role in a scheme to defraud a Native American tribe, visited Biden at least twice in 2009 and 2014 during his vice presidency. The December 2009 visit was a holiday reception at Biden's vice presidential residence and the April 2014 visit was with Biden in the West Wing. He also played golf with Biden and Hunter at least once during the Obama administration in August 2014 in the Hamptons, four months after Hunter and Archer joined the board of Burisma Holdings.
Arlene Busch, formerly a partner at Rosemont Seneca Partners, the parent company of Rosemont Seneca Advisors, visited the White House at least four times between 2009 and 2013 when's Hunter's father was vice president.
HUNTER BIDEN INTERVIEW GOES OFF THE RAILS AS HOST SAYS HIS 'HANDS WERE TIED' FROM ASKING POLITICAL QUESTIONS
Another former Rosemont Seneca partner, Chris Heinz, the stepson of then-Sen. John Kerry, met with Biden in the West Wing on April 11, 2011, according to the visitor logs.
Katie Dodge, Hunter's former personal assistant, visited the White House at least nine times from December 2012 to July 2015 when his father was vice president.
Biden also personally met with more than a dozen of Hunter Biden's foreign business associates from the U.S., Mexico, Ukraine, China and Kazakhstan over the course of his vice presidency, Fox News Digital previously reported.
On March 2, 2012, Biden met with Schwerin and the former president of Columbia, Andrés Pastrana Arango, with whom Hunter was trying to secure business deals with in the South American country, at Biden's Naval Observatory residence.
Later the same day, Hunter, whose Rosemont Seneca had entered a contract months earlier with OAS, a Brazilian construction company with Colombian interests, scheduled a lunch with Arango and Juan Esteban Orduz, the president of Colombian Coffee Federation, according to the calendar reported by the New York Post.
Just months before the two meetings, Hunter had dinner with Arango in Bogota, the New York Post said.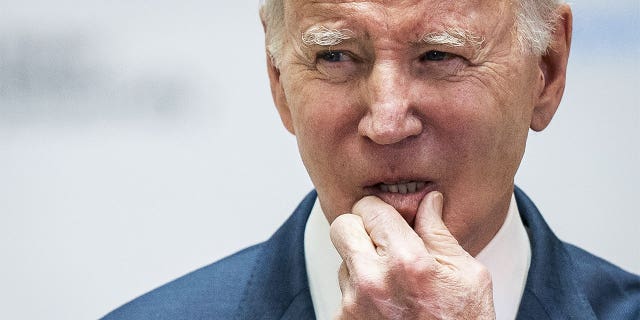 US President Joe Biden delivers his keynote speech at Ulster University in Belfast, during his visit to the island of Ireland on Wednesday April 12, 2023. (Aaron Chown)
James J. Bulger, the nephew of notorious mobster Whitey Bulger, was listed as visiting the White House for a West Wing tour on Aug. 25, 2016. The visitor logs show him meeting with Anne Marie Person.
Bulger was serving as the chairman of Boston-based Thornton Group LLC — a firm that joined forces with Hunter's Rosemont Seneca to launch its joint-venture with Chinese investment firm Bohai Capital to create BHR Partners, which is controlled by Bank of China Limited.
In December 2013, then-Vice President Biden traveled to Beijing due to a scheduled meeting with Chinese President Xi Jinping. Hunter expressed interest in joining his father on the trip and ended up going, where he admitted to the New Yorker that he introduced his father to his Chinese business partner, Jonathan Li, who ran the Chinese private-equity fund Bohai Capital. According to the report, Hunter arranged for a brief handshake in the lobby of the hotel where the U.S. delegation was staying and then Hunter met up with Li privately.
BIDEN'S COMMERCE DEPT SILENT ON WHETHER HUNTER BIDEN'S FORMER BUSINESS PARTNER WILL REMAIN ON ADVISORY BOARD
Two of Hunter's Mexican business associates, Miguel Aleman Velasco and Miguel Aleman Magnani, visited the West Wing on Feb. 26, 2014, according to the visitor logs, and Joe Biden was later photographed with Hunter giving Velasco and Magnani a tour of the White House Brady Press Briefing room.
In November 2015, Velasco, Magnani and Carlos Slim, a Mexican billionaire with whom Hunter was seeking to do business with at the time, attended a meeting with Joe, Hunter and Hunter's business partner and family friend Jeff Cooper at the vice presidential residence at Number One Observatory Circle, Washington D.C., according to photos dated Nov. 19, 2015, and published by the Daily Mail.
HUNTER BIDEN HELPED FORMER BIDEN AIDE WITH HOUSE CAMPAIGN WHILE WORKING WITH HIS CCP-TIED BUSINESS PARTNER
Biden also attended a dinner with Hunter's business associates from Ukraine, Kazakhstan and Russia at Café Milano in Washington, D.C., on April 16, 2015, records on Hunter's abandoned laptop show.
The dinner's guest list, according to an email from Hunter to Archer, included Vadym Pozharskyi, a Burisma executive where Hunter served as a board member. The guest list also included the late Moscow Mayor Yury Luzhkov and his wife, Russian billionaire Yelena Baturina, who was in business with Hunter's Rosemont firm, though it is not clear whether they actually attended the dinner.
In June 2014, Hunter reportedly arranged for another business associate of his to meet with his father. The New York Post reported that two years earlier Hunter introduced Manuel Estrella, a Latin American business partner, to Cooper as a "a good friend of mine" and "the perfect partner as you explore bringing online gaming to the Dominican Republic." The report then mentioned that Hunter received an email in June 2014 from Estrella, saying, "Hunter, I just met your father! So exiting! Francis Person helped me! Thanks! Hope to see you soon!"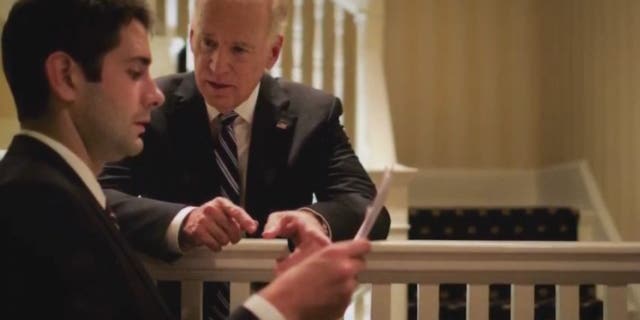 Fran Person, a former adviser to Vice President Joe Biden, unsuccessfully is ran for Congress in South Carolina's 5th Congressional District in 2016. (Fran Person/YouTube screenshot)
Francis "Fran" Person, the brother of Ann Marie Person, was a top former adviser to Biden when he was a senator and the vice president.
Fox News Digital reported in April that Person visited the Obama-Biden White House at least seven times between 2015 and 2016 after he left the White House to work for Harves, a Washington, D.C.-based investment firm with deep ties to the Chinese Communist Party (CCP).
FOX Business previously reported that Hunter's Rosemont Seneca Advisors held financial interests in multiple Harves affiliates, including a 5% stake with Harves Amusement Parks and ownership in Harves Sports and Entertainment, both of which fall under the Washington, D.C.-based Harves Group.
Bo Zhang, the Chinese executive who founded the Harves Group and whose father-in-law is the current Communist Party secretary of Hainan province, accompanied Fran in attending a White House holiday reception in December 2015.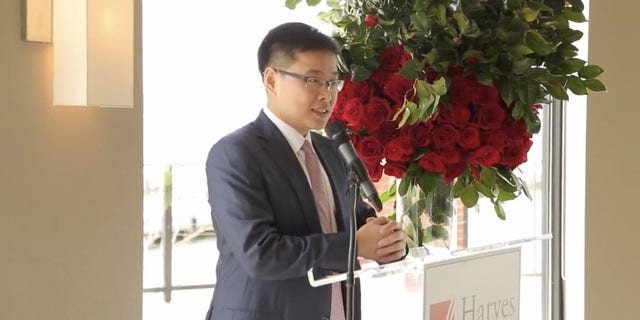 Bo Zhang, pictured here, met with Hunter Biden and Eric Schwerin several times while his business partner, Fran Person, was running for Congress in 2016. (Harves Investment Group/ YouTube Screenshot)
During his time at Harves, Fran, the company's president, launched a failed bid for Congress in South Carolina's 5th Congressional District in 2016. In September of that year, then-Vice President Biden traveled to South Carolina for a fundraiser for him. In addition to the visit, Hunter and Schwerin were recruiting their business associates behind the scenes to donate thousands of dollars to Fran's campaign, according to emails reviewed by Fox News Digital.
A 2014 Politico profile piece on Fran quotes then-second lady Jill Biden saying, "Fran has been like a son to Joe and me. For eight years, we traveled the country, shared holidays together … Fran may be leaving the office, but he will always be a part of our family."
BIDEN TAKES SON HUNTER AND SISTER VALERIE TO IRELAND AS INVESTIGATIONS HEAT UP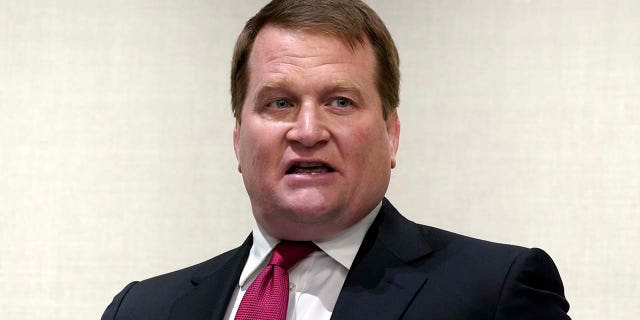 Tony Bobulinski, a former associate of Hunter Biden, talks with reporters before the presidential debate, Thursday, Oct. 22, 2020, in Nashville.  (AP Photo/Evan Vucci)
Tony Bobulinski, the former CEO of SinoHawk Holdings, a Hunter and James Biden joint venture with a Chinese energy firm, also apparently met with Joe in May 2017. Text messages obtained by Fox News Digital indicated that a meeting took place, though it's unclear what the substance of the meeting may have been.
Fox News Digital asked whether the White House could confirm that business matters or Rosemont Seneca were not discussed during any of the meetings mentioned, but it declined to comment.
Hunter's foreign business dealings were first reported in a September 2020 report from Senate Republicans but were largely ignored in the run-up to the 2020 presidential election.
Shortly after the Senate report, just three weeks before the election, the New York Post published its bombshell story about the contents of Hunter's abandoned laptop, which led to widespread censorship of the article by major media outlets and social media platforms like Twitter, which was working closely with the FBI at the time, Elon Musk's "Twitter Files" have since revealed.
Biden said the laptop was a "Russian plan" and a "bunch of garbage" that "nobody believes" during his final debate against Trump on Oct. 22, 2020, days after the New York Post story broke.
On the same day of that debate, the government-funded NPR publicly declared that it would deliberately ignore the laptop story.
Biden went on to win the election less than two weeks later in November 2020, and roughly one month after that, it was revealed that his son had been under federal criminal investigation since 2018 for potential violations of tax, money laundering and foreign lobbying laws.
Biden continued to claim the laptop was Russian disinformation when pressed by Doocy about the investigation that December.
"Yes, yes, yes. God love you, man. You're a one-horse pony," Biden said at the time. "I promise you my Justice Department will be totally on its own, making its judgments about how they should proceed."
BIDEN SPOTTED WITH SON HUNTER AT WHITE HOUSE EAST EGG ROLL AS INVESTIGATIONS HEAT UP
In March 2022, nearly a year and a half after the New York Post story broke, major media outlets like the Washington Post and the New York Times finally came around to authenticating thousands of emails from the laptop and debunking the Russian disinformation theory after initially dismissing the scandal.
Still, then-White House press secretary Jen Psaki insisted Biden had never spoken to his son about his foreign business deals.
"The president does not get involved in the business dealings of his son," she said in April 2022.
"What the president said stands," current White House press secretary Karine Jean-Pierre said in July 2022.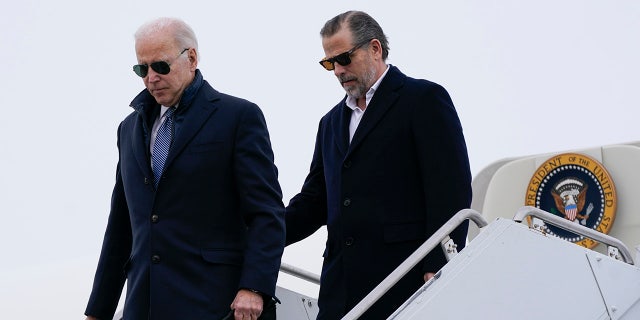 President Joe Biden and his son, Hunter Biden, step off Air Force One, Saturday, Feb. 4, 2023, at Hancock Field Air National Guard Base in Syracuse, N.Y.  (AP Photo/Patrick Semansky)
On Jan. 4, House Oversight Committee Republicans officially launched their investigation into the Biden family's business dealings to determine whether the president is compromised by financial interests.
Since then, the White House has consistently refused to speak on the laptop or the dual investigations, with Jean-Pierre referring reporters' questions to the Department of Justice and Hunter's personal lawyers.
"We're going to continue to be prudent from here and not speak to any investigation that is currently underway by the Department of Justice," the press secretary said March 1. "And when it comes to Hunter Biden, I would refer you to his personal representative. He's a private citizen. So I will leave it there."