August features two supermoons this year, including a blue moon.
NASA says that the full sturgeon moon rises in the east just 30 minutes after sunset on the first day of the month.
It will reach its peak at 2:32 p.m. ET, according to The Farmers' Almanac.
It is named the sturgeon moon for the time of year when the large fish were abundant in the Great Lakes. This moon was also called the green corn moon.
The blue sturgeon moon will peak at 9:36 p.m. ET and is expected to be the biggest of the year, per The Almanac.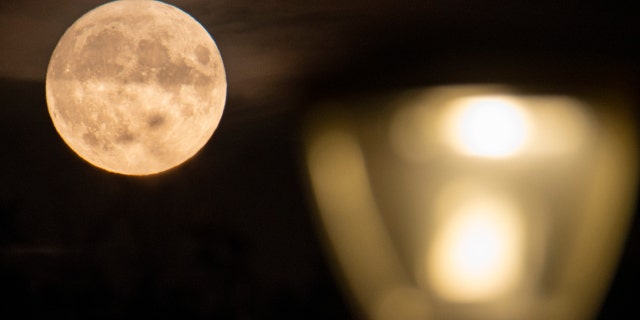 The sturgeon full moon rises over Eindhoven in the Netherlands on Aug. 11, 2022. (Photo by Nicolas Economou/NurPhoto via Getty Images)
WEBB SPACE TELESCOPE MARKS 1ST YEAR OF SCIENCE WITH MARVELOUS NEW IMAGE
Because it takes 29.5 days to complete the cycle from full to new and back to full, most months will only see one. However, occasionally, there will be two in a month.
A supermoon occurs when the moon's orbit is closest to the Earth at the same time that the moon is full.