Students in the tiny Alabama town of Dadeville wore their black and gold school colors Monday as they mourned two seniors were among four young people killed by gunfire at a Sweet 16 birthday party over the weekend.
Less than six weeks from graduation, faculty, staff and students filed past flags at half-staff to meet counselors waiting to talk about the shooting, which also injured 28 at the Mahogany Masterpiece dance studio off the courthouse square. The school, with its 485 students in grades 6-12, is central to community life in Dadeville, population 3,200, where "Home of the Tigers" is painted on the water tower and local businesses sport signs proclaiming "This is Tiger Country."
Investigators were still trying to piece together what happened at the party, where numerous gunshots left the dance studio's windows pocked with bullet holes. While police sought clues, others said they were tending the community's heart.
"It's going to be a tough time for graduation and for these kids," said Heidi Smith, a spokesperson for the 46-bed Lake Martin Community Hospital, where a number of victims were treated. "We will be here for them and their families for the duration."
The weekend was marked by a series of high-profile shootings in the U.S. One left two people dead and four wounded Saturday in Louisville, Missouri; another resulted in four men being shot — one fatally — in Los Angeles; and a third left two women wounded at Lincoln University in southeastern Pennsylvania.
ALABAMA HOSPITAL RECEIVED OVER A DOZEN TEENS WOUNDED IN MASS SHOOTING
Dadeville locals were quick to say that such violence was uncharacteristic of their community, but gun deaths are more common in Alabama than in most places. The state had the fifth-highest rate of gun deaths nationwide in 2020, according to the U.S. Centers for Disease Control and Prevention.
It wasn't clear if all 28 people injured in Dadeville were shot or if some suffered other injuries. Smith said 15 people with gunshot wounds were seen at her hospital. More were taken to other facilities.
Those killed were identified as Marsiah Emmanuel "Siah" Collins, 19, of Opelika; Corbin Dahmontrey Holston, 23, of Dadeville; Philstavious "Phil" Dowdell, 18, of Camp Hill and Shaunkivia Nicole "Keke" Smith, 17, of Dadeville, Tallapoosa County Coroner Mike Knox told The Associated Press on Monday. Relatives had identified Dowdell and Smith on Sunday.
It was still unclear who started the shooting or why, or whether investigators had made any arrests. Sgt. Jeremy Burkett of the Alabama Law Enforcement Agency did not take questions during news conferences Sunday. Officials repeatedly asked others to come forward with information on the shooting.
Much of the public attention focused on Dowdell, who played wide receiver on the Dadeville High football team in a state where football rules Friday nights and Saturdays in the fall. The Tigers went undefeated in last year's regular season before losing in the playoffs.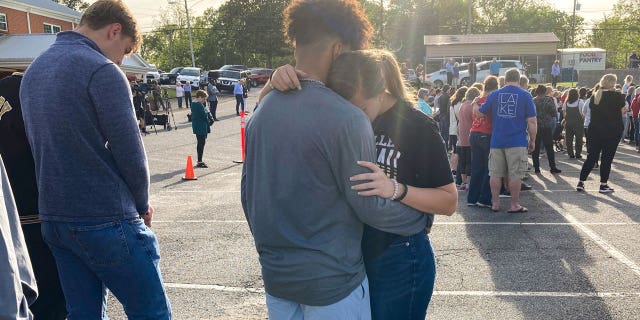 Two teens embrace at a prayer vigil on Sunday, April 16, 2023, outside First Baptist Church in Dadeville, Alabama. (AP Photo/Jeff Amy)
The shooting happened at his sister's birthday party.
Michael Taylor, an assistant coach, said he met Dowdell when the boy was 9 and coached him in youth football. The Tigers were invited to Atlanta to play in the stadium used by the NFL's Atlanta Falcons.
"He did some amazing things there, and he never stopped doing them since then," Taylor said of Dowdell, who also played basketball and was a track standout. "He was the No. 1 athlete in the school."
Antojuan Woody, another senior, grew up in nearby Camp Hill with Dowdell and was fellow wide receiver for the Tigers. The two were best friends all their lives.
"It hurts," Woody said as a steady stream of friends and teammates walked over to hug him during a prayer vigil Sunday. "It's unreal. I can't believe it."
CLICK HERE TO GET THE FOX NEWS APP
Woody said he and Dowdell had a special relationship on the football field. "Us being friends forever like that, our chemistry was spot on. We always celebrated together on the field."
Keenan Cooper, the DJ at the party where the shootings took place, told WBMA-TV the event was stopped briefly when attendees heard someone had a gun. He said people with guns were asked to leave, but no one did.
The shooting sparked what Mayor Frank Goodman said was a "chaotic" scene at the town's small hospital, where emergency workers, relatives and friends swarmed on Saturday. Smith said six people were treated locally and released, but others were transferred to larger hospitals in Birmingham, Montgomery and Opelika, Alabama, as well as to Columbus, Georgia.