"The View" co-host Whoopi Goldberg was somewhat skeptical Thursday of Prince Harry and Meghan Markle's account of the "near-catastrophic car chase" they were in after attending a New York City event this week, saying it "just doesn't work in New York."
Calling it some "wacky stuff," Goldberg recounted how the spokesperson for Harry and Meghan used the loaded language to describe how their taxi was pursued by paparazzi. Following an event where the Duchess of Sussex received the 2023 Woman of Vision Award from Gloria Steinem, Markle, her husband and her mother, Doria Ragland, were pursued by swarms of photographers for "over two hours," which resulted in "multiple near collisions involving other drivers on the road," according to a spokesperson for the royal couple.
"Others said it wasn't bad, but I think people in New York know if it was possible to have car chases in New York, we'd all make it to the theater on time," Goldberg joked. "I think their spokesperson referenced something that you'd generally reference in Los Angeles. That's where you have chases, that's where you can move at high speeds. I think they were dealing with aggressive paparazzi, but I don't think it was where, you know, you watch it on TV like this, watching the cars go, because it just doesn't work in New York."
Co-host Joy Behar added that when she sees an ambulance trying to get through a clogged-up part of Manhattan, she thinks "that person is dead," since they won't be able to get past that street.
The show's panelists said the wording of the spokesperson's comments may have what led to criticism, as the expression "car chase" called to mind the sort of dangerous, high-speed freeway car chases in movies and television.
"You can't do it here," Goldberg said of having a "chase" in New York.
There was also the inescapable comparison to the tragic fate of Prince Harry's mother, Princess Diana, who was killed in a car accident in Paris in 1997. Her car was being pursued by paparazzi at the time, although her driver Henri Paul was found to have been intoxicated by drugs and alcohol when he crashed into a pillar in a tunnel. Paul and Diana's boyfriend Dodi Fayed died at the scene; Diana was critically injured and died at a nearby hospital.
"I don't think anybody realizes that the verbiage that they were using was going to cause the kind of thing that it did," Goldberg said. "Your spokesperson, when you use that kind of verbiage, know that your credibility is going to get cut in half, because the first thing New Yorkers will say, 'nobody moves that fast in New York City.' So just keep that in mind."
PRINCE HARRY, MEGHAN MARKLE MOVING FROM PROTECTED SUV TO TAXI AMID CHASE MAKES 'ZERO SENSE': SECURITY EXPERT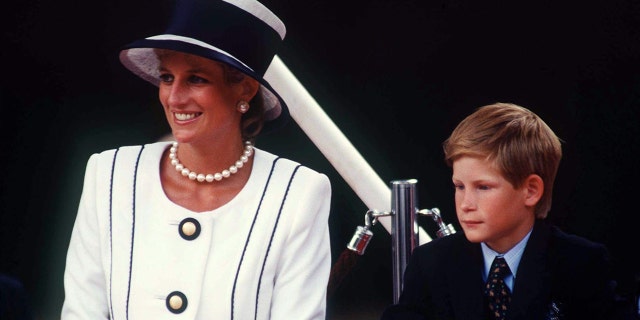 Prince Harry's mother, Princess Diana, was killed in a car accident in Paris in 1997. (Tim Graham Photo Library)
Co-host Alyssa Farah Griffin called it a "PR failure" in part, saying the language reignited the public trauma that the world still has about Diana's death.
CLICK HERE TO GET THE FOX NEWS APP
Fox News' Tracy Wright, Lauryn Overhultz, Brie Stimson and Larry Fink contributed to this report.