A U.S. citizen has reportedly been killed in Sudan amid escalating violence in the country's capital and other places over the past week.
"We can confirm the death of one U.S. citizen in Sudan," a State Department spokesperson told Fox News. "We are in touch with the family and offer our deepest condolences to them on their loss. Out of respect for the family during this difficult time, we have nothing further to add."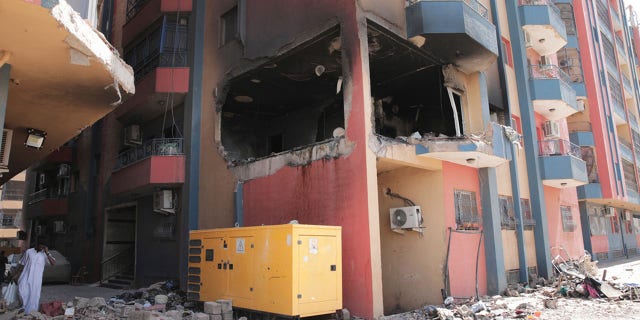 Residential buildings damaged in fighting are seen in Khartoum, Sudan, Thursday, April 20, 2023.  (AP Photo/Marwan Ali)
The paramilitary Rapid Support Forces (RSF) and Sudan's army have been battling for control of the country, with 5 million city residents and U.S. personnel caught in the crossfire.
A 24-hour cease-fire that began Wednesday ran out Thursday evening with no word of an extension, raising the likelihood of extending the weeklong violence that has killed hundreds of Sudanese so far.
SUDAN CONFLICT: US CONDUCTS 'PRUDENT PLANNING' AS VIOLENCE ESCALATES
Alarm has grown that the country's medical system was on the verge of collapse, with many hospitals forced to shut down and others running out of supplies.
The brief ceasefire brought only marginal calm to some parts of the capital, Khartoum. But many residents took advantage to flee their homes where they had been trapped for days.
The demise of the truce underscored the failure of the United States, U.N., European Union, and regional powers to push Sudan's top generals to halt their campaigns to seize control of the country. Instead, army chief Gen. Abdel Fattah Burhan and RSF commander Gen. Mohammed Hamdan Dagalo each appear determined to win a military victory over the other.
The U.S. military is preparing to place additional forces in Djibouti for a potential mission to evacuate U.S. Embassy personnel in Kartoum.
"The Department of Defense, through U.S. Africa Command, is monitoring the situation in Sudan and conducting prudent planning for various contingencies. As part of this, we are deploying additional capabilities nearby in the region for contingency purposes related to securing and potentially facilitating the departure of U.S. Embassy personnel from Sudan, if circumstances require it," Defense Department spokesman Lt. Col. Phillip Ventura said.
CLICK HERE TO GET THE FOX NEWS APP
"As a matter of policy and security, we do not speculate on potential future operations," he added.
Fox News' Liz Friden, Chris Pandolfo, and The Associated Press contributed to this report.