Apple's revolutionary iPhone first went on sale on this day in history, June 29, 2007, at Apple retail stores nationwide.
All 164 Apple retail stores in the U.S. stayed open until midnight that evening so that eager customers could purchase up to two iPhones on a "first-come, first-served basis," according to a press release by Apple on that date.
First announced on Jan. 9, 2007, by Apple CEO Steve Jobs, the iPhone was considered one of Apple's worst-kept secrets — but even so, it was arguably the most anticipated gadget of all time.
ON THIS DAY IN HISTORY, JUNE 28, 1778, 'MOLLY PITCHER' PROVIDES WATER TO HUSBAND'S REGIMENT, ASCENDS TO FAME
"We are all born with the ultimate pointing device — our fingers — and iPhone uses them to create the most revolutionary user interface since the mouse," Jobs also said during his keynote speech.
The first iPhone combined three products in its one small handheld device, serving as "a revolutionary mobile phone, a widescreen iPod and the Internet in your pocket, with best-ever applications on a mobile phone for email web browsing and maps," Apple said.
ON THIS DAY IN HISTORY, JUNE 20, 1975, GROUNDBREAKING AND TERRIFYING MOVE 'JAWS' OPENS IN THEATERS
"Just two months after the iPhone's initial release, Apple trimmed the handset's price down to $400," that publication noted.
"That helped a little, but it wasn't until 2008 — when Apple unveiled the iPhone 3G with a new $200 price tag and access to the faster 3G network — that the smartphone exploded in popularity. Apple sold over 10 million iPhone 3G units worldwide in just five months," it also said.
ON THIS DAY IN HISTORY, JUNE 18, 1983, ASTRONAUT SALLY RIDE BECOMES FIRST WOMAN IN SPACE
In addition to hardware changes, the new iPhone boasted a 3-megapixel digital camera that could also record digital videos – and it had an internal digital compass, capable of working with various mapping software.
In June 2010, the iPhone 4 was introduced; it was thinner with improved battery life, and offered a 5-megapixel camera and a front-facing camera for video chat and selfies, Britannica also noted.
The iPhone 5 entered the scene in September 2012, and the 5C and the more expensive 5S were released in September 2013.
Next, in 2016, the iPhone 7 and 7 Plus premiered in two new colors: Black (a matte-finish charcoal color) and the super shiny Jet Black.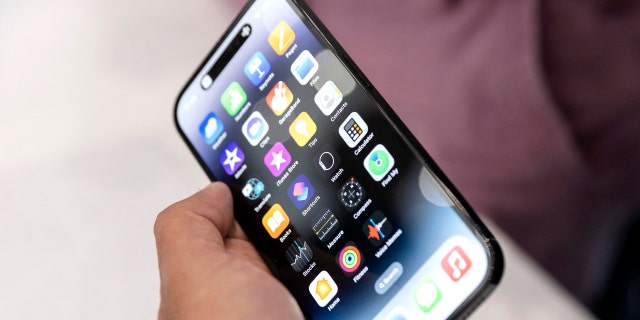 An Apple associate holds one of the new iPhone Pros during a launch event for new products at Apple Park in Cupertino, California, on Sept. 7, 2022. (BRITTANY HOSEA-SMALL/AFP via Getty Images)
Apple introduced the iPhone 8 and 8 Plus in 2017, with a new glass and aluminum enclosure and an improved 12-megapixel camera that had a larger and faster sensor, a new color filter, deeper pixels and more capabilities, according to ComputerWorld.
There was no iPhone 9 model released.
In the late 2010s and early 2020s, new iPhone models concentrated on incremental improvements to the cameras, screen resolution and processing power. "The iPhone 11 Pro and Pro Max (introduced in September 2019) were the first models to have three cameras on the back, the third camera being able to take ultrawide-angle pictures," Britannica said.
In October 2020, the iPhone 12 Pro got an even larger big brother with the 6.7-in. iPhone 12 Pro Max, according to ComputerWorld. Next, in 2021, iPhone 13 and 13 mini offered users a new processor and better battery life.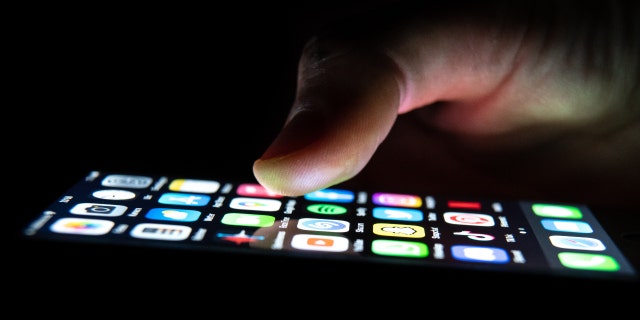 A man holds an iPhone with apps displayed on its front. (Silas Stein/picture alliance via Getty Images)
The next year, 2022, Apple released the iPhone 14 Pro and Pro Max, and both models featured improved cameras and Emergency SOS via Satellite, according to CNET.
With over 2.3 billion units sold since 2007, Apple has taken the top spot in the global smartphone market.