Twenty Republicans in the House of Representatives sided with most Democrats Wednesday in voting to set aside a resolution that would have censured Rep. Adam Schiff, D-Calif., for insisting that former President Donald Trump colluded with Russia to win the 2016 election.
The 225-196 vote effectively killed the resolution introduced by Rep. Anna Paulina Luna, R-Fla., and included two other Republican lawmakers voting "present" along with five Democrats.
Here are the 20 Republicans who voted not to move forward with the measure:
Rep. Thomas Massie, R-Ky.
ADAM SCHIFF DODGES BULLET: HOUSE VOTES AGAINST BILL CENSURING HIM FOR TRUMP-RUSSIA 'LIES'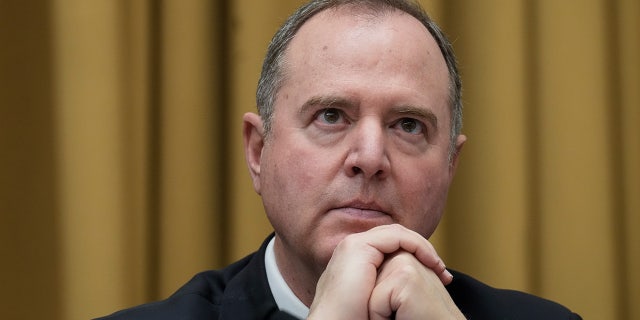 Rep. Adam Schiff (D-CA) attends a business meeting prior to a hearing on U.S. southern border security on Capitol Hill, February 01, 2023, in Washington, DC. (Drew Angerer/Getty Images)
Rep. Tom Cole, R-Okla.
Rep. Warren Davidson, R-Ohio
Rep. Thomas Kean, R-N.J.
Rep. Kevin Kiley, R-Calif.
Rep. Young Kim, R-Calif.
Rep. Jay Obernolte, R-Calif.
WHITE HOUSE REPEATEDLY DODGES QUESTION ON 'FINANCIAL' REPARATIONS FOR SLAVERY: 'WE'LL TAKE A LOOK AT IT'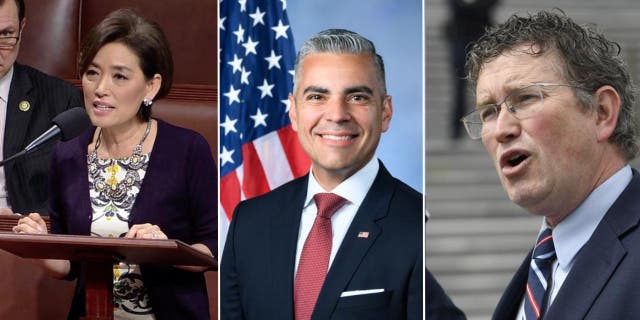 From left to right: Reps. Young Kim, R-Calif., Rep. Juan Ciscomani, R-Ariz., and Rep. Thomas Massie, R-Ky. (AP/House of Representatives)
Rep. Michael Simpson, R-Idaho
Prior to the vote, Massie said he opposed the idea of a fine against Schiff — the resolution recommended a $16 million fine but did not require it.
"Adam Schiff acted unethically but if a resolution to fine him $16 million comes to the floor I will vote to table it. (vote against it)," he tweeted Wednesday.
DID BIDEN CALL UK PM SUNAK 'PREJUDICED'? WHITE HOUSE PRESSES ON COMMENTS ON STATE PUBERTY BLOCKER BANS