A suspect on the run in Texas after allegedly killing five neighbors execution-style Friday night when they complained about him firing a rifle on his property has been deported from the country five times, a source from ICE told Fox News Digital.
The FBI said Sunday afternoon authorities have "no leads" in the search for Francisco Oropesa, 38, a Mexican national who is accused of the quintuple murder in Cleveland, Texas, outside Houston.
The Texas governor's office, state agencies and the FBI are offering a combined $80,000 reward for tips leading to his capture.
"We do not know where he is, that's why we've come up with this reward," FBI Houston Special Agent in Charge James Smith told reporters on Sunday, adding that he's sure Oropesa has contacted friends since becoming a fugitive, but they need to know who.
FBI RELEASES NEW PHOTOS OF FUGITIVE IN COUNTRY ILLEGALLY, ACCUSED OF FATALLY SHOOTING 5 NEIGHBORS IN TEXAS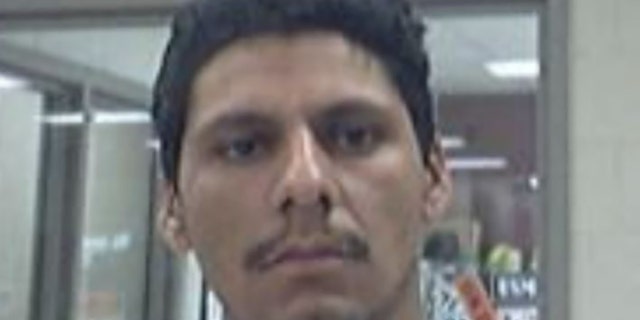 Francisco Oropesa is accused of killing five of his neighbors after a noise complaint. (FBI Houston)
Oropesa was in the country illegally at the time of the shooting and had previously reentered the country illegally "multiple" times following his deportations, another ICE source told Fox News Digital.
The source added that Oropesa was last encountered by ICE in 2016.
DHS Secretary Alejandro Mayorkas told Chuck Todd on "Meet the Press" on Sunday that he wouldn't "comment" on Oropesa's immigration status after Todd said there was a question about him having a "consulate card, meaning he was here legally, but perhaps he had overstayed?"
Mayorkas replied, "I won't comment on it because it is an active case. The tragedy that occurred is … just absolutely horrific."
MEXICAN NATIONAL WANTED IN DEADLY TEXAS SHOOTING OF 5 NEIGHBORS 'COULD BE ANYWHERE,' SHERIFF SAYS
The FBI released four new photos of Oropesa's face, including one of a large tattoo of a woman wearing a headdress on one of his arms.
"He could be anywhere now," San Jacinto County Sheriff Greg Capers said Saturday night, adding that investigators have widened their perimeter from about five or six square miles to "as much as 10 or 20 depending on whether or not he crossed the highline wire."
Authorities found an abandoned cellphone and articles of clothing lying around, and tracking dogs from the Texas Department of Correction "picked up a scent and then … lost that scent in the water," according to the sheriff.
The victims have been identified as Sonia Argentina Guzman, 25, Daniel Enrique Laso Guzman, 8, Diana Velazquez Alvarado, 21, Julisa Molina Rivera, 31, and Jose Jonathan Casarez, 18.
Wilson Garcia, who lost his wife and son in the shooting, told local news station KTRK-TV they were preparing to call the police after they asked Oropesa to stop shooting his AR-15 because it was late and their 1-month-old baby couldn't sleep.
But Oropesa entered their home and started shooting before they could.
"I never thought that he would shoot," Garcia said, adding that Oropesa had also tried to shoot him but missed. "Then he went room to room, looking for people."
Two women were also found lying on top of three children who survived in an apparent attempt to shield them from the bullets.
CLICK HERE TO GET THE FOX NEWS APP
Garcia said he'd never had a problem with Oropesa previously in the three years his family had lived there.
"I can't believe what he did," he added.