The "Tennessee three" lawmakers who faced expulsion from the House after they took part in a gun-control protest at the state Capitol last month failed to vote in favor of a school safety measure that passed through the chamber last week with bipartisan support.
Though it was filed prior to the deadly school shooting at The Covenant School late last month, House Bill 322, which passed in a vote of 95 to 4 last week, included several additions "made as a legislative response to the tragedy," according to The Tennessean.
Three of the four Democratic lawmakers who opposed the measure – Reps. Justin Jones, Gloria Johnson and Justin Pearson – all faced expulsion from the state House this month after they were said to have led protesters to the balconies of the state House and broke certain rules by speaking from the chamber about gun control. While Johnson survived a vote from her colleagues, Jones and Pearson were both expelled and later reinstated.
The other Democrat who voted against the measure was Rep. Torrey Harris. The dissenters claimed the measure did not go far enough in addressing the issues behind school shootings.
'TENNESSEE THREE' DEMOCRAT JUSTIN JONES PICTURED STANDING ON POLICE CAR DURING 2020 BLM PROTEST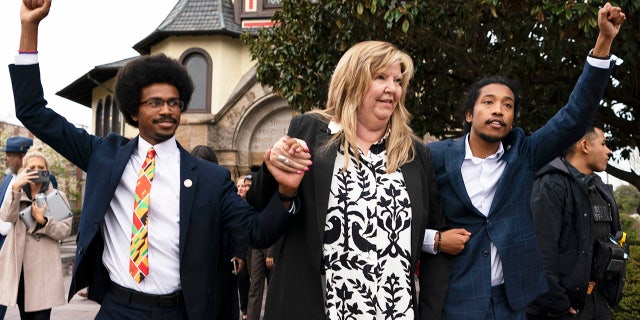 Tennessee Democrat Reps. Justin Pearson, Gloria Johnson and Justin Jones are shown raising their fists as they walk across Fisk University campus after hearing Vice President Kamala Harris speak on April 7, 2023, in Nashville. (AP Photo/George Walker IV)
Passed by the state House on Thursday, the bill would enhance safety protections for students in both public and private schools across The Volunteer State.
The bill would require public schools to keep exterior doors locked when students are present, with the school being subjected to penalties for repeat violations. It would also require public schools to conduct yearly incident command and bus safety drills in addition to armed intruder drills, with newly constructed public schools required to install locks on classroom doors and secure entryways.
The measure also requires school districts in the state to implement threat assessment teams and provide law enforcement agencies in the state with access to its security systems and safety plans, with private security guards undergoing yearly active shooter training.
Under the measure, Tennessee private schools would be required to lock exterior doors, create emergency preparedness plans and conduct yearly drills.
TENNESSEE DEMOCRAT'S TRANSFORMATION FROM COLLEGE TO NOW GOES VIRAL ON SOCIAL MEDIA: 'THIS IS LIKE AN SNL SKIT'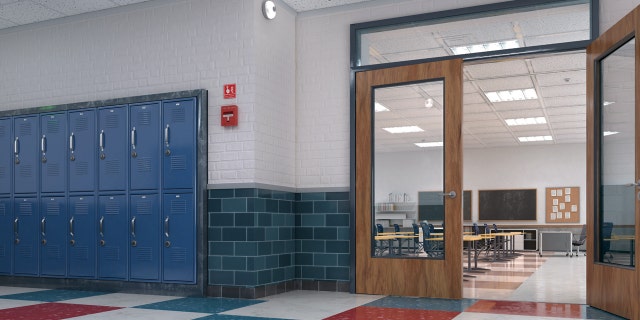 Under House Bill 322, Tennessee schools would be required to lock exterior doors, create emergency preparedness plans and conduct additional yearly drills. (iStock)
"We don't want gun battles at our schoolhouse door," Johnson said in a House floor debate prior to the vote, according to The Tennessean. "We want our kids to be safe, and to feel safe."
Pearson agreed, saying, "I don't think that penalizing or advocating that our schools become more like prisons is the right solution.… The real question is how do we prevent people with assault rifles from going into schools?"
Expressing opposition to the measure, Jones said: "This is an optical spectacle decision to offer these false solutions. You want exposure when we are saying we want you to do something. This is a very political, calculated decision."
Before being cut off by House Speaker Cameron Sexton, Republican Rep. Scotty Campbell responded: "If you want to talk about playing to the cameras, that's what just occurred."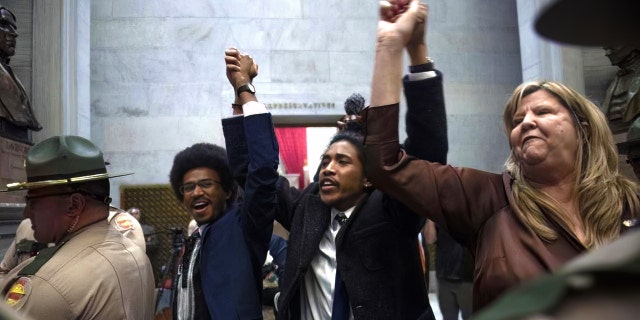 Pearson, Jones, and Johnson exit the House Chamber doors at the Tennessee state Capitol in Nashville on April 3, 2023. (Nicole Hester /The Tennessean via AP)
CLICK HERE TO GET THE FOX NEWS APP
With the state House's approval, the legislation is now expected to be considered by the Tennessee state Senate.
Both chambers are still weighing Gov. Bill Lee's amended budget proposal, which includes: $140 million to create a school resource officer grant fund to place trained and armed security guards at public schools, $30 million to expand Homeland Security networks that monitor threats to schools, $20 million for public school security upgrades, $7 million for private school security upgrades, and $8 million for extra behavioral health liaisons in schools across the state.