Social media users mocked White House Domestic Policy Advisor Susan Rice's claim that racism has had a massive impact on the U.S. economy during a speech on Wednesday.
Rice appeared as a guest at the National Action Network's, founded by Al Sharpton, convention in New York City to speak about the White House's commitment to promoting civil rights. During her speech, she made the radical claim that the United States has suffered a $16 trillion shortfall because of racism.
"In the last 20 years, the U.S. had a GDP shortfall of $16 trillion due to discrimination against Black Americans. If we closed our racial gaps, we could add another $5 trillion to GDP over just the next five years. And in case you're wondering, that's not my math, that's, according to Citibank. We all benefit when every community has the chance to thrive," Rice said.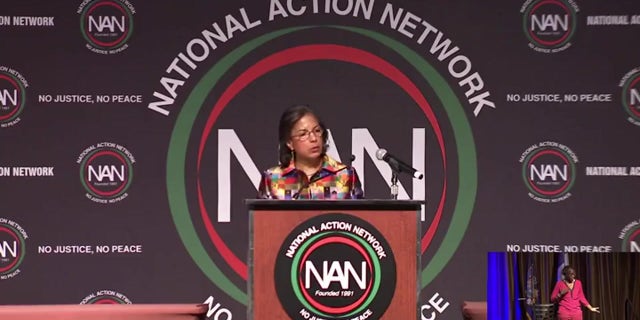 Susan Rice spoke at the National Action Network Convention on Wednesday (National Action Network)
This claim faced scrutiny and scorn by Twitter users for the extreme estimate about the impact of racism.
FLORIDA STATE UNIVERSITY PROFESSOR LEAVES $190K JOB AFTER ACCUSATIONS OF FAKING DATA ON RACISM
"[Rice] bombs. The applause is anemic….." former U.S. ambassador Richard Grenell noted of the video.
"Liberalism has reduced the size of the economy by $100 trillion. And I have as much proof of that as @AmbassadorRice does," National Review contributor Pradheep Shanker joked.
Columnist David Marcus asked, "What on earth could this possibly even mean?"
"Just perfect: Speaking to millionaire Al Sharpton's group, millionaire Susan Rice quotes her friends at Citibank to call the American economy racist," Daily Caller editor Vince Coglianese tweeted. "Fun fact: In 2008, Michael Froman — then a Citigroup executive — recommended Susan Rice for the job of US Ambassador to the United Nations."
"Then I guess she should stop participating in it," journalist Doug Powers wrote.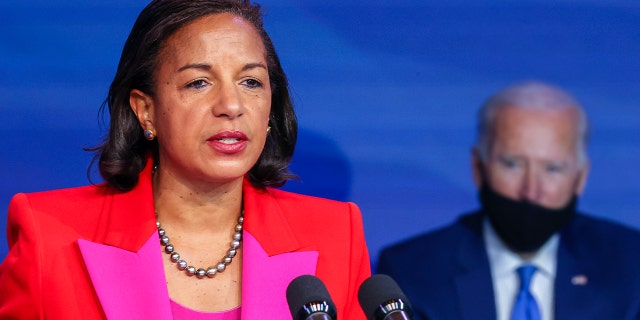 Susan Rice leads the Domestic Policy Council after previously serving as an advisor to President Obama. (Photo by Chip Somodevilla)
Former Georgia congressional candidate Barrington Martin II wrote, "This is nuts and unbelievable she said this out loud and was serious. Mathematically it doesn't make sense."
TEXAS CITY USED FEDERAL COVID RELIEF FUNDS FOR 'RACIAL EQUITY' IN 'AUDACIOUS' AGENDA
The Citibank report cited by Rice claimed, "The analysis in the report that follows shows that if four key racial gaps for Blacks —wages, education, housing, and investment — were closed 20 years ago, $16 trillion could have been added to the U.S. economy. And if the gaps are closed today, $5 trillion can be added to U.S. GDP over the next five years."
Elsewhere during the conference, Rice attacked Republican policies regarding education and critical race theory.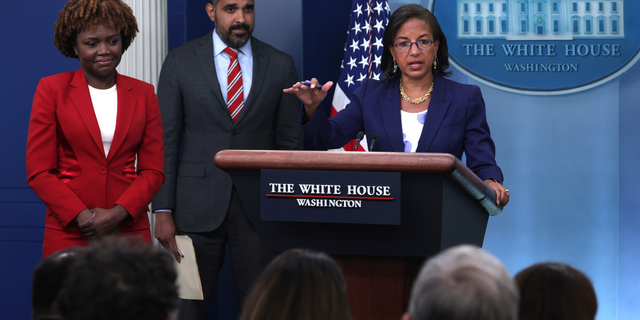 White House Domestic Policy Adviser Susan Rice was one of multiple White House advisors who spoke at the National Action Network Convention. (Photo by Alex Wong/Getty Images)
CLICK HERE TO GET THE FOX NEWS APP
"Let's join together to build a society where we all count, we all can be secure, living in dignity and with hope. Finally, let's stand together in defense of facts, truth, and history.
"Today, in states across the nation, we're seeing bans on innocuous children's books just because they feature prominently Black or Brown characters. We're seeing Black history erased from our classrooms and textbooks. And make no mistake: Those who are doing this are trying to tell us that we do not count, that we do not matter, and that perhaps we should not exist. Black history is American history," Rice said.