The Supreme Court on Thursday ruled for Black voters in Alabama challenging the state's GOP-friendly congressional map, an important voting rights decision that could have major implications in the 2024 elections and beyond.
In a 5-4 decision authored by Chief Justice John Roberts, the high court affirmed a lower court decision that concluded the state's existing map drawn based on the 2020 census likely violated Section 2 of the Voting Rights Act (VRA), which prohibits voting practices or procedures that discriminate on the basis of race. As a result, the map remains blocked from being used as litigation continues.
Following the 2020 census, Alabama created a new redistricting map for its seven seats in the U.S. House of Representatives. Alabama currently has just one Black-majority district out of seven seats, in a statewide population that is about one-quarter Black.
A group of Alabama voters, the NAACP and Greater Birmingham Ministries filed a lawsuit claiming the new maps limited the influence of Black voters by placing people from "majority-Black counties… into majority-White Congressional districts in low enough numbers that Black voters have no electoral influence."
"The centerpiece of the State's effort is what it calls the race-neutral benchmark,'" the opinion states. The theory behind it is that mapmakers can use computer technology to generate millions of possible districting maps for a given state. The maps can be designed to comply with traditional districting criteria but to not consider race.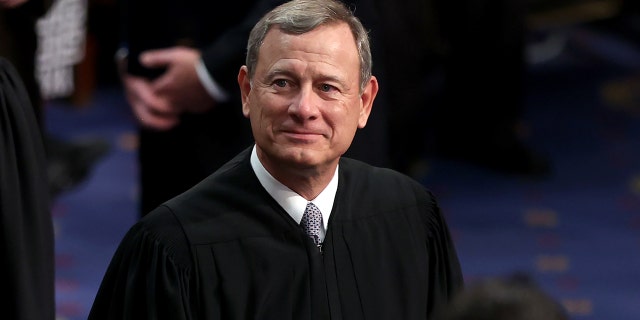 Supreme Court Chief Justice John Roberts is seen prior to President Biden giving his State of the Union address at the U.S. Capitol in Washington, D.C., on March 1, 2022. (Julia Nikhinson-Pool/Getty Images)
SIX OF THE MOST ANTICIPATED SUPREME COURT CASES WE COULD GET DECISIONS ON BY JULY 4
"The State contends that this benchmark should serve as the point of comparison in [Section 2] cases. The benchmark, the State says, was derived from maps that were 'race-blind' — maps that cannot have 'deni[ed] or abridge[d]' anyone's right to vote 'on account of race' because they never took race into 'account' in the first place," the opinion says.
Justice Clarence Thomas wrote a dissenting opinion, joined by Justices Samuel Alito, Neil Gorsuch and Amy Coney Barrett, saying:
"The question presented is whether [Section 2] of the Act, as amended, requires the State of Alabama to intentionally redraw its long-standing congressional districts so that Black voters can control a number of seats roughly proportional to the Black share of the State's population. Section 2 demands no such thing, and, if it did, the Constitution would not permit it."
CLICK HERE TO GET THE FOX NEWS APP