Legendary director Steven Spielberg recently blasted the idea of revising old films for modern audiences and their sensitivities.
During an interview with TIME Magazine, the "E.T." and "Jurassic Park" director claimed that old films should not be updated for the modern lens and claimed that directors who do so are committing "censorship."
Spielberg also expressed his regret for editing guns out of a recent release of his classic sci-fi adventure film, "E.T.," claiming it was a "mistake."
SIX DR. SEUSS BOOKS TO STOP BEING PUBLISHED BECAUSE OF RACIST IMAGERY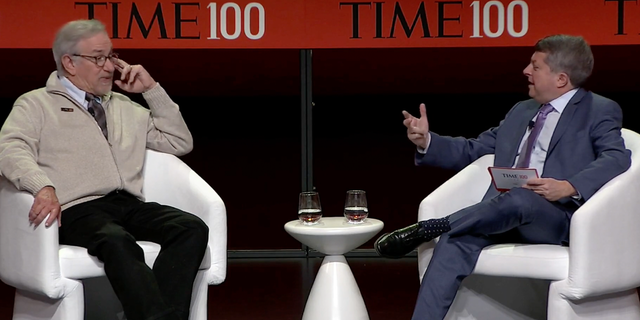 Director Steven Spielberg speaks to TIME Magazine about censorship. (Screenshot/Mediaite)
The director spoke with the outlet's editor-in-chief Edward Felsenthal during TIME's "100 Summit" on Tuesday. The two discussed filmography, with Felsenthal eventually asking the filmmaker whether there are any films he would have like to have done differently or go back and change based on where he is now.
"Looking back at your body of work… are there films you would edit, that looking back at them, something you would've done differently? As an editor, I feel that way about some TIME covers – Not yours!" the journalist asked.
"But is there a sense of – I know at one point you took some guns out of 'E.T.' and then regretted it," he continued.
Spielberg cut in, admitting that revising the beloved film was wrong.
"That was a mistake. That was a mistake," he said, adding, "I never should have done that because 'E.T.' was a product of its era. No film should be revised based on the lenses we now are, either voluntarily or being forced to peer through."
ROALD DAHL'S FAMILY APOLOGIZES FOR HIS ANTI-SEMITIC REMARKS 30 YEARS AFTER HIS DEATH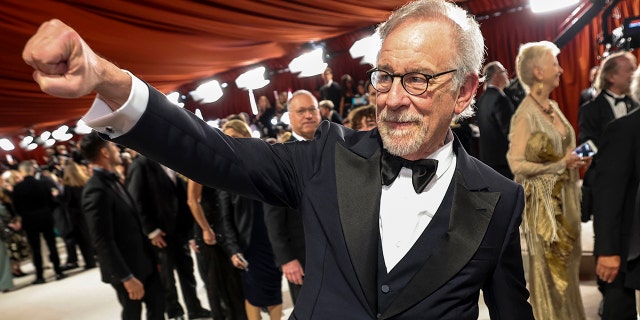 Stephen Spielberg attends the 95th Academy Awards at the Dolby Theatre on March 12, 2023 in Hollywood, California.  (Getty Images)
He noted why he initially revised it, telling Felsenthal, "'E.T.' was a film that I was sensitive to the fact that the federal agents were approaching a bunch a kids with their firearms exposed. And I thought I would change the guns into walkie-talkies."
Spielberg claimed he made the changes due to his evolving views, but ultimately realized he should have left the movie alone.
"I should never have missed with the archive of my own work, and I don't recommend anybody really do that," he said.
He then voiced the importance of leaving the films as they are, saying, "All our movies are a kind of measuring – a signpost of where we were when we made them, what the world was like, and what the world was receiving when we got those stories out there. So I really regret having that out there."
The Time editor-in-chief asked if Spielberg's standard applies to other forms of artistic media. Felsenthal specifically mentioned publisher Puffin UK updating an edition of Roald Dahl's "Charlie & The Chocolate Factory" to feature fewer offensive words found in the original text.
CLICK HERE TO GET THE FOX NEWS APP
After mentioning it, Speilberg declared, "Nobody should ever attempt to take the chocolate out of Willy Wonka! Ever! And they shouldn't take the chocolate or the vanilla, or any other flavor out of anything that has been written."
He added, "For me, it is sacrosanct. It's our history, it's our cultural heritage." Felsenthal asked, "Warts and all?" to which Spielberg replied, "I do not believe in censorship in that way."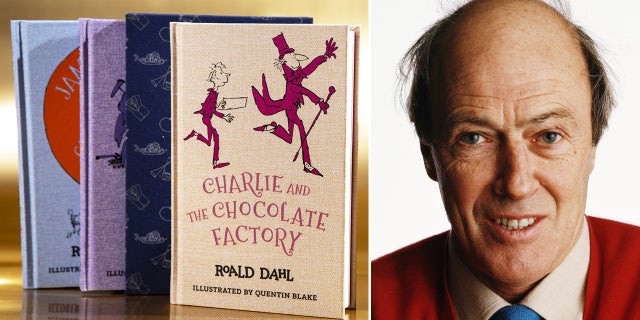 Roald Dahl, the author of several popular works, including Matilda, James and the Giant Peach, and Charlie and the Chocolate Factory. (Tony Evans, E. Jason Wambsgans/Chicago Tribune/Tribune News Service)