South Carolina became the latest state to move toward a near total abortion ban Wednesday with legislation that if enacted would leave Virginia an outlier in the South as a place where women have unrestricted access to abortions amid a rapid rise in restrictions in the year since Roe v. Wade was overturned.
South Carolina is among the last bastions in the region for those seeking legal abortions, but that status could end soon. Access would be almost entirely banned after about six weeks of pregnancy — often before women know they're pregnant — under the bill that now must pass the state Senate, which previously rejected a proposal to nearly outlaw abortions but could give final passage to the new legislation next week.
And most abortions after 12 weeks of pregnancy will be banned in North Carolina beginning July 1 after the state's Republican-controlled Legislature successfully overrode the Democratic governor's veto late Tuesday.
Abortion is banned or severely restricted in much of the South, including bans throughout pregnancy in Alabama, Arkansas, Kentucky, Louisiana, Mississippi, Oklahoma, Tennessee, Texas and West Virginia. In Georgia, it's allowed only in the first six weeks.
But North Carolina Rep. Sarah Stevens, a Republican, said she sees the 12-week ban and other restrictions in North Carolina's new law as "safeguards," not obstacles to abortion.
"We seek to balance protecting unborn babies while ensuring the safety of mothers," she said Tuesday.
Stricter bans across the South would heighten Virginia's role as an access point and create a "ripple effect" as people travel from out of state to seek care, Lockhart said.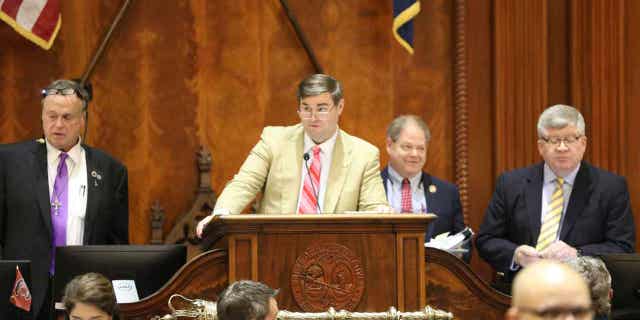 South Carolina House Speaker Murrell Smith presides over the House as it restarted its debate on an abortion bill on May 17, 2023, in Columbia, South Carolina. (AP Photo/Jeffrey Collins)
Victoria Cobb, president of the conservative Family Foundation of Virginia, said Wednesday that the state's laws became out of step with its neighbors' during years of "liberal influence."
Virginians "are going to have to work to protect our Commonwealth from being exploited by the abortion industry," Cobb said.
The costs of travel for women who need to go outside their home states for abortions can quickly pile up, said Ashlyn Preaux, who helps run an abortion fund in South Carolina. Her organization helps patients pay for abortion care as well as gas cards and sometimes plane tickets.
The South Carolina House vote capped nearly 24 hours of grueling debate split across two days as the Republican supermajority tossed or defeated over 900 Democratic amendments. Lawmakers paused for roughly eight hours early Wednesday only after a computer glitch.
Democrats repeatedly spoke for all three minutes allotted per amendment. One would have required that residents read "The Handmaid's Tale." Another sought to make the state cover funeral costs for anyone who dies upon being denied an abortion.
Republican Rep. John McCravy urged colleagues to support "the only path forward to prevent our state from becoming an abortion destination state in the Southeast."
Until Tuesday, North Carolina had been considered a safe space, said Dr. Erica Pettigrew, a family medicine doctor in Hillsborough. But now, "North Carolinians will be health care refugees to other states," she said, also criticizing provisions of the law for potentially creating more paperwork, along with additional medical and licensing requirements.
CLICK HERE TO GET THE FOX NEWS APP
Another challenge to abortion access was considered Wednesday when a federal appeals court heard arguments on whether the Food and Drug Administration's approval of the widely used abortion drug mifepristone should be overturned. A three-judge panel of the 5th U.S. Circuit Court of Appeals is reviewing a ruling by a federal judge in Texas who ordered a hold on approval of mifepristone, a decision that overruled two decades of scientific approval of the drug. That ruling was stayed while the appeal is pending.