Speaking at the Seattle Public Library on Saturday, actor-writer Kirk Cameron encountered a small group of protesters who objected to his pro-faith, pro-family and pro-country messages during his children's book event, with one individual hoisting a large sign that said, "You are growing to be a real pain — you know that."
The sign's message and lettering was a play on "Growing Pains," the TV sitcom in which Cameron first came to fame as a young actor.
Cameron told Fox News Digital in a message on Sunday, "One nostalgic protester — protesting a book about humility? — lugged a huge sandwich board that said that I was 'growing to be a real pain.' Nicely played, sir!" added Cameron.
FORGET PRIDE — LET'S FOCUS ON HUMILITY, SAYS KIRK CAMERON AS NEW CHILDREN'S BOOK COMES OUT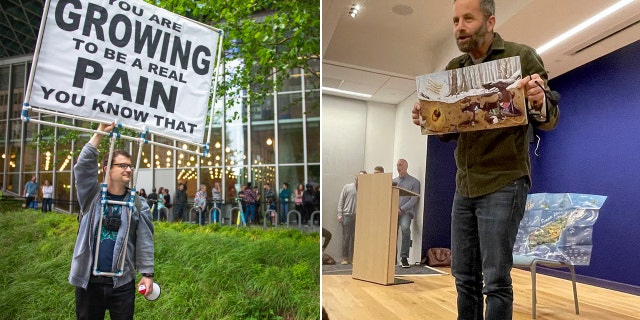 On the left, a Seattle protester is shown on Saturday, May 27, 2023, holding up a sign referring to actor-writer Kirk Cameron — who has been speaking at numerous public libraries across the country and holding story hour programs for families and kids that focus on faith, family and country.  (Brave Books/Kirk Cameron)
He added, "My new children's book, 'Pride Comes Before The Fall,' was a huge hit and the kids instantly understood the importance of its main lesson: Always be humble and kind."
He said he "was especially struck by the parents who said, 'Thank you for coming to Seattle — where people forget there are good, God-loving and patriotic families.'"
He also shared the following note and photo on his Twitter feed related to the event.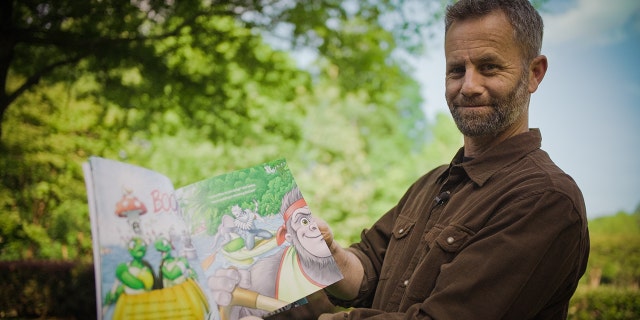 Kirk Cameron aims to teach children the importance of being humble and kind through his newest children's book, out on June 1.  (Kirk Cameron/Brave Books)
It's "the mother vice that gives birth to all the other dangerous things on the list," he said.
And so "I want to teach children the importance of being humble and kind" through this new book.
NEW JERSEY FAMILIES BRING KIRK CAMERON TO 'TEARS OF HOPE' AT 10TH PUBLIC LIBRARY BOOK EVENT
"Humility is the road to blessing."

He's been joined by special guests at many of the events.

CLICK HERE TO SIGN UP FOR OUR LIFESTYLE NEWSLETTER

He has more events planned as part of this tour, especially as the new book comes out.

Video