The first-grade teacher who was shot by her 6-year-old student in Virginia has resigned from her position, school officials said Tuesday, more than two months after she sued the district for $40 million.
The last day of Abby Zwerner's contract was Monday, Newport News Public Schools said in a statement. The district said that Zwerner notified human resources in March that she wouldn't be returning next school year.
Zwerner, 25, was shot in the hand and chest as she sat at a reading table in her first-grade classroom on Jan. 6. She spent nearly two weeks in the hospital, has endured multiple surgeries and told NBC that she sometimes " can't get up out of bed."
VIRGINIA MOM DETAILS MOMENTS THAT REPORTEDLY LED UP TO 6-YEAR-OLD SHOOTING TEACHER
Lawyer Jeffrey Breit cited an email that school officials sent Zwerner in May, stating they had "processed a separation of employment for you effective the close of business 06/12/2023."
Breit told WAVY: "I don't' think you can read this any other way than you've been fired. And that's what she thinks. She doesn't understand it; there's no other communication."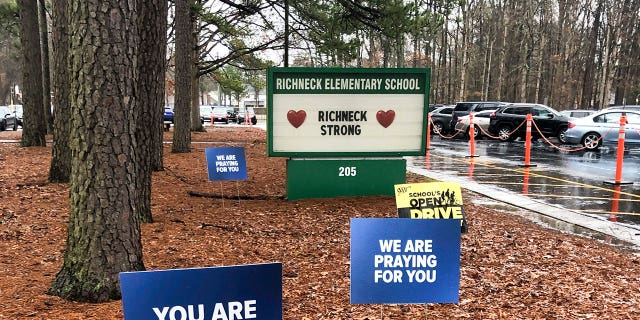 Signs stand outside Richneck Elementary School in Newport News, Virginia, on Jan. 25, 2023. The first-grade teacher who was shot by her 6-year-old student at the Virginia school has resigned, school officials said Tuesday. (AP Photo/Denise Lavoie, File)
Newport News Public Schools refuted Breit's claim in a statement Tuesday.
VIRGINIA CRIMINAL PROBE CENTERS ON 'ACTIONS OR OMISSIONS' OF SCHOOL EMPLOYEES AFTER TEACHER SHOT BY 6-YEAR-OLD
Zwerner's resignation is yet another development in the aftermath of the shooting, which has reverberated through the shipbuilding city of about 180,000 people near the Atlantic coast.
The boy who shot Zwerner had used his mother's gun. His mother, Deja Taylor, pleaded guilty Monday in federal court to using marijuana while owning a firearm, which is illegal under U.S. law.
CLICK HERE TO GET THE FOX NEWS APP
"Teachers' concerns with John Doe's behavior (were) regularly brought to the attention of Richneck Elementary School administration, and the concerns were always dismissed," the lawsuit states.
In asking a judge to dismiss the case, the school board has argued that Zwerner's injuries fall under the state's workers compensation act.