Russia's Foreign Minister Sergey Lavrov arrived to the Brazilian capital Monday as Brazil's President Luiz Inácio Lula da Silva pushes a diplomatic approach for peace in Ukraine that has irked both Kyiv and the West.
The meeting between Lavrov and his Brazilian counterpart Mauro Vieira was set in March, when they held a bilateral at the summit of the Group of 20 leading economies in New Dehli. They met Monday morning and, according to the foreign ministry's website, both will meet with Lula in the afternoon.
Lula has refused to provide weapons to Ukraine while proposing a club of nations including Brazil and China to mediate peace. On Sunday, he told reporters in Abu Dhabi that two nations – both Russia and Ukraine – had decided to go to war, and a day earlier in Beijing said the U.S. must stop "stimulating" the continued fighting and start discussing peace. Earlier this month, he suggested Ukraine could cede Crimea to end the war, which the spokesperson for Ukraine's foreign ministry, Oleg Nikolenko, rejected.
"Would you offer a Crimea-sized part of Brazil… just for tranquility's sake? Then we'll talk!" Belgium's former prime minister, Guy Verhofstadt, said on Twitter earlier this month.
WALL STREET JOURNAL REPORTER IMPRISONED IN RUSSIA SAYS HE'S 'NOT LOSING HOPE' IN HANDWRITTEN LETTER TO FAMILY
As part of his effort to end hostilities, Lula also has withheld munitions to Ukraine, despite a request from Germany's Chancellor Olaf Scholz. Lula has said that sending supplies would mean Brazil entering the war, which he seeks to end.
His position has apparently been appreciated in Moscow. One of roughly 50 leaked classified documents on the platform Discord that have been viewed by the AP said that, as of late February, Russia's foreign affairs ministry supported Lula's plan to establish a club of supposedly impartial mediators, as it "would reject the West's 'aggressor-victim' paradigm." The item cited electronic surveillance as the source.
Earlier this month, Celso Amorim, a special advisor to Brazil's presidency and former foreign minister, took a discreet trip to Moscow, where he met with President Vladimir Putin. Vieira told reporters this month that Amorim "went to listen and to say the time has come to talk."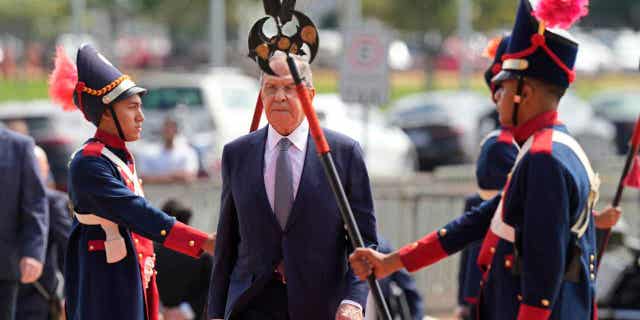 Russia's Foreign Minister Sergey Lavrov arrives at the Itamaraty Palace in Brasilia, Brazil, on April 17, 2023.  (AP Photo/Eraldo Peres)
Critics have argued that Brazil's position on the Ukraine war aims to avoid confronting a key supplier of fertilizer for its soybean plantations, exports from which are largely destined for China. Both Russia and China hold permanent seats on the U.N. Security Council, and Brazil for decades has sought to join them.
CHINESE DEFENSE MINISTERS' TOUR OF TOP RUSSIAN MILITARY ACADEMY UNDERSCORES CLOSE TIES BETWEEN MOSCOW, BEIJING
Vinicius Vieira, an international relations professor at the Getulio Vargas Foundation, a university and think tank, said Lula's comments on Ukraine have been "badly calibrated" and that saying Kyiv should cede Crimea would appear to favor Russia.
"The issue of fertilizers is fundamental, but that would be well resolved with Brazil staying neutral, calling all sides to speak, but without saying Ukraine owes something to Russia," Vieira said.
After his stay in Brazil, Lavrov will travel to Venezuela, Cuba and Nicaragua.
In an article published on the website of Russia's Foreign Ministry, as well as in Brazilian newspaper Folha de São Paulo and Mexican magazine Buzos, Lavrov noted that Russia favored strengthening cooperation with Latin American countries "on the basis of mutual support, solidarity and consideration of each other's interests … in the spirit of strategic partnership."
Lavrov has repeatedly stressed that Moscow's ties with countries such as Brazil are crucial to the foundation of a multipolar world order, which does away with what he described as "the West's monopoly on shaping the framework of international life" in a speech to the lower house of Russian parliament in February. In his article, published Thursday, he described the "increasingly prominent role in the multipolar world order" played by Latin American states.
In particular, Lavrov appeared to cast the countries' trade relationship — notably that between Russia and Brazil, especially concerning fertilizers — as a backdrop and source of leverage for possible discussions regarding the continued refusal to provide weapons to Ukraine, which Moscow would like to ensure.
CLICK HERE TO GET THE FOX NEWS APP
However, Russia does not in fact possess such leverage, accrording to Andrey Sizov, Managing Director of agricultural markets research firm SovEcon.
"Fertilizer is still exported by private companies and the Kremlin, as far as I know, does not direct them where to export those fertilizers," Sizov told The Associated Press by phone.