FIRST ON FOX: 12-time NCAA All-American swimmer Riley Gaines took aim at President Biden after he announced he would seek re-election in 2024, saying the president's talk about equality and fairness flies in the face of protecting female athletes.
"President Biden says he wants to treat people equally, yet his administration has all but declared war on Title IX," Gaines told Fox News Digital in response to Biden's re-election announcement. "Furthermore, just last week, every member of Biden's political party voted against protecting women's sports in the U.S. Congress."
The comments from Gaines come after Biden and Vice President Kamala Harris officially announced their re-election campaign in a video shared to social media early Tuesday morning.
In the video titled "Freedom," Biden echoed his 2020 campaign message of battling for the "soul of our nation," uniting the country, and supporting the middle class. Biden – who has celebrated transgender Americans as the "bravest people" he knows – also vowed to "finish the job" the administration started.
RILEY GAINES POINTS OUT DOUBLE STANDARDS IN CRITICISMS OF PROTECTION OF WOMEN AND GIRLS IN SPORTS ACT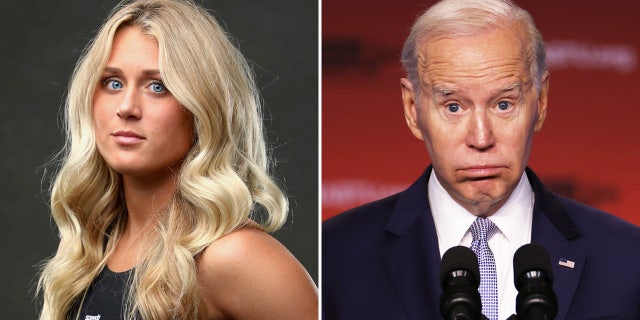 "President Biden says he wants to treat people equally, yet his administration has all but declared war on Title IX," Gaines told Fox News Digital in response to President Biden's re-election announcement. (Chip Somodevilla/Getty Images)
"Protecting the girls' and women's sport category is common sense and should not be a partisan issue," Gaines said. "Yet more and more women are realizing their biological reality is being attacked by politicians pandering to their base instead of protecting women's rights."
Gaines, now a spokeswoman for the Independent Women's Forum, famously tied Lia Thomas, a biological male, for fifth place in the women's 200 freestyle finals at the NCAA Swimming and Diving Championships last year.
Gaines has worked to promote fairness in female sports at speaking events around the country ever since she tied with Thomas, explaining to those in attendance or those watching from home how biological women have difficulty competing against biological men.
The Protection of Women and Girls in Sports Act passed in a 219-203 vote Thursday morning, with all the "yes" votes coming from Republicans and every "no" vote stemming from Democrats.
House passage sends the bill to the Senate, where Democrat leaders are unlikely to take it up, and President Biden has said he would veto the bill if it made it to his desk.
Republicans defended the bill as an attempt to spare women and girls from having to compete against transgender women and girls – biological males who often dominate these sports and may prevent some female athletes from making the team. However, several Democrats argued in debate that the GOP bill is an extension of bullying that transgender students are already facing at school.
Republicans also accused Democrats of pursuing transgender rights to an illogical end that goes against the intent of Title IX, which most credit with dramatically expanding participation in women's sports.
2024 GOP HOPEFULS RESPOND AFTER BIDEN THROWS HAT IN RING FOR ANOTHER TERM: 'ATTACKING OUR PATRIOTISM'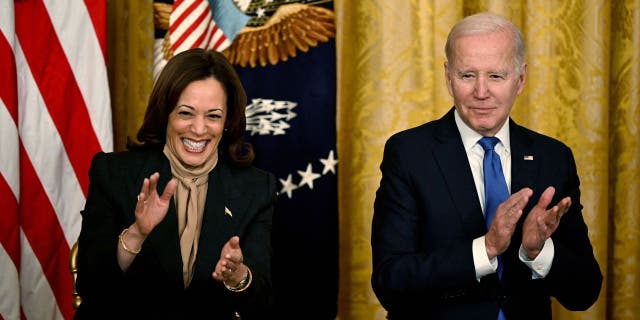 Vice President Kamala Harris and President Biden applaud during an event at the White House on Feb. 2, 2023. (Andrew Caballero-Reynolds/AFP via Getty Images))
Gaines responded Sunday to a critique from Rep. Glenn Ivey, D-Md., who tweeted Thursday the bill would "mean the forced inspection of student-athletes, which is an egregious violation of a student's personal dignity."
"Checking birth certificate and/or ensuring everyone has a routine physical before competing = egregious violation of personal dignity," Gaines responded. "Forcing girls to undress in front of an intact and exposed male = NOT an egregious violation of personal dignity, but rather kind and inclusive."
Gaines' comments and those of similar meaning, however, have not had much of an impact on the Biden administration's thinking as it continues to honor the transgender community in America.
"I want every member of the trans community to know that we see you. You're each made in the image of God, and deserve love, dignity and respect. You make America stronger, and we're with you," Biden said in March as he recognized Transgender Day of Visibility.
Earlier this month, the Biden administration rolled out new Title IX rules to expand the meaning of sexual discrimination to include gender identity that would prevent schools and colleges from banning transgender athletes.
Under the Department of Education's proposed rule, no school or college that receives federal funding would be allowed to impose a "one-size-fits-all" policy that categorically bans transgender students from playing on sports teams consistent with their gender identity. Such policies would be considered a violation of Title IX.
Despite Biden's re-election announcement, the president remains immensely unpopular, with approval ratings in the low 40s in most polls. His job performance rating currently stands at 44% approve vs. 56% disapprove, according to the latest Fox News national survey.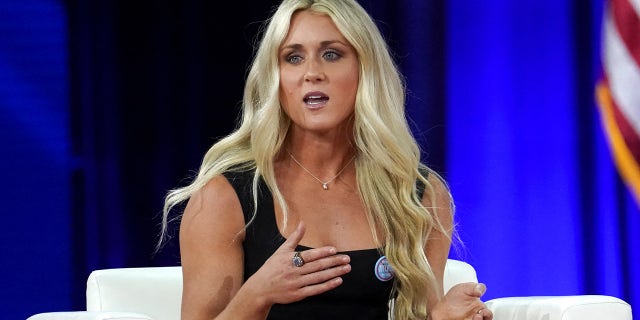 Riley Gaines speaks during the Conservative Political Action Conference (CPAC) in Dallas, Texas, Aug. 6, 2022. (Reuters/Go Nakamura)
CLICK HERE TO GET THE FOX NEWS APP
Fox News polls show the president's approval rating hovers at a low point among several key voting groups, including women (43% now vs. 42% low), voters ages 45+ (41% vs. 39% low), suburban voters (41% vs. 39% low), rural voters (31% vs. 30% low), and Democrats (81% vs. 78% low) – Democratic men in particular (79% vs. 78% low).
Biden's entry into the 2024 contest comes as several Republicans have already joined the race, including former President Donald Trump, former South Carolina Gov. Nikki Haley, South Carolina GOP Sen. Tim Scott, Vivek Ramaswamy, radio host Larry Elder, and others.
On the Democratic side, author Marianne Williamson and Robert F. Kennedy Jr. have announced their intentions to seek their party's nomination.
Fox News' Lawrence Richard, Ryan Gaydos and Houston Keene contributed to this article.