Princess Margaret spent her final days reminiscing about her true love.
The claim was made by George Carey, the former Archbishop of Canterbury, in a new ITVX docuseries titled "The Real Crown: Inside the House of Windsor." The five-part documentary aims to examine the struggles the British royal family has endured over the years.
Carey, who was Archbishop between 1996 and 2002, revealed in the documentary that he visited Queen Elizabeth II's younger sister on her deathbed in 2002.
"She was sad," he recalled, as quoted by U.K.'s Daily Mail. "There were moments when she expressed that sadness."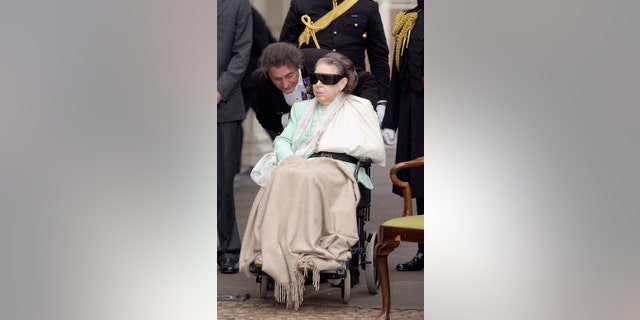 Princess Margaret passed away in 2002 at age 71. (Photo by Tim Graham Photo Library via Getty Images)
"Here is a woman who longed for love and commitment, and the love of her life was forbidden from her, and there was a deep human sadness in that," he shared.
The princess first met Peter Townsend in 1947 when she was 17 years old. She quickly fell head over heels for the dashing World War II fighter pilot who was married with two sons.
A year after Townsend divorced his first wife, he proposed to Margaret, who was 16 years his junior, in 1953. At the time, divorcées weren't allowed to remarry in the Church of England. Margaret also required her sister's permission to marry before the age of 25.
Despite the couple's love for each other, the much-decorated war ace was banished from Buckingham Palace on the advice of Prime Minister Sir Winston Churchill to a diplomatic post in Brussels. Still, the romance survived, at least until 1955. At the time, Margaret was 25 and third in line to the throne. That year, she ended her engagement with Townsend.
PRINCESS MARGARET'S LADY-IN-WAITING DETAILS HER 34-YEAR EXTRAMARITAL AFFAIR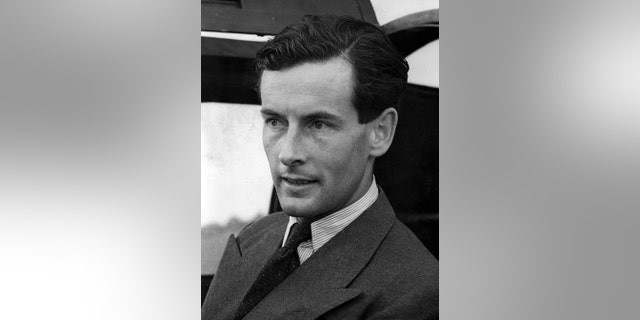 Peter Townsend, the fighter pilot who loved and lost Princess Margaret, died in 1995 after more than 30 years of self-imposed exile. He was 80. (Photo by PA Images via Getty Images)
"I have been aware that, subject to my renouncing my rights of succession, it might have been possible for me to contract a civil marriage," Margaret said in a statement to BBC Radio at the time.
"But, mindful of the Church's teaching that Christian marriage is indissoluble and conscious of my duty to the Commonwealth, I have resolved to put these considerations before any others," she shared. "I have reached this decision entirely alone, and in doing so I have been strengthened by the unfailing support and devotion of Group Captain Townsend."
After the couple called it quits, Townsend moved to Belgium before settling down in France. Then in 1959, he married Marie-Luce Jamagne.
"[Margaret] could have married me only if she had been prepared to give up everything – her position, her prestige, her privy purse," Townsend later reflected in his 1978 memoir. "I simply hadn't the weight, I knew it, to counterbalance all she would have lost."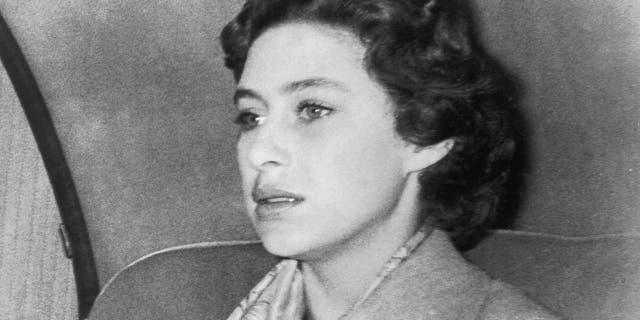 Princess Margaret called off her engagement to Peter Townsend in 1955. (Photo by Derek Berwin/Fox Photos/Getty Images)
In 1960, Margaret became engaged to Antony Armstrong-Jones. It was a quick engagement, with the couple saying, "I do" mere months later. But the union wasn't to last. The pair divorced in 1978, two years after they separated.
Townsend died in 1995. He was 80.
Looking back, Carey said he believed that Margaret died with a "deep sadness" about her lost love.
"I talked to her quietly and said a prayer, anointed her with the oil, and she died soon after that," he said. "It was a lovely moving occasion."
CLICK HERE TO SIGN UP FOR THE ENTERTAINMENT NEWSLETTER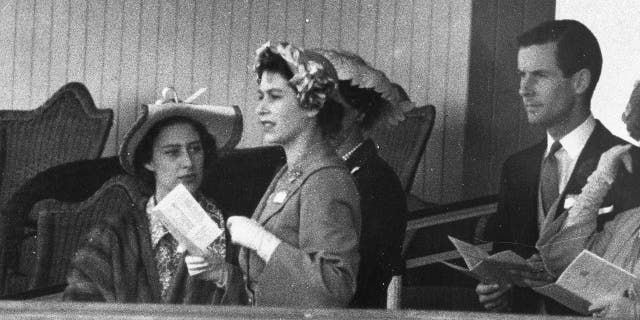 Princess Margaret (left, seen here with Queen Elizabeth and Peter Townsend) and the rest of the British royal family is the subject of a new docuseries titled 'The Real Crown: Inside the House of Windsor'. ( Photo by Keystone/Getty Images)
HOW MANY SIBLINGS DID QUEEN ELIZABETH II HAVE? A LOOK INTO THE LIFE OF PRINCESS MARGARET
Margaret was 71 when she passed away. Her sister, who became England's longest-reigning monarch, died in September of last year. She was 96.
The queen's eldest son, King Charles, will be crowned on May 6.
The Associated Press contributed to this report.