A rescue rooster and a one-legged hen have become feathered friends at an animal sanctuary in Pennsylvania.
Shrimp is the unlikely name of a rescue rooster who was brought to the Here with Us Animal Sanctuary in Shermans Dale, Pennsylvania, just a day before his scheduled euthanasia date two years ago.
Basil is a one-legged chicken who was taken in as part of a larger chicken rescue mission conducted by the sanctuary, as SWNS reported.
PENNSYLVANIA COUPLE STARTS 'RENT THE CHICKEN' BUSINESS AMID HIGH EGG PRICES IN STORES
Although the two have been at the animal sanctuary for nearly two years, they recently met for the first time — and became a love match, according to their owner.
In October 2022, Basil developed an infection, which resulted in a leg amputation.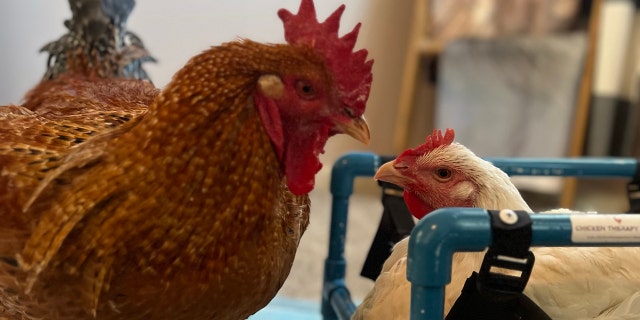 Meet the rescue rooster and one-legged chicken who are apparently devoted to one another. They give each other treats — and the rooster dances for the hen in the house where they live with their owners.  (SWNS)
Basil was then brought inside to stay safe while recovering, according to SWNS.
"It's the cutest thing ever."
Around the same time, Shrimp was having issues with other bullies at the farm — and was brought inside for his safety as well.
ANIMAL LOVER PERSONALLY SAVED OVER 200 PET RABBITS
The two were living in the indoor sanctuary separately — until the sanctuary founder, Amanda Clark, realized Shrimp was interested in being closer to Basil.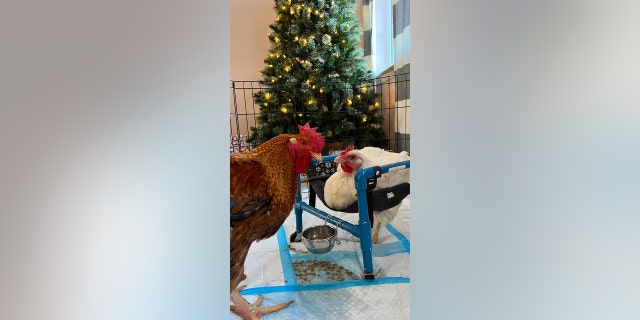 Shrimp, a rescue rooster, and Basil, a one-legged chicken, were adopted by Amanda Clark, 33, two years ago.  (SWNS)
"He was so interested in her through the baby gate and did a little dance as soon as he saw her," she told SWNS.
"It's no different than having a cat or dog running around the house."
Clark said Shrimp lets Basil eat first.
He even gives her snacks.
NATIONAL PET DAY: THE MOST FUN WAYS TO CELEBRATE WITH YOUR ANIMAL
"Whenever he can, he'll do a little dance in front of her and plop berries down, so she can eat," she said.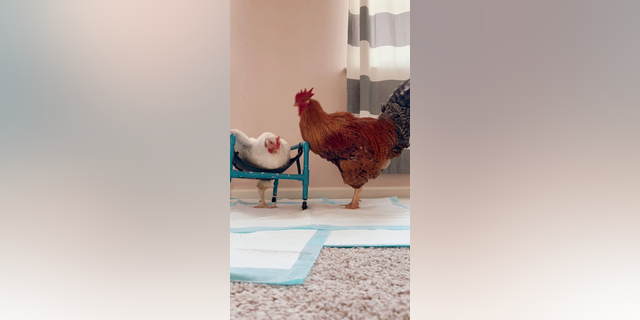 Shrimp and Basil enjoy spending time together. The two are considered permanent pets at this point, their owner said.  (SWNS)
"It's the cutest thing ever," she told SWNS.
Shrimp is known to be affectionate toward Basil — and when they reunite after being separated, he shows his delight by dancing in front of her.
CLICK HERE TO SIGN UP FOR OUR LIFESTYLE NEWSLETTER
The two lovebirds also bond during trips to the vet together.
Clark said the journey there can be stressful for the birds, but together they get through it.
The two are considered permanent pets at this point.
CLICK HERE TO GET THE FOX NEWS APP
"They are 100% pets," Clark told SWNS.
"It's no different than having a cat or dog running around the house."