DES MOINES, Iowa – Two top members in former President Donald Trump's administration who are now rivals to Trump in the 2024 GOP presidential nomination race are heavily criticizing Trump for celebrating North Korea's appointment to the World Health Organization.
Former Vice President Mike Pence and former South Carolina Gov. Nikki Haley, who served as ambassador to the United Nations during the Trump administration are taking aim at the former president in interviews in Iowa on Saturday with Fox News. Florida Gov. Ron DeSantis also took a swipe at Trump over his comments about the North Korean dictator.
"Congratulations to Kim Jung [sic] Un!" Trump wrote in the message on his social media platform Truth Social on Friday afternoon.
"I was surprised to see that," DeSantis told Fox News Digital Saturday. "I mean I think one, I think Kim Jong Un is a murderous dictator."
The communist state's new position on the board allows them say in determining the organization's agenda and policy prescriptions.
The decision sparked immediate criticism from the government of neighboring South Korea, which pointed to North Korea's history of ignoring policies put forward by the WHO and its parent organization, the United Nations.
Pence, who's expected to launch a 2024 presidential campaign next week in Iowa, told Fox News The World Health Organization let America and the world down during the COVID pandemic. They were literally complicitous in covering up what was happening in China and we held them to account during our administration.."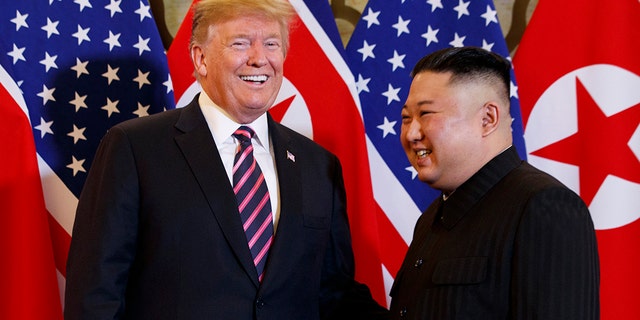 FILE – In this Feb. 27, 2019 file photo, President Donald Trump, left, meets North Korean leader Kim Jong Un, in Hanoi. (AP Photo/Evan Vucci, File) (AP Photo/Evan Vucci, File)
"He's a terrible individual. He's terrible to his people. He's terrible to our allies in the world. And I don't think he deserves congratulations," Haley emphasized.
Trump became the first sitting American President to meet with a dictator of North Korea when he shook hands with Kim Jong Un in 2019.
"It started off rough, remember that? I was saying 'little rocket man' and he was saying 'I've got a red button on my desk, and I'm willing to use it,'" Trump recalled in an April 2023 interview.
"Kim Jong-Un, the tyrant dictator in North Korea should not be praised by Donald Trump for a leadership role in the World Health Organization. We sanction leaders who oppress their people. We do not elevate them on the world stage," former Arkansas Gov. Asa Hutchinson wrote on Twitter.
CLICK HERE TO GET THE FOX NEWS APP
Asked for a response, the Trump campaign took aim at DeSantis, which they view as the former president's top rival for the 2024 GOP nomination.