Former House Speaker Nancy Pelosi, D-Calif., suggested that calls for longtime Sen. Dianne Feinstein, D-Calif., to resign were sexist, noting that she has "never seen them go after a man who was sick in the Senate in that way," in an apparent reference to Sen. John Fetterman, D-Pa., who has been absent for a couple of months due to clinical depression.
"It's interesting to me. I don't know what political agendas are at work that are going after Sen. Feinstein in that way. I've never seen them go after a man who was sick in the Senate in that way," Pelosi told reporters Wednesday.
A spokesperson for Pelosi told Fox News Digital that "Speaker Pelosi's comment was not referencing any specific case, but commenting on the historic attitude."
FELLOW DEMOCRATS TURN ON DIANNE FEINSTEIN, CALL FOR HER TO RESIGN FROM SENATE: 'DERELICTION OF DUTY'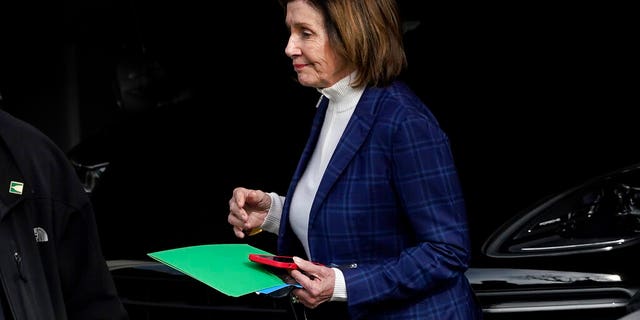 Former House Speaker Nancy Pelosi seemingly slammed sexism in Congress on Wednesday as she alluded to Sen. John Fetterman's ill-driven state amid growing calls for Sen. Dianne Feinstein to resign.  (AP Photo/Jeff Chiu)
"Speaker Pelosi has always believed that everyone's health and personal needs must be respected, whether Senator Feinstein, Senator Fetterman or anyone else – and she wishes others would share this belief, too," the spokesperson said.
Pelosi, who previously endorsed Feinstein in 2017, called Feinstein a "champion for California" as calls for the senator's resignation have grown in popularity. Pelosi also said she has seen "up close and first-hand" Feinstein's "great leadership for our country but especially our state of California" after having served in Congress for nearly two decades.
Pelosi appeared to be talking about Fetterman, who checked himself into Walter Reed National Military Medical Center for clinical depression, a little over a month after starting his six-year Senate term. Fetterman was later released from the hospital on March 31 after a six-week hospital stay and is expected to pick up his Senate responsibilities next week.
Despite Fetterman's lengthy absence, Pennsylvania Gov. Josh Shapiro, a Democrat, told The Inquirer in late February he would not be encouraging Fetterman to resign amid growing concerns of his ability to serve as a state senator, telling the outlet he would "dismiss [calls for Fetterman's resignation] immediately."
However, Democrats have banded together as calls for Feinstein's resignation have gained momentum over recent months, with Reps. Ro Khanna, D-Calif., and Dean Phillips, D-Minn., heading to Twitter on Wednesday to further endorse the call.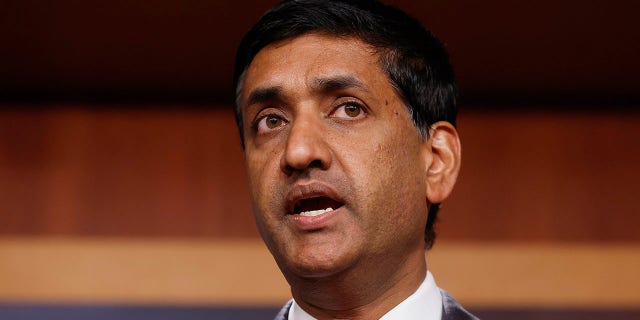 Rep. Ro Khanna, D-Calif., called for Feinstein to resign on Wednesday. (Chip Somodevilla/Getty Images)
"It's time for [Feinstein] to resign. We need to put the country ahead of personal loyalty," Khanna wrote. "While she has had a lifetime of public service, it is obvious she can no longer fulfill her duties. Not speaking out undermines our credibility as elected representatives of the people."
Phillips then echoed Khanna's sentiments and called upon others to do the same.
"Senator Feinstein is a remarkable American whose contributions to our country are immeasurable. But I believe it's now a dereliction of duty to remain in the Senate and a dereliction of duty for those who agree to remain quiet," he wrote.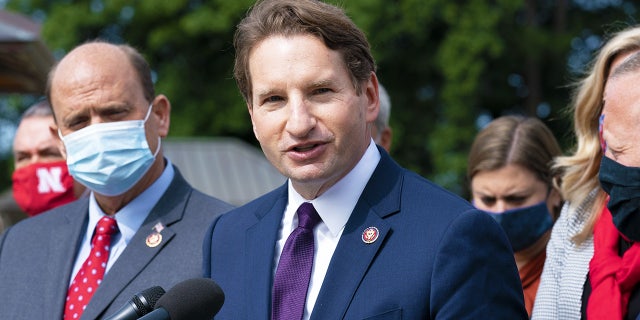 Rep. Dean Phillips, D-Minn., echoed Khanna's sentiments on Feinstein's resignation and called upon others to do the same. (Stefani Reynolds/Bloomberg via Getty Images)
Khanna then reinforced his stance Thursday, just one day after Feinstein's office released a statement delaying the senator's start date in Washington "due to continued complications related to [her shingles] diagnosis."
The California Democrat said Thursday that Feinstein's suggestion to be replaced on the Senate Judiciary Committee was "a step," but said the process was "not that simple."
"It's a step, but as has been reported, it's not that simple," Khanna said. "Any Republican senator can object to that… we have to see if that's even possible."
Users online blasted Khanna for not calling on Fetterman to resign amid his health struggles while demanding Feinstein jump ship.
CLICK HERE TO GET THE FOX NEWS APP
The senator said she will continue to work from her home in San Francisco while also asking Sen. Chuck Schumer, D-N.Y., "to ask the Senate to allow another Democratic senator to temporarily serve until I'm able to resume my committee work."
Pro-Trump GOP attorney Eric Early announced his Senate campaign Tuesday, joining three high-profile Democratic candidates vying to replace Feinstein. Early is joining a field led by three prominent Democratic members of Congress: Rep. Katie Porter, Rep. Adam Schiff and Rep. Barbara Lee.
Feinstein and Fetterman haven't been the only senators away from work. Senate Minority Leader Mitch McConnell, R-Ky., was discharged from an in-patient rehabilitation facility last month after suffering a fall at a private dinner. Sen. Bob Casey, D-Pa., announced in January he was diagnosed with prostate cancer. He had surgery on Feb. 14 and returned to the Senate at the end of the month.
This story has been updated to include comment from Pelosi's office.