An emotionally charged debate over Oregon's gun-related legislation recently brought lawmakers on different sides of the issue near tears, reflecting a passionate divide over gun rights that is also playing out nationwide.
One of the most sweeping bills being proposed in the politically diverse state — the one that led to highly personal speeches from both Republican and Democratic lawmakers at a committee hearing last week — would increase the purchasing age to 21 for AR-15s and similar types of guns, impose penalties for possessing undetectable firearms and allow for more limited concealed-carry rights.
Republican lawmakers in Oregon said community safety depends on access to firearms, while Democrats conversely called for greater restrictions in the name of safety.
The debate in the Oregon State Capitol comes as Democrats and Republicans across the country spar over gun rights, and as the number of gun violence deaths nationwide has risen to 11,767 so far this year, according to the Gun Violence Archive.
OREGON STATE POLICE TROOPER FATALLY SHOOTS SUSPECT WHO WAS HOLDING A SEMITRAILER DRIVER AT GUNPOINT
"I have a beautiful 19-year-old daughter and I want to know, what did she do wrong to have this imposed on her?" Republican Rep. Greg Smith, his voice cracking with emotion, remarked of the proposed restrictions. "I want to know, what did my beautiful daughter do wrong to where she can't protect herself? I don't get it."
Meanwhile, Sen. Lew Frederick, a Democrat from Portland, said when he sees someone in his neighborhood with a long gun over their shoulder, "I wonder who they're hunting." Portland has experienced 268 shootings this year, compared with 392 for all of 2022, according to the Portland Police Bureau.
Legislation in state capitals across the nation this week similarly highlights the red-blue divide on guns:
__ In Washington state, Democratic Gov. Jay Inslee is expected to sign, as early as this week, legislation going through the Democrat-majority state Legislature that would ban many semi-automatic rifles, including AR-15s and other rifles that fire one bullet per trigger pull and automatically reload. The bill passed both the state House and Senate but needs an additional vote in the House.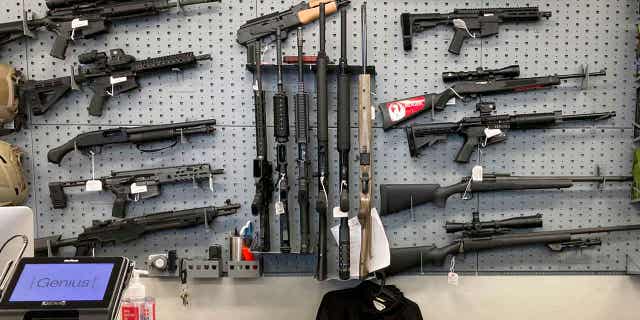 Firearms are displayed at a gun shop in Salem, Oregon, on Feb. 19, 2021. Heated debates have been held in Oregon regarding gun-related legislation in the state. The debates highlight the national divide over gun rights in the United States. (AP Photo/Andrew Selsky, File)
__ In Michigan, Democratic Gov. Gretchen Whitmer is scheduled to sign legislation Thursday that will implement stricter background checks and safe storage requirements for firearms. The legislation is part of an 11-bill gun safety package that was introduced after a gunman killed three students at Michigan State University on Feb. 13 — the state's second mass shooting in 15 months.
__ In Florida, a bill passed by the Republican-dominated statehouse allows people to carry concealed firearms without a permit, and without training or a background check. Signed by Gov. Ron DeSantis this month, it takes effect July 1.
OREGON PAPER LAMENTS HOMELESS CRISIS, HIGH TAXES, VIOLENCE DRIVING RESIDENTS TO OTHER STATES
__ In Kentucky and Tennessee, each of which experienced a mass shooting in the past two weeks, GOP lawmakers who dominate both statehouses have long resisted limiting gun access. However, Tennessee Republican Gov. Bill Lee asked lawmakers Tuesday to pass legislation that would keep firearms out of the hands of people who could harm themselves or others. One of those killed in the March 27 school shooting in Nashville was a close friend of Lee's wife.
In Oregon, the Joint Ways and Means Committee sent the broad gun safety bill to the House floor for a vote last week after a wrenching debate. An extraordinary number of Oregonians — about 1,000 — submitted written testimony for or against the 17-page measure.
In a nod to hunters, the bill doesn't prohibit a person at least 18 years of age from possessing a single-shot rifle; several types of shotguns; a repeating rifle that has a bolt, lever, pump, or revolving action; a rifle with an attached magazine for .22-caliber rounds; or a muzzleloader rifle.
"Those are your guns that are traditionally made for hunting," Rep. Jason Kropf, a Democrat and co-sponsor of the bill, said in an interview Wednesday. "In my mind, there are guns that are made for hunting. And if you're under the age of 21, you can have those. There are guns that are made for shooting people, and we're going to limit access to those."
Democrats say Republicans who raised concerns about losing the "rite of passage" of taking a teen hunting are missing the point.
"The rite of passage that drives me nuts is the 'rite of passage' that my neighbors have to go to funeral after damn funeral," Frederick said, banging the table with his fist.
CLICK HERE TO GET THE FOX NEWS APP
The Oregon bill would also make the manufacture or importation into the state of an undetectable firearm a felony punishable by up to 10 years in prison and/or a fine up to $250,000. Possession of a so-called ghost gun, such as one made with a 3D printer, would be a misdemeanor punishable by up to 364 days in jail and/or a fine up to $6,250.
In 2021, the Legislature gave local school districts the authority to prohibit firearms on school grounds. The new bill would expand that, giving locally elected governments the ability to adopt rules restricting firearms and concealed carry in their facilities and adjacent grounds.
The measure was scheduled for a vote on the House floor on Wednesday. But bills are stacked up because minority Republicans have insisted that each one be read in full, to slow the Democrats' agenda. A machine is being used to speed-read the bills.
Passage by the House would send it to the Senate for consideration.