Ohio's constitution is caught in a high-stakes tug-of-war.
With an effort to enshrine abortion rights looming this fall, an influential mix of Republican politicians, lobbying organizations and business interests is positioning to try to make another change to the state's founding document first. They're pushing an amendment that would raise the threshold for passing future constitutional changes, including the abortion question, from the current 50%-plus-one to 60% of Ohio voters.
"This issue isn't just about abortion," said Ohio Right to Life President Mike Gonidakis, who represented a cross-section of conservative causes at recent strategy talks on the subject. "This is about family farming. This is about small businesses. This is around Second Amendment rights, setting the minimum wage."
Despite that powerful line-up of conservative support, getting the 60% question to the ballot this August has been fraught with complications.
First, there's the fact that Statehouse Republicans voted to eliminate most August special elections last year. GOP Ohio Secretary of State Frank LaRose, the state's elections chief and a likely 2024 U.S. Senate candidate, was among the measure's highest profile supporters, testifying: "These unnecessary 'off-cycle' elections aren't good for taxpayers, election officials or the civic health of our state. It's time for them to go!"
LaRose and powerful Ohio Senate President Matt Huffman, a fellow Republican, have now changed course, realizing the political stakes. Both favor reinstating August elections — at least, just this once — after lawmakers missed the deadline for a May vote. LaRose says a well-publicized statewide issue "is a very different thing" than the low turnout local ballot questions he opined against in December.
The swiftly timed reversal didn't initially go over well with Republican Ohio House Speaker Jason Stephens, who has struggled to conduct business with a fractured supermajority caucus.
OHIO GOV. MIKE DEWINE ANNOUNCES NEARLY $3 MILLION IN MENTAL HEALTH AID FOR THOSE IMPACTED BY TRAUMATIC EVENTS
"Let me be abundantly clear. I am and have always been 100% Pro-Life," Stephens tweeted on March 24. "I will stand for life at every turn; however, I am not for changing the rules willy nilly at a whim when it comes to changing our constitution." Among Stephens' concerns were the burden and expense an August election would impose on already stressed local election officials.
Stephens ultimately relented, calling August "a possibility," after fellow Republicans launched an effort to thwart his authority and push the 60% threshold resolution directly to the House floor. The effort would prevent Stephens from delaying a vote past May 10, the deadline for an August election the resolution will reinstate.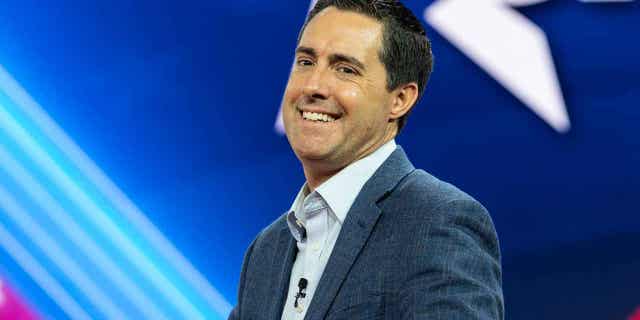 Frank LaRose, Ohio's Secretary of State, speaks on the 3rd day of the Conservative Political Action Conference in Washington, DC. LaRose is among a group of politicians that wants to raise the threshold for passing future changes to the state constitution. (Lev Radin/Pacific Press/LightRocket via Getty Images)
In Ohio, 59% of voters in last year's midterm elections said abortion should be legal in most or all cases, according to AP VoteCast, an expansive survey of over 90,000 U.S. voters. Only 7% of Ohio voters said abortion should be illegal in all cases.
"Republicans aren't going to put it on the same ballot as the abortion issue," said ex-House Constitutional Resolutions Committee Chair Scott Wiggam, whom Stephens ousted as chair after he worked at cross purposes to his own committee by signing the petition. "That's because if they both pass with 50%-plus-one, then abortion would be protected by a 60% threshold into the future."
Not that it would pass if it reaches the floor.
A lack of the necessary three-fifths majority tanked a similar resolution during last year's lame duck session — and not just because minority Democrats and a large coalition of advocacy groups who organized against it oppose it.
OHIO GOV. DEWINE SIGNS $13.5 TRANSPORTATION BUDGET, RAIL SAFETY PACKAGE INTO LAW
Among Republicans, some constitutional purists worry about the unforeseen consequences of changing a simple majority requirement in place since 1912. Others are concerned about opposition to the idea among GOP voters, particularly in rural areas that look unkindly on government overreach.
About a dozen sitting GOP lawmakers, for instance, supported a pending medical freedom amendment aimed at preventing COVID-19 vaccine mandates.
Diana Smith, the conservative from Bradford in western Ohio who is gathering signatures for that effort, said it's unfair to require its backers to win an additional 10% of the Ohio electorate.
"Whether you're Republican or Democrat, we're all citizens, we're all one," she said. "It's been in our Constitution that one greater than 50% should be the majority, and I feel that it should stay that way, that we the people are the ones that should be in charge of our government."
Rob Sexton, legislative affairs director for the Buckeye Firearms Association, is among the coalition of groups in the GOP-controlled state pushing for the 60% requirement. They are watching gun control or "right to food" amendments pass in other states with trepidation.
"Ballot issues, in general, have increasingly become almost completely influenced by whoever has the most money," he said. "So when you're talking about our state's foundational document, then we believe it needs protection from large national organizations that may not have Ohio values but are able to bankroll multi-million ballot campaigns in our state."
However, the way its Republican backers have overtly tied the Ohio proposal to sinking abortion rights appears to have weakened would-be support elsewhere.
CLICK HERE TO GET THE FOX NEWS APP
Two of the state's most powerful pro-business groups — the Ohio Chamber of Commerce and the Ohio Business Roundtable — have so far remained neutral on both amendments.
The Chamber hosted and the Roundtable attended the March strategy meeting with Gonidakis; state Rep. Brian Stewart, the resolution's sponsor; Wiggam and others whose support for the higher threshold is unrelated to abortion. But the two heavy hitters — run by former Republican U.S. Reps. Steve Stivers and Pat Tiberi, respectively — generally don't wade into social issues on which their corporate members, and the state, might be divided.
While the proposal's immediate targets are abortion rights, recreational marijuana legalization, a minimum wage increase and redistricting reform, some conservatives recognize a 60% threshold could hurt their own future constitutional efforts.
Across the U.S., states are declaring constitutional rights to own guns, to hunt and fish, and to farm. Meanwhile, in Wyoming just last month, the constitutional right to make one's own healthcare decisions — added to constitutions in Ohio and elsewhere in a push by opponents of the federal Affordable Care Act — was used to protect abortion access. That could prompt conservatives to try to repeal it down the line.