The North Korean military fired two short-range missiles into the ocean on Wednesday as an apparent show of force after the U.S. deployed a nuclear-capable submarine to South Korea.
The two missiles are only the latest in a series fired by the hermit kingdom amid protestations against U.S. presence in the region and insistence that the communist nation is only acting in self-defense.
North Korean Ambassador to the U.S. Kim Song defended North Korea's previous test launch of an intercontinental ballistic missile on Wednesday, calling it a legitimate exercise in national self-defense.
"Exercise of the right to self-defense is a legitimate right of a sovereign state which nobody can deny as it is recognized under the UN Charter and international law," Kim said.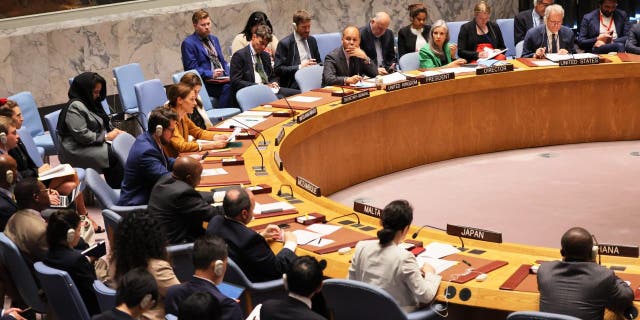 The Security Council meets at U.N. headquarters in New York City to discuss the suspected intercontinental ballistic missile fired by North Korea. (Michael M. Santiago/Getty Images)
South Korea's U.N. Ambassador Hwang Joon-kook was present at the meeting as an observing member.
The diplomatic situation is further complicated by a U.S. soldier who recently crossed the Military Demarcation Line from South Korea into North Korea.
A U.S. Forces Korea spokesperson said King was on a joint security area orientation tour on Tuesday when he "willfully and without authorization crossed the Military Demarcation Line into the Democratic People's Republic of Korea (DPRK)."
Cases of Americans or South Koreans defecting to North Korea are rare, though more than 30,000 North Koreans have fled to South Korea to avoid political oppression and economic difficulties since the end of the 1950-53 Korean War, according to The Associated Press.
Fox News Digital's Anders Hagstrom, Greg Norman, Jennifer Griffin and Liz Friden contributed to this report.