North Carolina's Republican-controlled General Assembly finalized revisions Tuesday to upcoming abortion restrictions that GOP legislative leaders hope will derail pending litigation that seeks to block large portions of the law from taking effect this weekend.
The House agreed 115-4 to alterations made in the Senate that have been described as clarifying and technical changes to a law approved last month that, starting Saturday, will ban most abortions after 12 weeks of pregnancy. The 12-week ban, with new exceptions for rape, incest and "life-limiting" fetal anomalies, would replace the current ban on most abortions after 20 weeks.
Planned Parenthood South Atlantic and a physician who performs abortions sued this month over several provisions in the law that they argue are so confusing, vague or contradictory that doctors can't know for sure what actions are lawful.
NORTH CAROLINA REPUBLICANS APPROVE REVISIONS TO TIGHTEN ABORTION RESTRICTIONS
The bill now heads to Democratic Gov. Roy Cooper, an abortion-rights supporter who vetoed the abortion law in May. Republicans hold veto-proof majorities in the legislature and overrode Cooper's veto.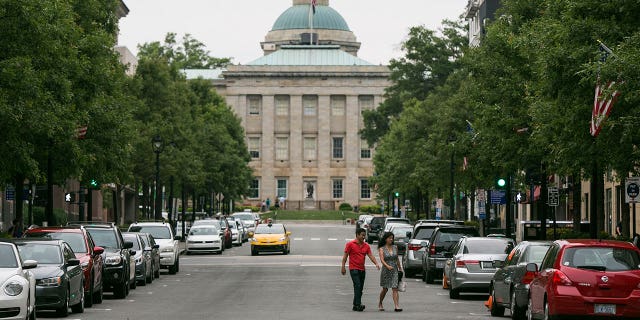 A couple walks near the North Carolina State Capitol in Raleigh, North Carolina, on May 9, 2016. Revisions to an abortion law scheduled to begin this weekend received final legislative approval in North Carolina Tuesday.  (Al Drago/CQ Roll Call)
It's highly likely a similar veto override could happen with the bill containing the revisions, although Boyle acknowledged an override may not be completed until July or early August.
If the proposed amendments don't become law before Saturday, however, the "need for a temporary restraining order would be unchanged," Planned Parenthood attorney Peter Im wrote Eagles on Monday.
For example, it makes clear that medication abortions are permitted through 12 weeks just like procedural abortions often referred to as surgical abortions. Another change seeks to clarify that it wouldn't be illegal for someone to help a woman obtain an abortion outside of North Carolina in states where the procedure would remain lawful beyond the new North Carolina ban's limits.
Attorney General Josh Stein, a Democrat and another abortion-rights supporter, is the lead defendant in the lawsuit because of his role to uphold state laws. But Stein said last week his office wouldn't defend in court parts of the new abortion law because he agrees that many provisions being challenged are unconstitutional.
Stein's office said Tuesday in a legal filing that it supported a temporary restraining order and that even the proposed revisions "fail to make clear that doctors in North Carolina can help their patients obtain abortions out of state."
House Republicans used a parliamentary rule to block debate on Tuesday. Still, Democratic Rep. Julie von Haefen, a Wake County Democrat and outspoken opponent of the abortion law, said in a tweet that the amendments demonstrate it was a "sloppily drafted law."
"I voted yes on the changes because they do make patient access slightly better, and it's always beneficial to improve, even marginally, a bad law," von Haefen added.