Peeling a hard-boiled egg is becoming an easier task for social media users who are coming across a spoon-tapping trick that has been a go-to for amateur and professional cooks.
Dr. Jordan Burns, an Indianapolis-based chiropractor and author from Fishers, Indiana, recently learned the pre-boil "egg trick" from his mother, Heather Burns, which he documented in an Instagram Reel on Friday, June 2.
The video demonstration has gone viral with over 2.6 million views, 53,100 likes and 1,000 comments.
PEOPLE PEELING RAW EGGS HAS BECOME A VIRAL TREND ON TIKTOK
"I do this before I boil them. Then I plunge them into an ice bath after a 10-minute boil," she wrote. "Once cool, crack on counter and peel away. This has made the difference for me. I've tried some of the other hacks, but nothing has worked as well as this."
Instagram users who claim to have tested the egg-tapping trick themselves say it has worked for them as well.
 
 

 
 
View this post on Instagram
 

 
 
 

 
 

 
 
 

 
 

"I just started doing this and it works great," one user wrote.
EGG SUBSTITUTES FOR BAKING, COOKING AND EATING AS PRICES SURGE
"Tried it and it works beautifully," another user commented.
"This super light crack of an egg allows water to get between the shell and albumen which is what makes the egg easier to peel," another user shared. "Fun stuff!"
While some home cooks and restaurant prep cooks have suggested alternative egg peeling tricks, the technique has generated more than 7.3 million views on TikTok under the search term "tapping eggs before boiling."
Kelly Senyei, a cookbook author and chef from San Diego, California, is one of the many TikTok users who tested the egg-tapping hack when the technique initially went viral on the video-sharing app in early spring.
Senyei uploaded a video demonstrating the pre-boil egg trick in April on her "Just a Taste" TikTok account, which is linked to her food website of the same name.
"The audible snap is the membrane releasing from the shell," she continued. "By releasing the membrane, the interior egg components – the whites (AKA albumen) and the yolk – remain in one cohesive group, unattached to the shell."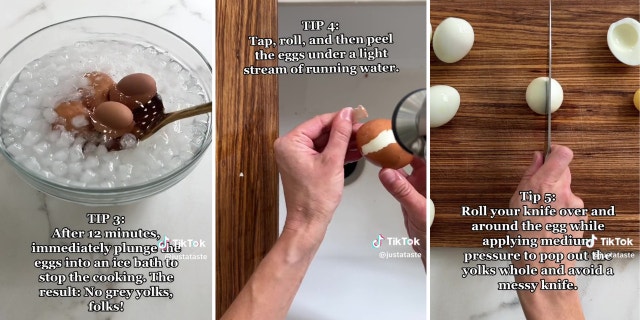 Kelly Senyei, who's a professional chef from California, also recommends ice baths, rolling and peeling hard-boiled eggs under running water, and rolling a knife over boiled and peeled eggs for easy halving. (Kelly Senyei)
Senyei noted that it can take anywhere from two to a dozen taps to "snap" an egg, and she warns that people who attempt this kitchen hack should make sure they're tapping their egg lightly with a spoon, so the shell won't crack and leak egg white while boiling.
CLICK HERE TO SIGN UP FOR OUR LIFESTYLE NEWSLETTER
FOLLOW US ON FACEBOOK FOR MORE FOX LIFESTYLE NEWS
If a person wants to halve an egg white while removing the yolk, they can do so by rolling a knife over an egg and applying "medium pressure to pop out" the yellow center sans mess, according to Senyei.