An amateur MMA fighter has been charged with manslaughter for allegedly killing a U.S. Air Force airman over the weekend with a single blow to the head in a brawl at Coyote Ugly Saloon in Florida, police records show.
Ross Johnson, 23, of Illinois, allegedly slugged Air Force Airman 1st Class Dayvon Larry, 31, so hard behind his left ear that he fractured his skull and caused a "softball size" swelling of blood, an affidavit charges.
Johnson was arrested Monday on one count of manslaughter for the deadly melee in Panama City Beach and was released after posting a $250,000 bond, officials said.
The deadly altercation unfolded Sunday at Coyote Ugly after Johnson's friend got into an argument with another man at the bar and the dispute soon escalated to the parking lot.
COURTNEY CLENNEY RAKED IN MILLIONS FROM ONLYFANS BEFORE KILLING BEAU: PROSECUTORS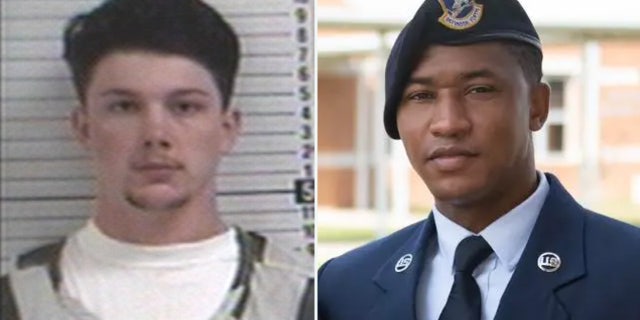 Amateur MMA fighter Ross Johnson, left, allegedly slugged U.S. Air Force First Class Dayvon Larry in a bar fight in Panama City Beach, Florida, on Sunday.
Surveillance footage captured a woman alerting Johnson to the fight between his friend and an unidentified man in the parking lot.
He is seen jumping over the bar's outdoor patio and delivering the fatal blow to Larry on his way to join the fracas, Panama City Beach police allege in the affidavit.
Larry dropped to the ground while Johnson allegedly turned his ire on the other man, pummeling him and shoving him to the ground.
At some point after the altercation, Johnson appeared to realize that Larry was seriously injured and wrote a woman on Snapchat, "Dude is still not moving."
FLORIDA TRIPLE TEEN HOMICIDE PROMPTS SHERIFF'S CALL FOR SOCIETAL CHANGE: 'OUR FAMILY UNIT HAS DEGRADED'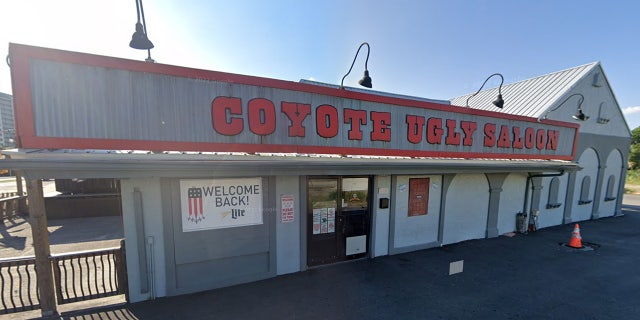 Coyote Ugly Saloon in Panama City Beach, Florida, where amateur MMA fighter Ross Johnson allegedly killed 1st Class Air Force Airman Dayvon Larry with a single blow to the head. (Google Maps)
Police said he told another friend, "Man, I hit that guy, I laid him out, and I think I killed him."
Johnson fled the scene in an Uber to the Holiday Inn Resort but saw some police outside and switched to the Casa Loma Hotel, where he was tracked down Monday, the affidavit alleges.
FLORIDA 'NINJA KILLER' EXECUTED, HAS LAST MEAL OF PORK RIBS, WINGS
The left-handed pugilist told investigators that he was an amateur MMA fighter with a record of five wins and two losses, admitting that he had about three years of advanced fighter training.
An autopsy determined that Larry died of blunt force trauma to the head. It wasn't clear from the affidavit whether Larry had any connection to the man with whom Johnson and his friend were fighting.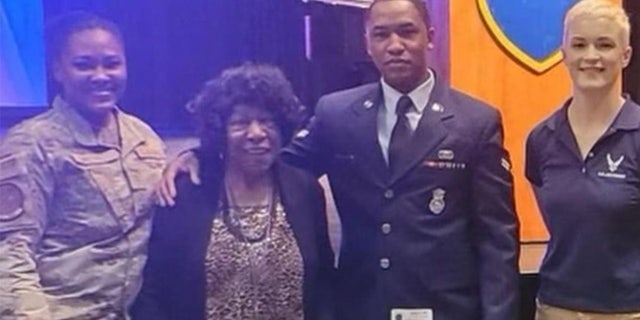 U.S. Air Force Airman 1st Class Dayvon Larry, second to right, was killed over the weekend, allegedly by MMA fighter Ross Johnson. (Facebook)
FLORIDA MAN: WILDEST REAL-LIFE TALES IN SUNSHINE STATE
Johnson didn't immediately return a request for comment.
Larry was well respected at Tyndall Air Force Base, where he was stationed, 12 miles east of Panama City Beach. "He was a charging force in people's lives by uplifting them and motivating them to always do their best," Sgt. Rosemarie McGill wrote on Facebook.
CLICK HERE TO GET THE FOX NEWS APP
Kyler Hardville, a close friend, called Larry "My brother, my ace, my right-hand man."
"You didn't deserve what happened and to you," he wrote on Facebook. "I know how much you wanted to make your family proud and let me say this bro u made the WORLD PROUD!"