Major League Baseball's quest for the crown of cool will be on display Tuesday when its top players strut down a red carpet show at Seattle's famous Pike Place Market ahead of the All-Star Game.
The fan-friendly event is as much an homage to baseball's iconic place in street style — from the game's signature caps and jerseys to the classic tees — as it is an indication that MLB is increasingly staking its claim on fashion as an entry to new audiences and pop culture reverence.
"MLB gave me a stylist for this game," said Corbin Carroll, a 22-year-old Seattle native turned Arizona Diamondbacks' breakout rookie. "The outfit's kind of cool. Definitely, it's not something I would pick out for myself, but I'm kind of excited to show that off."
Because like a good many Gen Zer — which includes those born in the late 1990s and early 2000s — Carroll described his off-duty style as more casual than high fashion: "Athleisure, not too many logos, plain, a nice good fit."
"Sometimes perception becomes reality, but it's just never been accurate. Look at the young people — they've always been here," said Noah Garden, MLB's chief revenue officer. "We always want to attract younger fans. It's the foundation of any business."
So MLB has been trying to liven up its image for years, watching with wonder as the NBA's cultural dominance grew alongside the basketball stars who have been cemented as style kings among celebrity athletes, along with their sneakers, suits and streetwear.
The NBA is the No. 1 brand preference for Gen Z across sports institutions, said Brandon Brown, a sports management professor at New York University, in part because the game and its savvy players are so heavily tied to urban hip-hop culture and self-representation — things this generation so identifies with.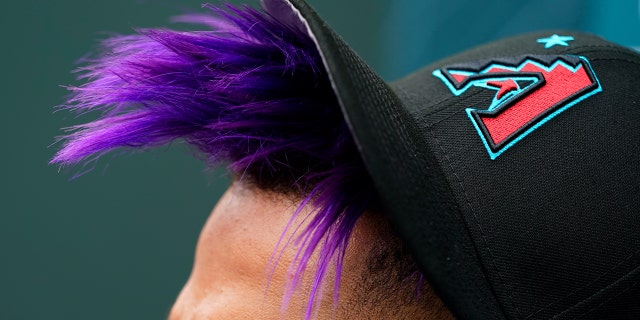 Lourdes Gurriel Jr., of the Arizona Diamondbacks, shows off his hair during All-Star Game player availability, on July 10, 2023, in Seattle.  (AP Photo/Lindsey Wasson)
"It's a really important event. The players really embrace it, too," Garden said. "It's to highlight our best players and bringing them closer to the fans."
Among the league's most fashion-forward players: Mariners star Julio Rodríguez, 22, whose red carpet outfit for Tuesday was handmade in Italy and pays tribute to Seattle. The reigning American League Rookie of the Year works with a personal shopper.
"It's something that's going to connect really well with the city of Seattle, and I feel like it's going to represent what the whole city is about," Rodríguez said. "What do you think about when you think about Seattle? You think a little bit about the trees, the lakes and all those things — the beautiful summer. So, it's going to go towards that."
"There's very limited quantities. It allows us to reach out to a very specific part of the fan base," Garden said. "It's a closer association with non-traditional brands."
It's such a coveted supply that some players have even called the front office asking for a piece of MLB's limited edition Gucci collection, Garden said.
So lest you believe the unstylish rumors, there actually has been many short stops in baseball's history with fashion.
"What they're tapping into is a kind of a cultural capital that's not financial. It's about the fans. It's about nostalgia," said Erin Corrales-Diaz, a Toledo Museum of Art curator who wrote a book about the baseball jersey and the sport's influence on fashion. "Fashion has always been a part of the sport, even if it hasn't always been articulated."
Even so, MLB may still have its work cut out for it as several All-Star players acknowledged they were less than fluent in fashion ahead of Tuesday's show.
Carroll of the Diamondbacks flashed a shy smile describing his first time working with a stylist and first time doing any red carpet event.