A Missouri Republican state lawmaker on Tuesday said children as young as 12 years old should be able to get married as he defended a proposed bill banning gender-affirming care for minors.
Sen. Mike Moon, a Republican from Ash Grove, sat before a panel on Tuesday to defend and debate a bill that would ban all gender transition procedures for anyone under the age of 18.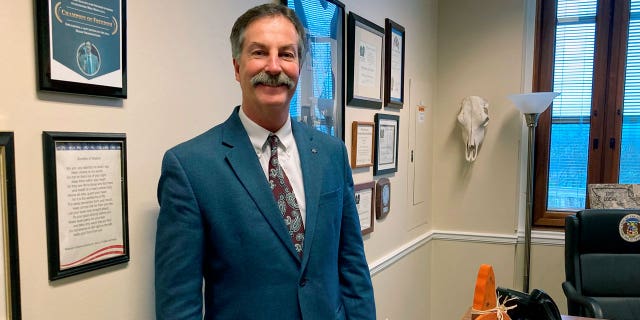 Republican Missouri state Sen. Mike Moon speaks in his Capitol office in Jefferson City on Feb. 1, 2022. (AP Photo/David A. Lieb, File)
The bill passed the Missouri Senate in March and is now before the House.
MISSOURI ATTORNEY GENERAL LAUNCHES INVESTIGATION INTO CHILDREN'S HOSPITAL'S TRANSGENDER CENTER
During the questioning, Rep. Peter Meredith, a Democrat, called Moon out for his stance on marriage of 12-year-olds if parental consent were given.
"You voted 'no' on making it illegal for kids to be married to adults at the age of 12 if their parents consented to it," Meredith said to Moon. "You said, actually, that should be the law because it's the parents' right and the kid's right to decide what's best for them. To be raped by an adult."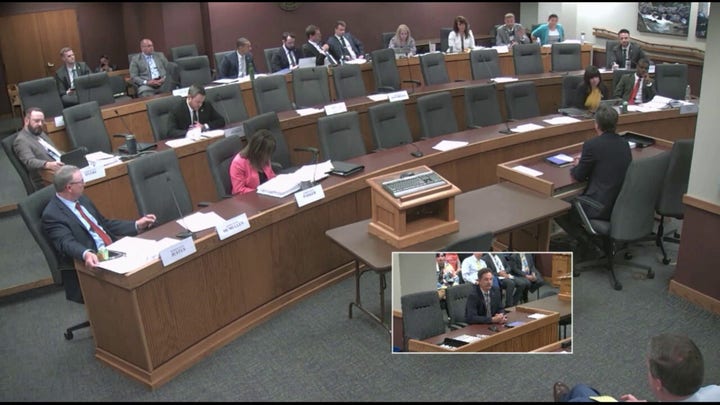 Video
Moon did not deny supporting the measure. In fact, he defended it, to a degree.
MISSOURI AG ISSUES EMERGENCY REGULATION, TIP LINE TO REPORT TRANSGENDER PROCEDURES ON MINORS: 'CHILD ABUSE'
"Do you know any kids who have been married at age 12?" he asked Meredith.
"I don't need to," Meredith said.
"I do," Moon said. "And guess what? They're still married."
Video of the senator making the statements made the rounds on social media, catching the eye of California Gov. Gavin Newsom, a Democrat, who tweeted about them on Wednesday.
RACHEL LEVINE'S CLAIM ALL AGREE ON 'GENDER-AFFIRMING CARE' IS SLAMMED BY DOCTORS 'IN HIDING'
"Meanwhile, in Missouri: State Senator Mike Moon is advocating for 12-year-old kids to be married off to adults," Newsom tweeted.
Moon retweeted Newsom's post with a statement of his own.
"To be clear, I did not advocate for minors to be married off to adults," he tweeted, directing followers to a video he made to help clear the air. "Keep your California politics out of Missouri. Democrats will say whatever they can to make sure they can keep mutilating children."
A spokesman for Moon spoke to Fox News Digital on Thursday, who said the one-hour committee meeting had strict time constraints and the senator did not have time to clear up his comments before Meredith moved on to the next.
KANSAS SCHOOL DISTRICT: GENDER IDENTITY CAN BE KEPT FROM PARENTS, AVOIDING PREFERRED PRONOUNS CAN CAUSE DEATH
Had he been given the time, the spokesman explained, Moon would have clarified he did not support 12-year-old children getting married to adults.
Moon does support, though, 12-year-olds getting married to people closer in age, like another 12-year-old.
During the debate, Moon said he knew kids who were 12 years old when they got married. According to the spokesman, one of the 12-year-olds got pregnant, and the parents encouraged them to get married.
The two children got married but were raised in two different states. Once they became adults, the spokesman said, they got back together, and they have been happily married ever since.
When asked how old the married couple is today, the spokesman said they are in their 50s.
Moon also addressed the issue on YouTube on Thursday.
CLICK HERE TO GET THE FOX NEWS APP
"If there's an instance in which an adult has recently married a minor in this state of Missouri, I'll make it a priority to remove and prohibit adults from marrying minors," he said. "Furthermore, if a person is raped, no matter the age, the rapist should be punished to the fullest extent of the law."
The question referred to a state law that looked to raise the age that minors can get married from 15 to 17, which Moon voted against.