A fight between rival gangs at a women's prison in Honduras on Tuesday quickly escalated into a riot that killed dozens of inmates.
The riot at the prison in Tamara, around 30 miles outside the capital city of Tegucigalpa, started after rival gangs Barrio 18 and MS-13 clashed inside the facility early Tuesday morning.
Sandra Rodríguez Vargas, the assistant commissioner for Honduras' prison system, said attackers cleared out security guards at 8 a.m. Tuesday then opened gates to an adjoining cell block. The women started a fire and started massacring the other inmates with weapons.
Honduran President Xiomara Castro decried the "monstrous murder" of 46 inmates, which she blamed on street gangs. Authorities found dozens of bodies after the fighting subsided, with some of the victims believed to have no ties to either of the gangs that instigated the incident.
CHINA'S XI JINPING HOSTS HONDURAS' XIOMARA CASTRO AS CONTROVERSY OVER CUBA SPYING SWIRLS IN US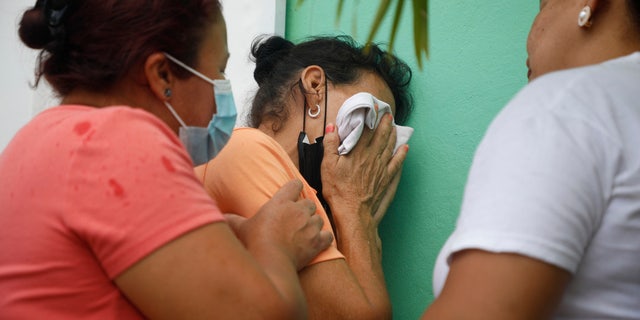 Relatives of inmates wait in distress outside the entrance to the women's prison in Tamara, on the outskirts of Tegucigalpa, Honduras, on Tuesday. (AP Photo/Elmer Martinez)
Other women died from fires, Castro said, stressing that she stands in "solidarity with the families." Castro promised additional efforts to "combat organized crime and dismantle the boycott against security fostered from inside prisons."
The riot now accounts for the deadliest one at a female prison detention center in Central America since 2017, when a fire set at a Guatemala prison killed 41 girls. The worst such disaster in Honduras killed 361 inmates during a fire in 2012.
Julissa Villanueva, head of the country's penal system, speculated that the riot occurred in response to government raids on prisons across the country that tried to pull control from powerful gangs and remove security guards taking bribes to help them.
Villanueva promised that the government would "not back down" from these efforts despite the significant resistance they face.
Reuters and The Associated Press contributed to this report.