BOSTON – A remotely operated vehicle found a "debris field" in the days-long search for five ocean explorers missing aboard the OceanGate Titan submersible, a deep-sea vehicle that vanished Sunday in an attempt to dive to the wreck of the Titanic, the U.S. Coast Guard said Thursday morning.
"Experts within the unified command are evaluating the information," the Coast Guard announced on Twitter.
Additional details were not immediately available, but authorities were expected to give an update soon.
The Explorers Club told its members Thursday that a "debris field" found during a search of the missing Titanic tourist submersible "may be the landing frame and a rear cover of the tail instrument compartment" of the vessel lost on previous dives.
The Explorers Club is an international society of adventurers that included Hamish Harding, a U.K. aviator and millionaire who was one of five passengers on board the submersible that went missing Sunday.
The Titan lost contact with its surface vessel, the Polar Prince, around one hour and 45 minutes into its dive Sunday morning, about 900 miles east of Cape Cod, Massachusetts, and around 400 miles southeast of St. John's, in Canada's Newfoundland.
'BANGING' NOISES CONFIRMED IN DESPERATE DEEP-SEA SEARCH FOR MISSING TITAN SUB BUT SOURCE UNKNOWN
On Tuesday and Wednesday, Canadian pilots picked up repeated sounds during their search.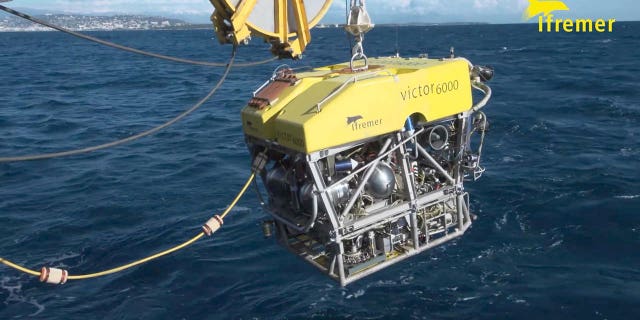 The Victor 6000, an unmanned French robot that can dive up to 6,000 meters, is being used in the search. It has arms that can be remotely controlled to cut cables or otherwise help release a stuck vessel, but it doesn't have the capability of lifting the submersible on its own. (Ifremer handout via Eyepress)
Carl Hartsfield, a retired Navy captain and a scientist from the Woods Hole Oceanographic Institution, said during a USCG briefing that the noises had been "described as banging."
CLICK HERE TO GET THE FOX NEWS APP