ATLANTA – The most populated county in perhaps the country's most important swing state is taking on the fraught subject of reparations, and one of its task force members tells Fox News Digital its mission is part of why the U.S. is unique in the world.
In Fulton County, Georgia, the task force has been appropriated $250,000 to investigate the county's past and whether it should financially atone for past transgressions against its Black population.
"Of all the places I've been, I've never been anywhere where the society has taken such an effort to, in blood and treasure, correct past wrongs," task force member Mike Russell told Fox News Digital this week. "And I'm very proud of that as an American. The system is not perfect. I would never tell anybody that. But I tell people this all the time. Folks leave places where everybody looks exactly like them and are literally dying to get here. There's a reason for that. And that is because the United States still is a land of opportunity, and we have done a tremendous job, not a perfect job, a tremendous job of correcting past wrongs."
The panel is investigating the county's ties to slavery, what properties the county may have confiscated illegally from Black owners, and the use of illegal prison labor from the county's confinement facilities. To piece together the historical record, they're relying on documents like land leases, prison records and private citizens coming forward with family documents.
It's still early in the process, so what form reparations might take – whether it be direct cash payments to affected families, financial assistance or tax cuts to Black-owned businesses, subsidies for home-buying or any number of other forms – remains to be seen. The only monies allocated so far have been for the study itself, and Russell says the force is taking pains to be as transparent as possible given it's using public funding, including using a third-party contractor to be a fiduciary agency.
"I think it's not a very cut-and-dry situation," Russell said. "It's very complicated, as I've learned on this board. How do you determine who receives compensation, and who should pay for it? If your family had nothing to do with the past wrongs, should you be liable to pay for the reparations? Same as if your family was not affected by the past wrongs? Should you be eligible for reparations? And I think those are two very complicated and difficult questions to answer."
There's also the politics of the situation; reparations are a highly divisive topic, with many opponents saying the topic seeks only to divide races further and is unfair to modern people who've committed no wrongdoing. The Fulton County board was not unanimous, voting 4-to-3 to fund the task force in January. Fox News contributor Leo Terrell called a reparations push in California "unconstitutional" and "outrageous."
Through his travels, he's said he's recognized the U.S. is hardly alone when dealing with past strife between citizens, but it's the only one that's had the moral authority to recognize and address it. Even so, he says, at a certain point the past has to stay in the past.
"At some point we've got to say it's time to move on, that this happened in the past," he said. "We've done a great deal to overcome it… I don't know if we're there yet. Everybody has a different opinion on that. But I think at some point, people have to just get past this issue, because in those other countries that I visited, there are still people fighting over stuff that happened a thousand years ago, and it makes absolutely no sense."
Reparations have become a national topic in recent months. From the federal level, where Rep. Cori Bush, D-Mo., proposed an eye-popping $14 trillion in reparations to atone for what she calls racist policies, to cities like San Francisco where a panel has proposed seven-figure payments to Black residents, Atlanta isn't the only place that's taking on the issue.
"Reparations is about repair," Brooks said. "And that may mean a variety of forms of reparations to people who have been harmed in different ways, children who've been harmed, adults who have been or are the descendants of chattel slaves, but also those who have endured the harm of Jim Crow segregation."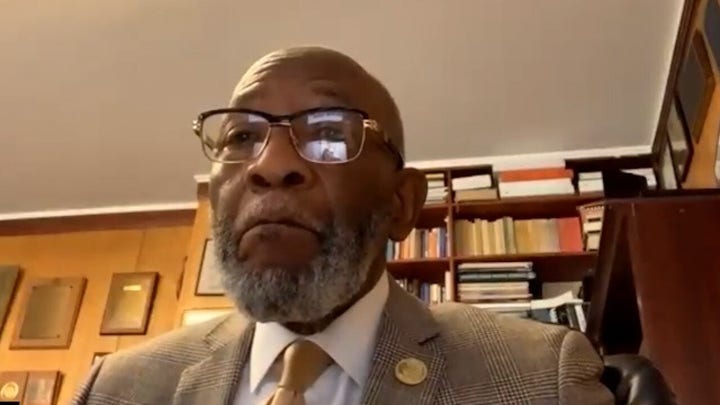 Video
The due date for Fulton County's recommendations is October 2024, when all eyes will be on Georgia just days before that year's presidential election. President Biden captured the state's 16 electoral votes by 0.23 percent in 2020, marking the first time a Democratic White House candidate had won there since 1992.
CLICK HERE TO GET THE FOX NEWS APP