FIRST ON FOX – Sen. Joe Manchin, D-W.Va., fired back at CNN analyst and former Obama advisor David Axelrod on Monday after the latter called him a "dead man walking" in West Virginia.
Axelrod joined the hosts of "CNN This Morning" on Monday to discuss Manchin, a moderate Democrat who hasn't ruled out a possible third-party bid for the White House.
"I don't want to be unkind to Senator Manchin, but he's kind of [a] dead man walking in West Virginia. There's nowhere for him to go. He's got a popular Republican governor in a state that Donald Trump pretty much carried by almost 40 points. He didn't win by very much last time. So he knows that he can't win re-election in that state. This would be a graceful exit for him. And he may believe there are people in that 'No Labels' movement trying to persuade him that he could actually win in a race with Biden and Trump," Axelrod said.
A Manchin spokesperson told Fox News Digital that the senator's focus is on West Virginia.
NO LABELS TAKING NEXT STEPS IN SEARCH FOR PRESIDENTIAL CANDIDATES FOR THIRD-PARTY TICKET
"This is a funny comment about polls since the same smart pollsters said Barack Obama's poll numbers proved he had no chance against Hilary Clinton, Donald Trump could never win the first election, and Republicans would win huge in 2022. Senator Manchin's focus is on doing the best job for West Virginia and the American people. The only poll that matters is the one on Election Day," a Manchin spokesperson told Fox News Digital on Monday.
Manchin has a unique status as a Democrat elected to statewide office in West Virginia, one of the country's reddest places in recent presidential elections. Trump carried every county in the state in 2020 over Biden, winning by nearly 39 points.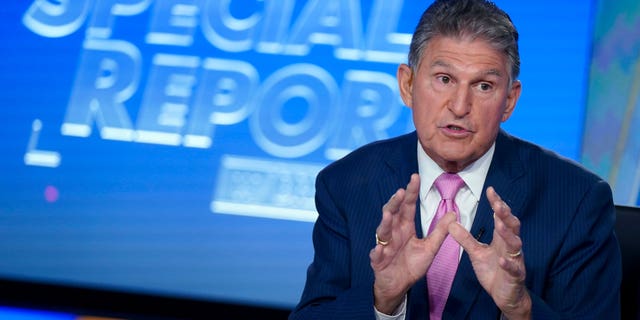 Sen. Joe Manchin (D-WV) speaks with Bret Baier during "Special Report With Bret Baier" at FOX News D.C. Bureau on September 13, 2022 in Washington, DC. (Leigh Vogel/Getty Images)
JOE MANCHIN ABRUPTLY TANKS BIDEN NOMINEE PICKED TO OVERSEE ADMIN'S CRACKDOWN ON GAS STOVES
Bream asked Manchin multiple times if he was considering a third-party run.
"Not ruling anything in, not ruling anything out," Manchin said.
Manchin's Senate seat was a top target for Republicans in 2018, but he was narrowly re-elected. His three-point victory, however, was a far cry from his comfortable 24-point win in 2012.
Fox News' Danielle Wallace contributed to this report.